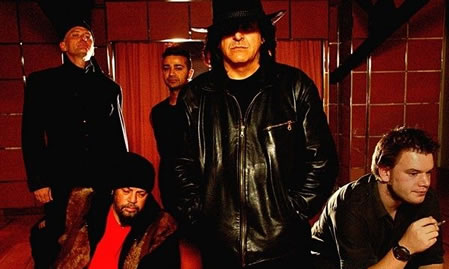 It took seven years for the highly influential UK industrial/post hardcore act Killing Joke to make a return after their disappointing 1996 effort 'Democracy', but what a return it was. 2003's 'Killing Joke' not only reunited the classic line up of the band (vocalist Jaz Coleman, guitarist Geordie Walker, bassists Paul Raven and Martin 'Youth' Glover), but it also featured the drumming talents of long time fan Dave Grohl (ex-Nirvana/Foo Fighters/Probot). The album marked a glorious return to form for the band, as well as a reintroduction of the band to a whole new generation as the band undertook a lengthy world tour to herald their return.
While out on tour, Killing Joke celebrated their twenty-fifth anniversary, and preserved the momentous occasion on 2005's live CD/DVD release 'XXV Gathering: Let Us Prey' (recorded over two nights at London's Shepherds Bush Empire in February 2005), before the group (who now feature Coleman, Walker, Raven, Inertia keyboardist Reza Udhin and Sack Trick/Twin Zero drummer Ben Calvert) reconvened in Prague (Czech Republic) to start work on their twelfth studio album.
While 2003's 'Killing Joke' successfully re-established the return of the band after a long period of inactivity, it only hinted at what the band were truly capable of. 'Hosannas From The Basements Of Hell' on the other hand is the album that The Gathering (the truly devoted Killing Joke fans) have been eagerly awaiting. Fusing elements of their past, while pushing forward with what was hinted on their last album, Killing Joke has finally created a true classic to rival 1994's 'Pandemonium'.
Prior to the album's release, I caught up with Killing Joke's manic front man Jaz Coleman at home in New Zealand (who was enjoying, what he considered a drop, of rum and a cigar) to discuss all aspects of the group's latest effort 'Hosannas From The Basements Of Hell', and what he considers is the real return of the infamous Killing Joke.
"I have to admit that 'Hosannas From The Basements Of Hell' is definitely more of a group effort than 'Killing Joke'. Walker and I put the last album together, with the others only contributing after we had done most of the work. I mean Youth only played on one track, and I don't even know if we used any of Raven's recordings. I think he just sent us some stuff via e-mail. He didn't even come over for the recording sessions. So Walker actually put down all of the bass lines on the last album. So what I'm saying is that the two of us basically do everything, and that's because we're always left to do everything. That's the way it's always been I suppose. We generally have a lot of casualties around Killing Joke. It's always changing. The amount of drummers and bass players we've had has been too many to count, but Walker and I are always here. That's it really. We can think up everything ourselves. Killing Joke changes all the time, so nothing really surprises me these days. If I could speak on Walker's behalf, because he's not here obviously, he was really pissed off about 'Killing Joke' to be honest. He claims it was too manufactured. He's interested in live takes and recording a single track for each instrument so he can see what everybody is all about. So he was like a huge critic of the last album! (Laughs) I mean, I like the last album, but in terms of a band being a band that lives together and all that shit, it really wasn't Killing Joke. Although having said that about being a band, I really enjoyed the break away from the bunch of c**ts actually. I hope I irritate them as much as they irritate me. That's all I'm going to say on that! But then that's what it's like spending twenty-eight years in the same band."
As the name suggests, 'Hosannas From The Basements Of Hell' is a celebration of the magic that Killing Joke managed to capture out of the basement recording sessions the band made while in Prague.
'That's right. The reason the album's called 'Hosannas From The Basements Of Hell' is because we recorded the entire thing in a fucking basement. We lived, rehearsed and recorded everything in Prague, and above us was a little sixteen-track tape studio. There was no pro-tools or digital equipment in sight. We recorded everything down in that basement, apart from the orchestration on 'Invocation'. Just like what Metallica did with their 'Garage Days Re-Revisited' EP (released in 1987, and otherwise known as 'The $5.98 EP'), we just decided to do a low budget album with old echo machines, with absolutely no double tracking. You can hear the different nuances in it. You can listen to it, and know it's something different. It was satisfying to have everybody live in the same city while we were recording the album and playing gigs, but it also sent us fucking mad too, and I mean literally!"
Although Coleman admits that having to spend so much time together in the basement led to certain members going quite literally around the bend, he also admits that the sessions that produced 'Hosannas From The Basements Of Hell' were relatively stress free.
"I guess that's a fair statement to make. We played quite a lot of concerts while we were recording, so we were setting up and breaking down a lot of the time, so that meant that we were constantly trying to find that certain Killing Joke sound time and time again. We were constantly rearranging the equipment every time we would return from doing shows, along with the hassle of getting everyone and everything into this basement. But it worked. We came out of there with the sound we wanted, and we became a band that was nice and tight sounding from playing it completely live. I would have to say that Calvert, our new drummer, put a lot into this album too. I would have to say that helped a lot."
Also helping to alleviate the stress was the additional personnel that Killing Joke employed while making the album.
"Before we did these f**king sessions, all I thought about was trying to find an engineer who could handle Killing Joke for one f**king year, while we do gigs as well as record. Now who can possibly do that? And it's only then that I realised that the only candidates worthy of such a task are clearly in the nutcase bracket of engineers. Only complete f**king nutters can handle that task at hand psychologically! Don't f**king laugh at me! I'm telling you the truth! The only person who was up for that task was Jerry Kandiah. He worked with us (as engineer) on the 2003 'Killing Joke' album. We could have woken him up at any time of night and told him to get out of f**king bed because we wanted to start recording, right now! We had a twenty-four hour studio in Prague at our complete disposal. It was ours. So that was the scenario he was working with. But it didn't bother him one bit, because he's such a peaceful man, and we just couldn't ruffle his feathers! Do you know what I mean? (Laughs) He was the perfect man for the job. What a marvellous man. We also got Mark Lusardi to mix the album too, who also happened to mix our very first recording (1979's 'Almost Red' EP). But then you would know, because you read that in the bio, right! (Laughs)"
While many have claimed that the latest album is a natural extension of 2003's 'Killing Joke', in truth, 'Hosannas From The Basements Of Hell' actually has more in common with the heaviness of 1990's 'Extremities, Dirt And Various Repressed Emotions', the rawness of 1980's 'Killing Joke' and the catchiness of 1996's 'Democracy'.
"I suppose that's true, because it really does sound like Killing Joke when you compare it to the last album. Here's a funny thing. Did you know that 'Democracy' is one of Dave Grohl's favourite albums! I was really surprised by that, because we hated the mixes for that album. I had to go off and do some orchestral stuff, and I said to Paul Wright and Youth that I would leave it up to them to do their thing, but I didn't want them to f**k up on the mixes! When I got the finished album back, it was just f**king awful! They took all the keyboards out. But it was one of Grohl's favourites, which is something that I just can't figure out to this day to be perfectly honest. But then again, it's albums like 'Democracy' that ten years later are generally considered cult albums. It's a load of bollocks. Don't try and fool me. I've been through this too many times. I can show you the patterns of the reviews we get! You think I'm joking? There's a pattern. It's usually the albums from us that get slated initially that are later heralded as underrated. I don't listen to anyone any more. I don't even listen to music most of the time, or even buy anything. I only listen to the stuff in my head. I think all my colleagues will confirm that."
Apart from the primal aggression that is typical of all Killing Joke albums, 'Hosannas From The Basements Of Hell' does boast one track that stands out as different from anything the band have tried in the past, that being the orchestrated 'Invocation'.
"It's a f**king masterpiece! (Laughs) F**k off! I know I'm supposed to be self depreciating, because Australian's like it like that, but I'm not going to be like Neil Finn (Split Enz/Crowded House) and say, 'Well I tried really hard, and I know it's OK. We'll just keep trying and hope to do better next time.' F**k off! I hate that c**t. I conducted the string orchestration myself. That was actually taken from my opera 'The Marriage At Cana', which I conducted at the Royal Opera House in Covent Garden in December 2001. I wanted to do an extraordinary rendition, so I went to Kazakhstan and used the orchestra there. I thought it would be fun! (Laughs)"
Another important aspect of Killing Joke's latest album is the artwork and design layout, which Coleman believes is one of the band's greatest achievements yet.
"I first discovered Victor Safonkin's artwork when I saw him in his own studio painting, and restoring another piece of artwork. He's this Russian surrealist that lives in Prague. I got to know him, and found out that his son was really into Killing Joke. It all started from there really. He told me that he was doing this nightmare piece, and he explained to me the details. I told him that I too was doing a nightmare piece, because it's a f**king nightmare being with this band all the time! (Laughs) This conversation took place around the same time we started working on the sessions for this album. By the time we finished the sessions, he finished this piece of work as well. It was like working in a parallel universe if you like, only artistically. I totally applaud visual artists working alongside musicians or composers. You can see that the artwork (which is titled 'Inhuman Rearing') is done in incredible detail, but wait until you see the inner artwork. It will freak you right out. You know what, it's my favourite sleeve out of all the Killing Joke albums, because it describes what we all went through to make this album. I don't know if you've seen the sleeve notes at all, but they're also very important pieces. The details are very important. In regards to the packaging, I would have to say that this album is a masterpiece, as well as a masterpiece of music. You have to have the pair together, and experience them simultaneously to get the full effect. We'll also be releasing the album on double vinyl too, so the cover artwork will really stand out. You have to agree that it just looks f**king amazing."
As proud and confident as Coleman is about Killing Joke's latest effort, he clearly has no expectations from its eventual release.
"You know what, I don't hope for a damn thing every time I do a Killing Joke album. I don't even think about that. We just start it, and we finish it. We just go through a process together, and then we see who's left standing afterwards! (Laughs) I don't think more than a few seconds ahead. It's no intellectual process. You can start out with a grand concept, but then the good lord will always give you a good smack around the head! (Laughs)"
What Coleman is excited about however is his next endeavour, which by all accounts is more Killing Joke material.
"This year I intend to do two Killing Joke albums. I will not do the program that our record company (Cooking Vinyl) wants, and if necessary, we will leave. I want to do one set that will be amplified, but performed in a temple surrounded by jungle and fire. That's going to be next. There will be no audience, but we'll play the album live. It will be all new music that we will never play again, unless of course the price is right! (Laughs) What an experience. It would be exciting, we'll have a laugh and it would be different from just playing another gig or recording another album. Then I want to do an acoustic set where we tour the colonial bars of the world. I want to do different things with my band. Why not? You see our record company would put us on the f**king road forever if they could, but we want to do more recording. There's a difference of opinion between us as the artists, and them as the record label. I'm so used to dealing with this sort of thing after my twenty-eight years in this business. I say give me your worst, and I'll say goodbye. I'm going to proceed onto new music, instead of all this touring and all that fucking shit. We've done enough of that. We'll do some more of that later. I reserve the right to cancel everything and start again as I see fit. I don't follow any pattern told to me by some record company or the entertainment industry. Piss off. This isn't an ongoing dispute between them and us. It's one I'm creating right now! And I mean it."
© Justin Donnelly
Sydney Unleashed is one of Australia's premier entertainment publications exploring the latest in lifestyle trends. From Sydney's finest restaurants, cafes and bars to the hottest in gadgets, products, and home entertainment, Sydney Unleashed is your one-stop lifestyle platform.