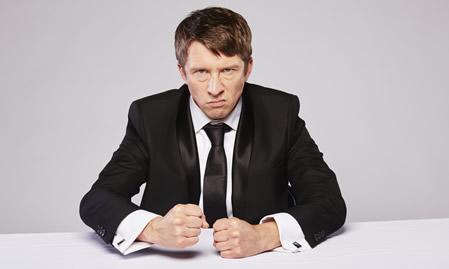 Jonathan Pie: Back To The Studio
Jonathan Pie, the global comedy sensation, recently visited our shores as part of the Perth and Sydney Comedy Festivals. Making his Australian debut following a completely sold out UK tour in 2017, the frustrated news reporter seemed angrier than ever at the Enmore Theatre (Sydney) show we witnessed on 19th May.
In Jonathan Pie: Back To The Studio, Pie attempted to host a night of serious discussions on current affairs whilst simultaneously attempting to smash the system from within. And boy did he succeed. In what can best be described as a night of political comedy that soon descended into chaos, Pie vented his spleen on everything from smartphones, Donald Trump, UK politics, and even some gags about our own politicians from Malcolm Turnbull to Bronwyn Bishop.
The show was held on the same night as Prince Harry and Meghan Markle's royal wedding so naturally, they too were in the firing line. Pie didn't hold back at just how little he cared about the wedding and demonstrated so by the use of a string of four-letter expletives. We will refrain from repeating these here due to political correctness – one of the key theme's of the night.
His online videos may have been viewed by millions worldwide but interestingly, one of the other main messages Pie tried to get across to everyone was to put away the phone and enjoy your life. And it seemed to work – we didn't spot one person taking photos or using their mobile for the entire show. Appropriately, the evening ended with Jonathan Pie deactivating his social media accounts.
Jonathan Pie is a witty, funny guy. Back To The Studio was a refreshing show that managed to be hilarious yet thought-provoking at the same time. Political satire at its finest!
Sydney Unleashed is one of Australia's premier entertainment publications exploring the latest in lifestyle trends. From Sydney's finest restaurants, cafes and bars to the hottest in gadgets, products, and home entertainment, Sydney Unleashed is your one-stop lifestyle platform.