---
The Upcoming Events and Gig Guide will keep you up to date with Australia's hottest ticket events, concerts, and What's On In Sydney in arts and entertainment. If you'd like to submit an event for inclusion, you can upload it below. Note: New event listings go live on Fridays. If you don't see your event after this date, please refresh the page in your browser to see the latest update.
---
Upload Basic Event Listing (Free): Include basic event details. Restricted to 100 words maximum, no image, no website URLs. Click below to upload now.

---
Upload Featured Event Listing ($20): Shout us a cocktail and add some flair to your listing (example below). You can include an image, website URLs, and up to 500 words. Pay below via PayPal/credit card and you will then be directed to the Featured Event Listing form.
---
Upload Deluxe Event Package ($40): Loosen us up with another cocktail and we'll give you a Featured Event Listing + a separate full page article on the website dedicated to your event. This will be fast-tracked and generally published within 24 hours. Include an image, website URLs, no word limits, and front-page coverage. Pay below via PayPal/credit card and you will then be directed to the Deluxe Event article upload page.
FEATURED EVENT EXAMPLE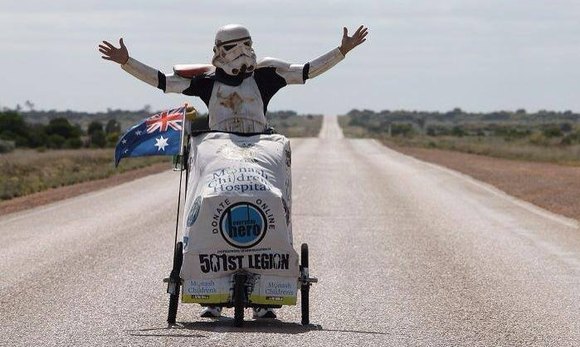 04/05/2015
Star Wars Fans Encouraged To Walk A Mile For Scott Loxley
Pitt Street Mall, Sydney NSW
With International Star Wars Day upon us, Sydneysiders are encouraged to descend on Pitt Street Mall on Monday May the 4th and 'walk a mile' for Scott Loxley – the Melbourne man who has been 'storming Australia' in his full 501st Legion Sandtrooper Star Wars costume since 2013. As an avid Star Wars fan himself, Scott's mission is to raise vital funds for the Monash Children's Hospital, with an aim to secure $100,000 for kids in need. Throughout his 18-month journey, Scott will visit every State and Territory and cover around 15,000kms in total. Visitors to Pitt Street Mall are encouraged to donate a gold coin and hop on a treadmill to do their bit. From 12:30pm – 2:00pm, the team at Fit & Fast will be providing treadmills and fitness instructors, with Stormtrooper helmets and light sabers also on hand to provide to some 'force' to each mission!
For more info, visit https://www.sydneyunleashed.com.
UPCOMING EVENTS
Now until 27/11/2023
Tasty Trivia – the free food & drinks trivia quiz
Terminus Hotel, Pyrmont NSW
Savour a great night of FREE foodie fun at Tasty Trivia – the food & drinks trivia quiz. At our Pyrmont event you can Spice Up Your Score by 5 points by taking an extra question + An all you can eat buffet of culinary questions & challenges, great $ prizes, a good measure of laughs and just a pinch of competitive tension! Free to attend – you just need to gather your food loving friends and book a table. On every Monday night from 7pm (ex public holidays) from Feb-Nov 2023.
---
Now until 01/12/2023
Reverberations: A Future for Memory
Sydney Jewish Museum, Darlinghurst NSW
The immersive new high-tech exhibition, Reverberations: A future for memory, shines a light on the humanity and life experiences of 43 of the Holocaust survivors who have shared their stories at the museum in recent years. The exhibition takes you on a journey through a high-definition gallery of recorded footage where you'll encounter Holocaust survivors' thought-provoking answers to questions (10:00 am – 4:00 pm).
---
Now until 18/12/2024
Butcher's Block Night at Three Blue Ducks
Three Blue Ducks, 1/85 Dunning Ave, Rosebery NSW 2018
Butcher's Block is a weekly steak night with a difference, offering premium cuts at butcher's prices at Three Blue Ducks every Wednesday. This is a great way to try premium cuts such as rib eye or even a chateaubriand at a more approachable price. Each cut will be sold at butcher's prices, which means guests can go hard on the Ducks banging sides, add-ons and sauces. All steaks are pasture-fed and ethically raised, sourced from the very best butchers that New South Wales and Victoria have to offer.
---
Now until 23/12/2023
Summer Express at South Eveleigh
South Eveleigh, Locomotive Street, Eveleigh NSW 2015
Get ready to embark on a journey of holiday cheer as South Eveleigh introduces the exciting Summer Express, a unique advent-style calendar of daily holiday fun set to roll into town from Tuesday 21st November through to Saturday 23 December. The historic site of Sydney's Locomotive Workshops will become a kaleidoscope of colour and activity for 5-weeks of free, fun events including Santa sightings, live music, pop-up games, festive food and drink offerings and family-friendly entertainment. Visit the South Eveleigh website for the full program.
---
Now until 2/01/2024
Santa's magical light forest at Market City
Market City, Level 1 Food Court, 13 Hay Street, Haymarket NSW 2000
Santa's magical light forest is Market City's free, interactive and playful Christmas display. Each step you take will bring the forest to life, illuminating hundreds of enchanting lights along the way. There is also a Santa selfie zone – just bring your phone and an Elf will snap the perfect picture of you and your family or friends. Market City will be open for Christmas shopping and festive dining everyday, including Christmas day. Shoppers are also encouraged to make a difference with the Tree of Friendship by donating a gift for a child in need this festive season.
---
23/11/2023 – 21/1/2024
DARKFIELD
Harbour Park, Barangaroo
The highly acclaimed multi-sensory series, DARKFIELD, is making its highly-anticipated return to Sydney this November, where all four of its shipping container experiences – SÉANCE, FLIGHT, COMA and EULOGY – will engulf audiences in complete darkness and challenge their grasp on reality.
---
23/11/2023 – 17/12/2023
Rouge: Circus For Grown Ups
Sydney Spiegeltent, The Entertainment Quarter, 122 Lang Rd, Moore Park NSW 2021
Sizzle meets sensation at Sydney Spiegeltent's new summer show Rouge, an adults-only sultry spectacle of new age circus and cabaret. From Thursday 23 November to Sunday 17 December, let Rouge seduce you into a world dripping with avant-garde acrobatics, operatic cabaret, and tongue-in-cheek burlesque. Dive deep into a decadent circus experience for the grown and daring. A world where the astonishing mingles with the supremely sexy, where every glance and gesture promises forbidden delights and audacious surprises. It's a pulsating blend of raw sensuality, playful allure, and acrobatic prowess that will leave audiences breathless.
---
25/11/2023 – 26/11/2023
Ben & Jerry's and Tony's Chocolonely Chocolate Love A-Fair
Overseas Passenger Terminal, 130 Argyle St, The Rocks, NSW 2000
Two of the world's favourite impact makers, Ben & Jerry's and Tony's Chocolonely, have fallen bar over spoon for each other into a true Chocolate Love A-Fair: and they want you to help them celebrate their commitment to ending modern slavery and child labour in the chocolate industry. The event features a mini golf course, real flash tattoos, a chance to WIN a year's supply of Ben & Jerry's ice cream, samples of their latest ice cream, chocolate bars, and more.
---
25/11/2023
Sarah Grunstein
Sydney Opera House
Internationally acclaimed Australian pianist, Sarah Grunstein, returns to the Sydney Opera House by popular demand, to perform in November 2023. While Grunstein is distinguished for her interpretation of Bach's works, the praise she has received is not limited to her performances of Bach.
---
27/11/2023
FREE LA RAMS EVENT IN COOGEE!
Goldstein Reserve (Parkland across from Coogee Beach) 175-249R Arden Street, Coogee NSW 2034
Calling all NFL fans! On Monday, 27th November, the Los Angeles Rams are transforming Coogee Beach into a beachside Certified #RamsHouse, offering locals and NFL enthusiasts a unique opportunity to catch a live broadcast of the Rams vs. Cardinals game on the big screen. What's more? Free coffee and merchandise are up for grabs, and fans can meet former LA Rams running back, Todd Gurley. And joining in the fun are the team's beloved mascot, Rampage, and some of their spirited cheerleaders . The action kicks off at 8:05 am on the grass at Goldstein Reserve across from Coogee Beach.
---
28/11/2023
Soul Origin Is Giving Away Free Coffee!
Sydney CBD Stores (including Broadway, Sydney Central Park, Sydney 161 Clarence St, Sydney Central Plaza, Chifley, Met Centre, MLC Centre, The Galeries, Town Hall, Wintergarden, World Square, World Square Coles)
As the economic climate doesn't look to be lowering any time soon and with the cost of living and interest rates continuing to rise, Soul Origin is giving back to Australians with coffee. Whether you're a busy executive looking for a quick break, a student rushing to class, or a coffee lover exploring the city, this free coffee day is for everyone. On Tuesday 28th of November, anyone can visit one of the participating Soul Origin Sydney CBD stores and enjoy FREE barista-made coffee.
---
2/12/2023
SNEAKERLAND Sydney
Carriageworks, Sydney
Australia's largest sneaker and streetwear convention, SNEAKERLAND, is coming to Carriageworks, Sydney on Saturday 2nd December. Expect to see some of the most exclusive sneakers and streetwear pieces in the world, 1v1 basketball tournament and dance competitions, experience the Throwback ""A Journey Through Basketball's Golden Era"" museum exhibit, special guest and celebrity appearances, giveaways with more than $3,500 worth of prizes, over 50 vendors to shop from including Foot Locker, Throwback store and Goorin Bros, food trucks, curated bar, haircuts and braids, tattoo stand, DJs and entertainment and more. See you at Sneakerland!
FEATURED EVENT
3/12/2023
Elevate the Stage FREE Celebration Concert
ICC Sydney – 14 Darling Drive Sydney
On International Day of People with Disability (IDPwD), a unique FREE concert featuring some of Australia's top artists, with and without disability, will be performing live at ICC Sydney from 4.00pm – 6.30pm (AEDT) on Sunday 3 December 2023.
An event that promises to be a beacon of unity, acceptance and diversity, Elevate the Stage will be a spectacular showcase of talent on IDPwD – a United Nations initiative observed annually since 1992.
Performers include (but are not limited to):
– Paulini Curuenavuli
– Soprano Amelia Farrugia performing with opera singing sensation Tim McCallum
– Peter Cousens performing with StarAbility 2023 winner Lauren Weber
– Singer Mick on Wheels
– Rock guitarist Rex Goh of Air Supply, Eurogliders and other popular bands
– Instrumentalists and singers, Lara Nakhle and Connor Wink
– Jazz vocalist Emma Pask
– Comedians Tahir Bilgiç and Jamal Abdul and entertainer and athlete Paul Nunnari
To be hosted by Journalist Nas Campanella, and three-time Paralympic gold medalist and two-time Commonwealth Games gold medalist Kurt Fearnley AO, other acts to add their magic to this truly unique event will include: Maestro John Foreman OAM, DJ Matt Medcalfe, the StarAbility Dancers, the Talent Development Project, the NSW Schools Singing Choir, wheelchair ballroom dancers and many more.
Event ambassador and actress Paula Duncan AM says Elevate the Stage is not about dwelling on the challenges of living with disability; it's about breaking down barriers for people with disability and encouraging more inclusive attitudes and behaviours among all Australians.
"Elevate the Stage is a fantastic opportunity for performers with disability to showcase their talents along with fellow professionals. It's a chance for all of us to celebrate achievement and hard work through performance and importantly, in front of new audiences," says Paula.
The brainchild of Fran Eustace and John Trevillian AM of JT Strategic Solutions and Events and largely organised by a dedicated group of volunteers, Elevate the Stage is intended to become the pinnacle event of Australia's annual IDPwD festivities.
In Australia, annual recognition of IDPwD is a joint effort between government, schools, community groups, businesses and individuals. There are many ways people can be part of creating an inclusive and diverse community. To learn more, visit idpwd.com.au.
Elevate the Stage is generously backed by Presenting Sponsor, Nova Employment and 1000 FREE tickets are now available to the first who register to attend the concert at ICC Sydney's Grand Ballroom via https://events.humanitix.com/elevate-the-stage.
For enquiries specific to Elevate the Stage, email [email protected] or call 0410 664 564.
5/12/2023
The Balvenie and Lennox Hastie's Firedoor Experience
Firedoor, Surry Hills
The Balvenie Single Malt Whisky and Australian culinary pioneer Lennox Hastie are excited to pair up again for a Fire, Food and Whisky Experience, a one-night only whisky and dining affair influenced by Lennox' time spent at the distillery in Scotland. The ticket price of $475 includes a five-course curated menu perfectly paired with a selection of The Balvenie Single Malt Whisky, plus a Lennox Hastie signed bottle of The Balvenie 12 Year Old DoubleWood to take home. Experience it on 5 December at Firedoor Sydney. Ticket available to purchase Friday, 17 November at 10am from Firedoor.com.au.
---
7/12/2023 – 23/12/2023
The White Mermaid or The Little Lotus
Seymour Centre, Cnr City Road &, Cleveland St, Chippendale NSW 2008
From the team that brought you the 2022 hit panto Moulin Scrooge! comes a fabulous aquatic fantasy for adults only! Prepare to be transported to the magical world beneath the waves, where the vivacious Tania McMermaid (Trevor Ashley) takes center stage. In this heart-warming story, Tania finds solace after a recent loss as she checks into the opulent and mysterious hotel, The Little Lotus. Join us underwater for a brimming tale of laughter, love, and a pinch of saltwater magic in "The White Mermaid or The Little Lotus!" Just don't get crabs!!
---
17/12/2023
Art Battle Sydney : BYO Drinks
Craftwerk Studio – 31 Sydney Street, Marrickville NSW
Come watch the paint fly before your eyes and help vote to determine the Winner as 12 local visual artists battle it out pm canvas within 20 minute rounds! All artworks created will be available for auction during this incredible afternoon of community and creation! Be a part of the fun as a spectator, or participate as one of the featured artists by applying online! Spots still available (but filling up fast). Doors @ 3pm, Painting @ 4pm. General Admission $30. Tickets available via Instagram @artbattlesydney & on Eventbrite. Sponsored by Kadmium Art + Design Supplies.
---
18/12/2023 – 20/12/2023
WAYS OOSH Summer Vacation Care
WAYS OOSH Vacation Care
With over 35 places per day, WAYS OOSH Vacation Care is a summer vacation program suitable for children aged 8 to 12 years and is designed to help parents across the Eastern Suburbs eager to experience a transformational program for their children. It includes a full day of excursions and incursions from 8:00am to 6:00pm including activities across the categories of entertainment, food, animals, fitness, quizzes and challenges, health and wellbeing and technology and innovation.
---
8/01/2024 – 25/01/2024
WAYS OOSH Summer Vacation Care
WAYS OOSH Summer Vacation Care
With over 35 places per day, WAYS OOSH Vacation Care is a summer vacation program suitable for children aged 8 to 12 years and is designed to help parents across the Eastern Suburbs eager to experience a transformational program for their children. It includes a full day of excursions and incursions from 8:00am to 6:00pm including activities across the categories of entertainment, food, animals, fitness, quizzes and challenges, health and wellbeing and technology and innovation.
---
24/02/2024 – 25/02/2024
KPMG Australia Sail Grand Prix | Sydney 2024
Sydney Harbour, 2000, NSW
Don't miss a moment of the action as ten nations go head-to-head at the KPMG Australia Sail Grand Prix | Sydney from 24/25 February 2024.
---
4/05/2024 – 5/05/2024
Monster Truck Mania Live Sydney
Qudos Bank Arena, 19 Edwin Flack Ave, Sydney Olympic Park NSW 2127
MONSTER TRUCK MANIA LIVE is BACK in 2024. Tickets are now ON SALE from $45! After wowing sell-out arenas nationwide in 2023, this HUGE army of Massive Machines are bounding back into Sydney, Melbourne and Brisbane arenas. Qudos Bank Arena: 4 & 5 MAY | Rod Laver Arena: 11 & 12 MAY | Brisbane Entertainment Centre: 18 & 19 MAY. With action-packed weekend events in air conditioned all-weather comfort, surrounded by giant screens & blazing floodlights there isn't a bad seat in the house! Monster Trucks. Back-Flippin' Freestyle Motocross, Flame-Throwing Jet Car, Family-Friendly Support Acts. Special concession prices for Juniors (3-14 years).