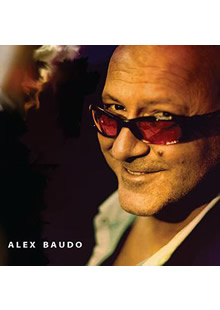 "Alex Baudo" is the eponymous title of the sixth and latest album by musician Alex Baudo.
Contrary to his other albums, which have mostly featured original work, this new album is best understood as a project pursued by Alex in an interpretive vein to propose anew some of the finest examples of Australian rock, with some pieces sung in English and others alternately in Italian.
With this new album, Alex has chosen to blend into it a decidedly "Australian flavour" as a core ingredient in the process of its making. In fact, Alex was very keen to re-work through his own musical imagination some Oz rock "delights" and present them as creatively fresh offerings to audiences both here in this country and in other places around the world. This new album features the songs of several Australian artists he has long admired, including such "local classics" as "Slave" by James Reyne, "Saturday Night" by Don Walker, "The Best Years Of Our Lives" by Richard Clapton, and "L'uomo Dei Colori", an Italian version of "Man of Colours" by Iva Davies.
Born in Rome, Italy, and having been brought up in both Canada and Australia, Alex wanted this album to reflect the many artistically constructive experiences that living in, and being part of, these different places made possible. With this new album, Alex has sought not only to put together a project that is in many respects quite distinct in comparison to all his previous ones, but also to reach down to and re-interpret the very "mood" of, in particular, that Australian rock music which has played such an important role in his own development as a musician.
Alex plans to tour with this album as much as he can around the world, feeling confident that its richly textured and multicoloured Oz sound, flowing seamlessly between the styles of "Rock" and "Soul," will be found appealing and enjoyable by many music lovers, far and near.

ALBUM TRACKS:
Slave
Waves
Blu Blu
Only You Can Guide Me
Saturday Night
L'uomo Dei Colori
You're A Liar
The Best Years Of Our Lives
Come Midnight
Blue Blue
L'uomo Dei Colori (Man Of Colours) (Paul Brandoli Euro Mix) Hidden Track
The album is available now.
Sydney Unleashed is one of Australia's premier entertainment publications exploring the latest in lifestyle trends. From Sydney's finest restaurants, cafes and bars to the hottest in gadgets, products, and home entertainment, Sydney Unleashed is your one-stop lifestyle platform.