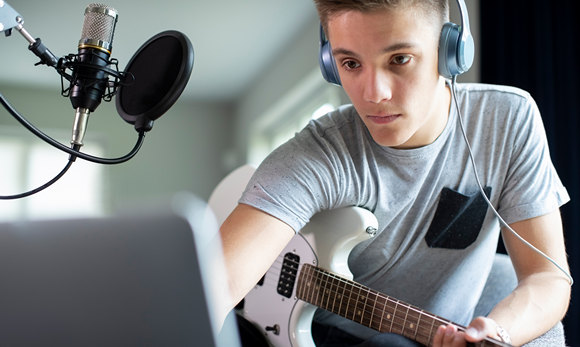 7 Reasons To Add Avid Pro Tools To Your Recording Stack
Avid Pro Tools—often referred to as Pro Tools—is digital audio workstation (DAW) software designed to help filmmakers, musicians, and even voice-over actors to render and produce film, music, and voice work. As a DAW, Pro Tools allows end-users to add, edit, and transform image, audio, and video files.
Many in the industry believe this program is better than most digital audio workstations (DAWs) in the market regarding music production, mastering, and film post-production – not to mention that it's relatively cheaper than most professional-level DAWs out there.
Adding avid Pro Tools into your amp or recording stack is a wise decision. If you don't believe that statement, you may want to continue reading to know the five reasons it's true.
1. Pros Prefer Avid Pro Tools
Avid Pro Tools isn't something of a fringe product or software; it is used by the big names in the film and music industry. Those big production companies can achieve the highest sound quality possible with it.
And you don't need to be a professional to produce high-quality sounds with it. As long as you properly connect the other equipment in your stack and follow best practices, Pro Tools can let you have the perfect recording you wish for. With it, you can make masterpieces as long as you feed it with raw, clean sounds from your instruments.
On the other hand, if you're an aspiring sound engineer, you should prioritise learning to use Avid Pro Tools because it's an industry standard. Also, you can acquire it at a much lower price if you're still a student.
2. Pro Tools Has Sweet Sounding Virtual Instruments
With Avid Pro Tools, you don't need to own a musical instrument or even a microphone to create a song. With this tool, you won't even need to have an amp stack because it allows you to use a variety of virtual musical instruments and sound equipment simulators to produce the sounds you want for your tracks.
For example, you can use its Mini Grand to create piano tracks and clips even if you don't have an actual piano or keyboard. You can produce authentic piano keys and chords in your project in a few clicks. You can also use these virtual instruments if your playing skills aren't still at a level that can let you record in only a few takes.
You aren't even limited to only one kind of sound per virtual instrument. You can buy or download virtual instrument plugins and install them on your Pro Tools app, which virtually allows you to have as many instruments as possible.
3. You Can Refine Your Sound To Perfection
Avid Pro Tools is a very robust piece of software. It has an interface that allows end-users complete control of every aspect of the sound and music from their recording stack. For instance, to achieve the perfect tempo, you can just cut and drag around in the timeline to ensure every beat and tone will play precisely.
Of course, this can also be done with your video clips when editing a film or short, or if you want to record a song cover. Also, you don't have to use two different programs to edit or create a movie if you're a filmmaker. With Pro Tools, you can do sound and video in one place, which is very convenient, especially if you're already in crunch mode.
4. Avid Has Great Support
If ever you run into a problem with avid Pro Tools, you don't need to panic. You can call Avid's customer support service and get all the answers and help you need to continue doing what you need.
For example, if your effects chain in Pro Tools isn't changing the audio signals you're receiving from your stack, you have a lot of ways to get help from Avid. If you think a problem you encountered is simple, you can just go to Avid's website and find the knowledge base article to help you resolve the issue. If the problem is about your license or software features, you can either open a case on the site, chat with a representative, or find their customer support number and call them.
5. Pro Tools' Come With A Lot Of Effects, Filters, And Tools
If your recording stack is lacking, you can use avid Pro Tools to fill that gap. For example, if you don't have the exact preamp you want to achieve a particular sound, you can use the available AAX effects in Pro Tools to simulate or emulate the pre-amp you wish.
6. Pro Tools Is Easy To Use
Typically, professional DAWs can have boatloads of features and tools that can easily overwhelm new users, and most of them are accessible and visible the first time the application is loaded on the computer. In some cases, users need to use two monitors to make it easier for them to navigate those DAWs. Because of those reasons, the learning curve to learn DAWs can be too steep for many.
Thankfully, in Pro Tools, some of those other tools and features are hidden away, and you'll be often greeted with only two frames: mixing and editing. With those two frames alone, a beginner can get started with recording and mixing without getting bombarded with a lot of information and buttons. If they want to do more, they can always access other tools and features whenever they want to explore or learn more about them.
7. Pro Tools Caters To Every Genre
You might be a rock and roll type of musician or a hardcore metalhead, regardless, Pro Tools can help you record your stuff and let you make your songs sound in the genre where they belong. Other DAWs often are associated with specific genres. In Pro Tool's case, it's not, and it's often lauded as highly versatile.
Conclusion
Those are a few reasons you should get Avid Pro Tools for your recording amp stack. Fortunately, it's not that hard to get the software as long as you have internet access and have the money to buy a permanent or subscription-based license.
Sydney Unleashed is one of Australia's premier entertainment publications exploring the latest in lifestyle trends. From Sydney's finest restaurants, cafes and bars to the hottest in gadgets, products, and home entertainment, Sydney Unleashed is your one-stop lifestyle platform.