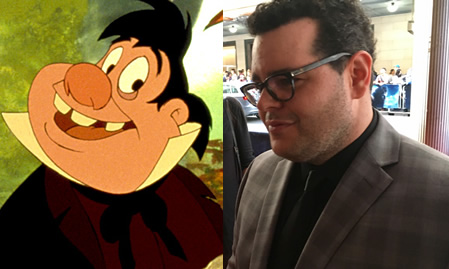 Beauty & The Beast's Josh Gad
It is highly unusual for a celebrity guest of honour to arrive early to a red carpet. But the energetic actor Josh Gad certainly did for the Australian premiere of Beauty and the Beast at the glorious State Theatre Sydney. Anticipated by many, Disney have had success reworking their classic vault recently with Jungle Book, Cinderella and Maleficent (the Sleeping Beauty redo). As the voice of loving snowman Olaf in Frozen and memorable as LeFou in the live action Disney reworking, he was just as friendly and unique in conversation.
Hello Josh, we have matching glasses.
JG – Well sort of, yours are much blacker than mine. Actually, I need a new pair. Want to swap? (laughs)
Great performance, was it difficult to be so physically active while singing and acting as LeFou?
JG – You know it is because what happens is, in a live musical, you often record the song before so you sort of have to match that energy and it changes then adapts as you perform it on stage. Because I came from musical theatre, I just couldn't lip-sync. I had to sing live every scene every time, loved it!
Did Olaf visit the set of Beauty and the Beast or come out to sing 'accidentally' during any of your scenes?
JG – (laughs) Sadly no, I've got him locked up at home (laughs).
What was it like being on such a huge Disney set coming to work each day?
JG – Surreal. The first day I walked onto set, it was the French village which felt like walking into my childhood or literally a dream. To have all of those practical sets there, especially when so much of the movie is CGI (digital effects), it was amazingly helpful to interact with all of that.
How would you describe the diversity of your character LeFou in this version?
JG – The whole conversation has been blown-up at this point, hopefully we can get to a time when something like this isn't even a discussion. What I am proud about is we made a movie that speaks to everyone. Having seen it with two audiences now, the reaction is extraordinary and now people are seeing it, they realise there is no controversy. I've seen them laugh, cry and sing-a-long, it's just wonderful.
Is your planned 'Gilligans Island' remake on the cards anytime soon?
JG – Probably not sadly but still in the works is my portrayal of Roger Ebert which I am very much looking forward to.
Lovely to meet you Josh, I loved you in The Rocker.
JG – (laughs) Wow, that was a while back but absolutely appreciate that thought Shane, in so many ways, thank you.
Shane A. Bassett
Sydney Unleashed is one of Australia's premier entertainment publications exploring the latest in lifestyle trends. From Sydney's finest restaurants, cafes and bars to the hottest in gadgets, products, and home entertainment, Sydney Unleashed is your one-stop lifestyle platform.