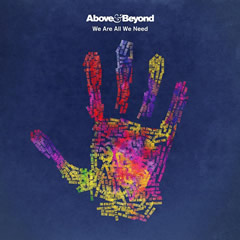 ABOVE & BEYOND: We Are All We Need
We Are All We Need, the follow-up to Above & Beyond's 2011 album Group Therapy, places human relationships at its core and explores the experiences and emotions that bind us – whether on passionate ode to friendship "We're All We Need," the BBC Radio 1 supported anthemic "Blue Sky Action" or the possessive, post break-up tension of "Sticky Fingers." As with Group Therapy, Above & Beyond have worked with Andrew Bayer on the production of the album and among its' 16 tracks are vocal collaborations with Zoë Johnston, Alex Vargas and Justine Suissa.
The album's distinctive hand-print artwork is made up of the names of Above & Beyond fans from all over the world, plus the names of the band members and album contributors. To celebrate its launch, Above & Beyond—who are Jono Grant, Tony McGuinness and Paavo Siljamäki–have created an app enabling fans to create their own custom version of the album cover, featuring their own names and those of their friends, as well as offering a short audio preview of We Are All We Need.
"As the writing process unfolded we kept noticing a recurring theme,'' says Above & Beyond. "Zoë hit it on the head with the beautiful song 'We're All We Need' and, after a minute's thought, we had our album title. It's very Above & Beyond and feels to us like a development of Group Therapy: you are most certainly included in our 'We'!"
The album follows a typically landmark-loaded 2014 that included the release of their iconic Above & Beyond Acoustic album (#1 iTunes Dance Album in multiple territories) & selling out Madison Square Garden (the first British DJs to ever do so). To welcome in in 2015 they played two sold out shows in Australia; NYE in Sydney at The Hordern Pavilion and NYD in Melbourne at the Myer Music Bowl, as well as "We Are All We Need" hitting #1 on the Australian iTunes Dance Chart & #3 Overall.
Above & Beyond – the biggest band in the world you haven't heard of.
Tracklist:
Quieter Is Louder
We're All We Need feat. Zoe Johnston
Blue Sky Action feat. Alex Vargas
Peace of Mind feat. Zoe Johnston
Counting Down The Days feat. Gemma Hayes
Sticky Fingers feat. Alex Vargas
Hello
Little Something feat. Justine Suissa
All Over The World feat. Alex Vargas
Fly To New York feat. Zoe Johnston
Making Plans feat. Alex Vargas
Out Of Time
Excuses
Save Me feat. Zoe Johnston
Sink the Lighthouse feat. Alex Vargas
Treasure feat. Zoe Johnston
We Are All We Need is available now.
Sydney Unleashed is one of Australia's premier entertainment publications exploring the latest in lifestyle trends. From Sydney's finest restaurants, cafes and bars to the hottest in gadgets, products, and home entertainment, Sydney Unleashed is your one-stop lifestyle platform.