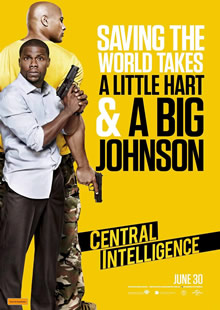 Central Intelligence: Review
Starring: Dwayne 'The Rock' Johnson, Kevin Hart, Amy Ryan, Megan Park, Aaron Paul, Danielle Nicolet (Rated M – 107 min).
It is with great wonder these two modern pop culture identities (Dwayne Johnson and Kevin Hart) have not been paired up earlier as these larger than life personalities share comedic chemistry from the get-go.
The painfully obvious plot aside is not really a problem. Most buddy action is all formula and explosions – think Tango & Cash (1989), Lethal Weapon (1987), or slightly deviating Kindergarden Cop (1990) as perfect examples. This is lighter than those, more teen-appropriate with an abundance of juvenile sensibility.
An overweight bullied kid grows up to become a muscled CIA operative who, upon returning for his high school 20 year reunion, teams up with his one true friend that helped him out of an embarrassing jam on graduation day. Although not discussed, Bob Stone (Dwayne Johnson) is a kind of stalker to former top jock now top accountant Calvin Joyner (Kevin Hart) reluctantly partnering up on a secret mission.
In hot pursuit are another batch of CIA agents trying to convince Calvin that Bob is a traitor. In the meantime, there are amusing fist fights, car chases, jumping out of high rise windows and rapid fire banter. Story arcs that Bob got his ex-partner killed withholding stolen information are unconcerning. One of the better on going jokes is a reference to Molly Ringwald and her retro classic 16 Candles (1984).
Seeing ultra fit The Rock wearing a Unicorn t-shirt alongside pint-sized mostly straight guy Hart is funny enough. This pair back it up making the most of the screenplay of never-ending quips all leading up to the inevitable senior class reunion.
Cameo appearances from Patrick Bateman as the grown up bully who antagonised Bob at school and soon to be seen confronting the paranormal in the next generation Ghostbusters, Melissa McCarthy, as a much kinder former student.
Shane A. Bassett
Sydney Unleashed is one of Australia's premier entertainment publications exploring the latest in lifestyle trends. From Sydney's finest restaurants, cafes and bars to the hottest in gadgets, products, and home entertainment, Sydney Unleashed is your one-stop lifestyle platform.