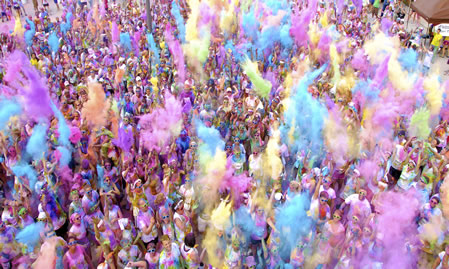 America's most fun running race, Color Me Rad – the race that guarantees to make you more attractive to the opposite sex, your sister less annoying and to cure baldness* – has announced that its first Australian event will paint Sydney's Motorsport Park in a tsunami of colour this February.
Run by almost one million Americans since its establishment in 2012, the 5km race has been held in all of its technicolour glory everywhere from New York to New Orleans and even across Mexico, Canada, Europe and Asia. It aims to encourage non-runners to get moving by inspiring them with a blaze of colour bombs and colour cannons that organisers say lift participants' moods to the point they barely even realise they're running a 5km race.
"And that's because running really is only acceptable when being chased by a crazed emu, Warwick Capper or there is a dire need to escape the hairy arm of the law, personal responsibility or the truth," race coordinator Rob Capogna said. Runners start off with a virginal, fresh, white t-shirt that quickly morphs into an Impressionist inspired rainbow artwork as they make their way through the 5km course. "We can't promise you'll raise the same cash selling your handiwork as old Claude Monet has, but it will at least make washing whites later on interesting," Capogna said.
When runners hit the finish line, most are not only crying rainbow-coloured tears of joy, but are greeted by a rad DJ playing rocking tunes, as well as colour throws and colour blasters to keep the colour tsunami rolling. Best of all, a portion of the proceeds from each Color Me Rad race is given to the community through a partner charity. In Sydney, the Australian Cancer Research Foundation (ACRF), a charity that provides funding and tools to researchers to help the fight against cancer, will benefit.
ACRF CEO David Brettel says, "We are thrilled to be the charity partner for Color Me Rad. It's a fun, family-friendly event that everyone can take part in, knowing at the same time they are doing their bit to help raise important funds for cancer research." Inspired by the Holi Festival of India, Color Me Rad was started by a group of friends who decided to make running more fun by bringing colour, music and a total disregard for the mundane to the sport.
More than 950,000 runners across North America have since participated in Color Me Rad, coating their chafing thighs in rainbow pigment and producing technicolour sneezes for days afterwards. "Color Me Rad is what running 5km should be – fun! People in Australia are fun, fit and love to have a good time, so expanding this event down under was a no-brainer," said Rob. "While Sydney is our first and we can't wait to paint the town rainbow, we'd really love to hold a Color Me Rad in Radelaide, obviously.
* Guarantees only available to people who finish the full 5kms in 30 seconds or less.
WHAT: Color me Rad 5km
WHEN: Sunday 23 February, Registrations open at 7.30am
WHERE: Sydney MotorsportPark
Registration area: Just before the start line.
Finish area (for spectators): Just after the finish line.
HOW MUCH: $55 with discounts for groups.
Sydney Unleashed is one of Australia's premier entertainment publications exploring the latest in lifestyle trends. From Sydney's finest restaurants, cafes and bars to the hottest in gadgets, products, and home entertainment, Sydney Unleashed is your one-stop lifestyle platform.