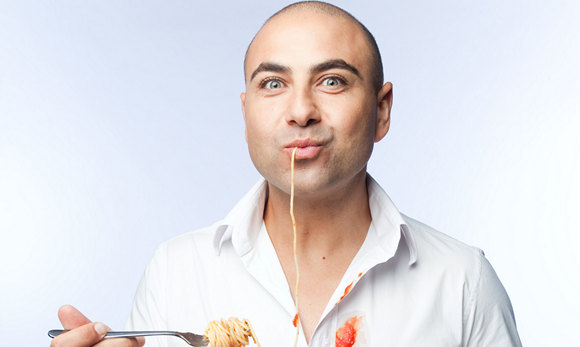 Comedian Joe Avati returns to Australia with his 25th Anniversary Tour
The comedian touted as Australia's answer to Seinfeld for his clever observational humour, is back touring his homeland with a brand-new show to celebrate his 25 years on stage – and tickets have been selling like crazy with Joe adding all new jokes, including 'going there' about cancel culture, kids of today and giving his views on today's 'woke' generation.
After surviving the world's longest lockdown, Joe is bursting with new material, has gone slightly stir crazy, and will take his all new 25 Live Have Some Respect show on a national tour to celebrate his quarter century of comedy.
The new show is the pinnacle of his 25-year comedy career, featuring his unique brand of humour and sharp observations, and over the course of almost 90 minutes, Joe will honestly recount life as an ethnic Australian (or a 'wog kid' as he prefers to call it), and now life as a husband and father to a toddler.
Growing up in the 70s and 80s, Joe's view on how today's generation of kids compares to his own experiences will have audiences of all ages and ethnicities in stitches. Joe dares to tell his audience that while he used to be scared of his parents and the 'death stares' he used to get from them when he was naughty, today it's the parents that are scared of their kids!
Internationally loved and regularly selling out shows in Canada and the USA, Joe Avati has achieved a lot in his 25 years of work.
One of the country's biggest comedy exports, Joe is the only Australian artist to have two comedy albums charting simultaneously in the top 5 anywhere in the world as well as a number one comedy album. He boasts record breaking, sell-out shows around the globe, has produced several successful live theatre shows, and hosts the popular podcast 'A Serious Chat with A Comedian'.
And, as If that's not enough, he is also working on a children's book titled 'When I Was Your Age' – a subject also touched on (in a very different way!) in his new comedy.
Well renowned for his clean comedy, Joe relies on wit, human insight, and genuine comedic talent – rather than risqué subjects or profanity – to garner the praise he regularly receives; something rare in today's comedy landscape. It is this characteristic that has drawn comparisons to the great Jerry Seinfeld, and Joe's ability to appeal to multi-generational audiences sets him apart and makes this a must-see show!
Full venue details can be found at www.joeavati.com.au.
Sydney Unleashed is one of Australia's premier entertainment publications exploring the latest in lifestyle trends. From Sydney's finest restaurants, cafes and bars to the hottest in gadgets, products, and home entertainment, Sydney Unleashed is your one-stop lifestyle platform.