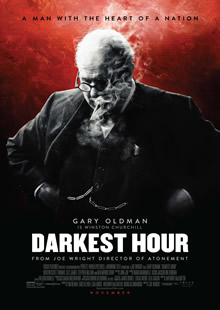 Darkest Hour: Movie Review
Starring: Gary Oldman, Kristen Scott Thomas, Ben Mendelsohn, Lily James, Pip Torrens (Rated PG – 125 min).
Not to be confused with a similar release six months ago (Churchill, starring Brian Cox who was also extremely good), this additional exploration into the mind of Winston Churchill as portrayed by Gary Oldman is something to behold. It's one of those defining roles that changes his voice, appearance, eye colour, mannerisms, everything possible to embody the character.
Concentrating on the newly appointed Prime Minister of Britain, he is locked into making a big decision to attempt negotiating peace with Adolf Hitler during the early stages of WW2, or put up a fight against all odds that if goes wrong, may end civilisation as we know it.
Political conflict and his own personal idiosyncrasies are not always a comfortable mix but it makes for some intense viewing during captivating situations. Oldman has been convincingly encompassed on screen as other historical figures such as Beethoven (Immortal Beloved 1994), Dracula (Bram Stokers Dracula 1992), to Sex Pistols punk rocker Sid Vicious (Sid & Nancy), Lee Harvey Oswald (JFK), and even Shakespeare inordinate Rosencrantz (Rosencrantz and Guildenstern are dead). His career speaks for itself.
As Churchill, he goes one step further into supreme acting territory. Australian Ben Mendelsohn impresses as King George, while young Lily James and similar grandiose talent from another generation Kristen Scott Thomas, can do no wrong. Long and moody in patches so take in a big box of popcorn to last. The Darkest Hour is all about the solid dialogue building to monumental Churchillian speeches the iconic leader was especially known for delivered by Oldman like the 60 year old pro he is.
Shane A. Bassett
Sydney Unleashed is one of Australia's premier entertainment publications exploring the latest in lifestyle trends. From Sydney's finest restaurants, cafes and bars to the hottest in gadgets, products, and home entertainment, Sydney Unleashed is your one-stop lifestyle platform.