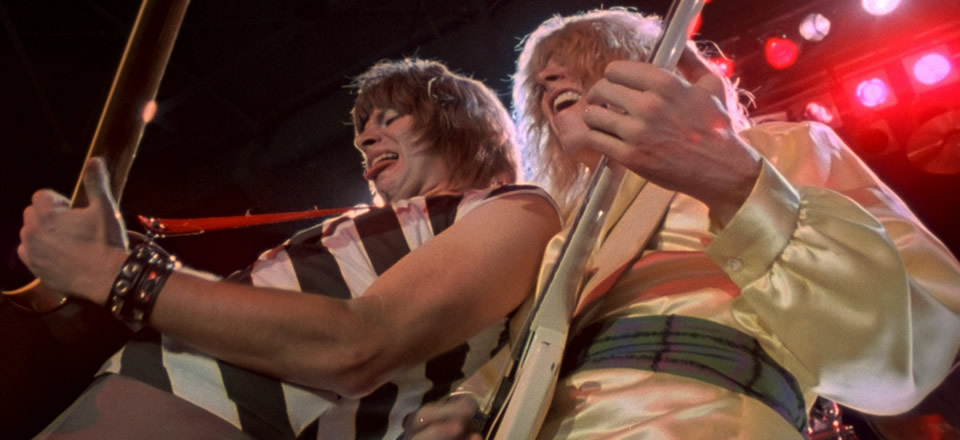 Outrageous Rock Star Demands
Rock stars can be a funny lot. Apart from being rich and famous, many artists are getting increasingly quirkier with the requests that they list on their backstage riders. The "rider" being the contract that contains a list of artist demands that a promoter must meet before a concert can take place. There are certain musicians that are renowned for the way that they spell out these demands in such meticulous detail, a la Spinal Tap. Who could forget the 'This Is Spinal Tap' mockumentary that poked fun at rock stars with their outrageous backstage requests? Fascinated by this bizarre world of rock stars, I recently went on a mission to track down various promoters, managers and former record company employees (who shall remain nameless) to find out about some of the more outlandish requests.
Before delving into those, kudos should be given to the band that are said to have started it all – Van Halen! The case that remains in most people's minds is the time when the band would ask for a bowl of M&Ms with the request that all of the brown ones be removed by hand. The rider specified, "There will be no brown M&M's in the backstage area, upon pain of forfeiture of the show, with full compensation." This may seem like a strange request but there was a very valid reason behind it. Because the band would travel with a very complex set of equipment, their rider needed to spell out in intricate detail the specifications of setting up this equipment for safety and liability reasons. So their logic was that if they had found brown M&Ms backstage, then the promoter had obviously overlooked parts of the contract meaning that there could be safety issues if the show were to go ahead. Little did Van Halen know just how much of an influence this simple request would have on the artists of today – many of whom choose to indulge to the extreme with their eccentric requests. Welcome to the real world of Spinal Tap!
Riders exist at all levels of the musical food chain but obviously the higher the profile, the more that artists can get away with. Take for example Marilyn Manson. The shock rocker demands every room he enters to be chilled to a deathly freeze with air-conditioning on full, a never-ending supply of Coca Cola and a bottomless bucket of ice. Add to that Haribo gummi bears, mini chocolates, Doritos, soy milk, assorted Kool Aid-sweetened, Hanson's cherry vanilla and microwave popcorn – just your typical diet for a Satanist. Manson is often named one of the worst offenders even sending out riders to journalists who are granted a simple interview with him. Then there's the late Prince. One of his demands included having a physician on hand before every show to inject him with a Vitamin B12 shot. His rider also specified that it was "absolutely necessary" that all food in the dressing room "must be covered by clear plastic wrap" until he uncovers them.
The Foo Fighters are one band who like to add a bit of humour to the riders that they submit. The band who refuse to share their dressing rooms with anyone unless they're "Supergrass, Oasis or maybe Led Zeppelin" ask for white tube socks, boxer shorts and Marlboro Red cigarettes in the box. The promoter is then warned, "If you choose to take some moral stance, a $20 US buyout must be substituted. Remember, you are promoting concerts, not saving whales." They also demand "air-conditioning – as is customary in modern times" and energy bars. In case the promoter doesn't know of any, they are advised to "ask a hippy for a better suggestion."
Iggy Pop once made a bizarre request for seven dwarves. To top it off, he also demanded American Spirit cigarettes (which he doesn't smoke) and broccoli (which he hates). Questioned about this bizarre request, his response was that he wanted the broccoli so he could throw it in the bin – obviously to express his hatred for it. It's anyone's guess as to why he wanted the dwarves. Glenn Danzig once made a very specific request that the promoter provide a young woman who was intelligent enough to discuss current events with him and who lived no more than a $10 cab ride from the venue!
More recently, Pharrell Williams of N.E.R.D. fame has been making a name for himself in the diva stakes. One of his latest requests included having his team of 26 people given a proper pampering. This included being supplied with a mammoth 20 crates of Grey Goose vodka, 15 magnums of Perrier Jouet Belle Epoque champagne and another mammoth 20 crates of Bacardi rum. If that wasn't enough, he also demanded that they be entertained by belly dancers while making their way into the alcohol while a Rolls Royce would be provided to drive him wherever he wanted to go. All at a bill of close to $100,000 Australian!
Jennifer Lopez is another artist who likes to make sure that she gets exactly what she wants – even at charity events! While attending the recording session for the charity single "What's Going On," she demanded a trailer of substantial size, furnished all in white with flowers, tablecloths, drapes, candles, and couches, a VCR and CD player, and 43 music CDs selected by her covering all the latest R&B, hip-hop, and salsa. Oh, and she also demands that her coffee be stirred counter-clockwise only.
But the true diva award certainly must go to Mariah "doesn't do stairs" Carey. Some of her demands have included bunny rabbits, puppies, and kittens to keep her company backstage, Cristal champagne, a box of bendy straws to sip it with, and the requirement of a special attendant to take care of all her needs. Once she even asked an attendant to dispose of her used chewing gum! She's even picky about the kind of bottled water that may be kept in the dressing rooms. The rider states, "16-oz plastic bottles of Evian are the only acceptable bottles of water for the dressing rooms." Taking it a step further, the rider for her dressing room has a separate list for her backing singers! There are many truly fascinating stories involving this diva. Once during a tour of China, she apparently needed four vehicles to carry her sixty pieces of luggage – including the 350 pairs of shoes that she brought with her. Another time she sent 20 assistants to redecorate the toilets in a music store before an album signing to ensure the toilet paper was in her preferred shade of pink! The woman puts everyone else to shame in the diva stakes.
According to many current industry insiders however, local artists are well behaved when compared to some of their international counterparts. One even suggested that the biggest hissy fit they had seen had been for a cup of tea. Nevertheless, I did manage to track down some former promoters and record company employees who were willing to dish the dirt on some of our bigger artists. One involves a current high profile female artist who was on a two-night stay in Sydney for a promotional tour and demanded a C5 Yamaha Grand Piano in her hotel suite "in case" she felt like having a play. It should be pointed out that this is one of the largest pianos in existence. In order for the demand to be met, all of the doors had to be taken off all the archways between the front of the hotel and her room just to get it in there – which they eventually did. All just in case she felt like having a play during her two-day stay! Another involves an Aussie rock band that were scheduled to play a 35 minute promotional set. Their demands included seven cases of beer, four cases of soft drink, a dozen bottles of spirits, and food for an army. The band came, they played, and then they left – barely a drink was consumed.
Then there's the case of Moby when he visited Sydney a few years back. The bald one was booked to play an exclusive industry showcase at a nightclub in Double Bay. Before playing, he insisted that the entire venue be non-smoking. However, the room was full of some of the country's most powerful music industry figures who were all heavy smokers and the request could not be met. Apparently, Moby "lost it" and refused to play at all. He refused to leave the backstage area and a substitute in-house DJ was subsequently organised. The event turned out to be an absolute debacle and a very expensive one at that. In the case of Elton John, rumour has it that his 'African themed' dressing room during one of his Entertainment Centre shows in Sydney cost a ridiculous amount to dress estimated at over $12,000. Add to that his request of forty kilos of ice but "absolutely no cold cuts."
Then there are the classic hair bands. Guns N' Roses were quite content with guacamole, cigarettes and some good old fashioned porn while Kiss would ask for a supply of blow-up dolls – of themselves of course! Bon Jovi needed a wardrobe supervisor to take care of Jon Bon Jovi's stinky leather pants and Richie Sambora's moldy cowboy hat while Poison would ask for sign language interpreters for deaf fans. Ex-Pantera frontman Phil Anselmo used to demand a gym but not the kind that you're thinking about. The gym would contain state of the art equipment such as a litre of Wild Turkey, two bottles of Chimay ale, three bottles of good French wine, and four packs of Camel Lights. The Rolling Stones, while headlining a tour that included Van Halen, once requested all of the brown M&Ms that Van Halen threw out. The Beach Boys used to demand that no information be released to the media about ticket sales unless the show was a sell-out while Men At Work would refuse to drink Foster's beer.
Other memorable requests include: a monkey for the Bloodhound Gang, Flintstone vitamins for Christina Aguilera, "Corn on the cob: fresh ears, cooked 3 minutes only" for Aerosmith, and a sea of alcohol for Queens Of The Stone Age including a large quantity of Corona's for frontman Josh Homme. Then there's the large supply of napkins for P Diddy with his name printed on all of them, corn starch for Nine Inch Nails, toilet seat covers for Live, two female dancers for "Weird Al" Yankovic to swivel with, and underwear for Moby and the Red Hot Chili Peppers. Even Modest Mouse ask for socks to be purchased for them as they "don't do laundry" and throw them all out.
Britney Spears demands a private phone line in her dressing room for outgoing calls only and fines the promoter $5,000 for any unauthorised incoming calls. Hellbilly rocker Hank III has obviously taken a leaf out of the Van Halen book with his demands which include a monkey, a half-gallon of milk, cereal, Oreos, Lunchables, squeezable mustard and ketchup, and a great white shark. Limp Bizkit made a point about the lights in their dressing room having to be "dimmable" while the Beastie Boys used to demand mountains of condoms in assorted rainbow colours.
In this bizarre world of rock stars, it seems that their every wish is the promoter's command. Spinal Tap may have been mocking the music business in their documentary but some of the antics of today's artists show that the spirit of Spinal Tap is well and truly alive.
© Danny Canak
Sydney Unleashed is one of Australia's premier entertainment publications exploring the latest in lifestyle trends. From Sydney's finest restaurants, cafes and bars to the hottest in gadgets, products, and home entertainment, Sydney Unleashed is your one-stop lifestyle platform.