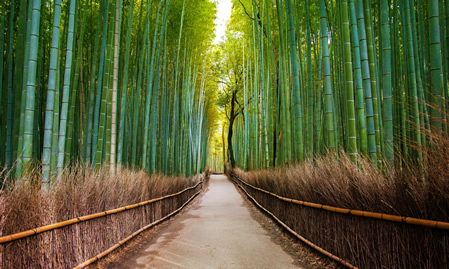 With jaw-dropping scenery, state-of-the-art architecture, mind-blowing technology and mouth-watering food, it's easy to understand why Japan is the place to go in 2017. New data released by KAYAK.com.au shows the country is one of the most popular destinations among Australian travellers, with searches for Japan up by 32 percent since last year and Tokyo the fifth most-searched city this year.
Whether travelling for a short break or an extended stay, there are endless reasons why a trip to the 'land of the rising sun' should be top of the bucket list. Start with these top five from the team of travel experts at KAYAK, from the must-do tourist trail experiences to the downright weird and wacky.
1) The shopping is unlike anywhere else on Earth
Paris, London and Milan may be known as fashion capitals of Europe, but in the South Pacific, Japan's Tokyo is at the top of every shopper's list.. The Shibuya district (where travellers can find the famous Shibuya Crossing – the busiest crossing in the world) is the best place for travellers to replenish their wardrobes. From the country's much loved Uniqlo to high fashion labels and avant garde Japanese designers like Rei Kawakubo and Yohji Yamamoto, it's easy to "shop 'til you drop" in Shibuya.
For Aussies wanting to take inspiration from Japan's enviable street style, a visit to Harajuku is a must. Travellers should head straight to Takeshita Street where they'll find Japan's infamous Harajuku girls complete their colourful, eccentric and (sometimes) extreme outfits that throw convention out the window. For travellers that like to push the boundaries when it comes to fashion, there's no better place to play dress up and do as the locals do.
Where to stay: Stay at Cerulean Tower Tokyu Hotel in Shibuya from $341*
How to get there: Return flights to Tokyo start from $640**
2) The technology is next level
Known as the leader in the world of technological innovation, Japan is home to Shinkansen, one of the fastest bullet trains on the planet, which travels at speeds of up to 300 kilometres per hour. Travellers can join thousands of Japanese commuters for a taste of life in the fast lane on the Tōkaidō Shinkansen, which connects Japan's two largest cities – Osaka and Tokyo. Speedy trains aside, there are an array of strange tech-centric experiences to be had in Japan, from the infamous neon lit, cabaret-style robot restaurants to high-tech toilets that warm the seat, play music and are, of course, odour neutralising.
Where to stay: Stay at Hotel Nikko Osaka from $212*
How to get there: Return flights to Osaka start from $645**
3) It's the home of karaoke
Love it or loathe it, karaoke is a favourite Japanese pastime and there's no better place to experience it, than at a quintessential karaoke bar like Big Echo in Ginza. Aspiring singers will find a Hello Kitty-themed room, or Shidax – a karaoke chain found throughout Japan offering parlours with leather armchairs, 1970s wallpaper and neon lighting. The Nico Kara Room at Joysound in Osaka takes karaoke sessions to the next level, offering wannabe performers the ability to broadcast their karaoke solo live via YouTube.
Where to stay: Stay at Hotel Monterey Ginza from $113*
How to get there: Return flights to Tokyo start from $640**
4) The food is almost as outlandish as the fashion
Japan is so much more than the traditional dishes that it's most famous for, like sushi, sashimi, tempura and yakitori. These delicacies are certainly worth feasting on but it's the country's inventive approach to cuisine that takes the cake. From curry donuts and cheese drinks, to wasabi-flavoured everything (including beer, ice cream), eel soda and 'snow', an addictive fairy-floss like powder. Travellers looking for a Michelin-star dining experience will find themselves spoilt for choice in Tokyo, which is home to world-renown favourites like Ishikawa in the Shibuya district (famous for its sabo) and Sushi Yoshitake in Ginza which adheres to the strict guidelines of sushi etiquette.
Where to stay: Stay at Daiwa Roynet Hotel Utsunomiya from $96*
How to get there: Return flights to Tokyo start from $640**
5) Its natural beauty is Instagram-perfect
With the impressive 133-metre tall Nachi Falls in Nachikatsuura, Hitachi Seaside Park in Ibaraki and The Blue Pond in Hokkaido, Japan is abundant with natural sights and has majestic scenery in all corners of the country. Travellers would be remiss to not add the famed Arashiyana Bamboo Forest on the outskirts of Kyoto to their sightseeing list. One of the most beautiful groves on Earth, the swaying bamboo stalks are known for both their visual and aural beauty and are also officially recognised by the Japanese government as a nationally protected soundscape. No trip to Japan should be without a drive further north to Mount Fuji, the striking active volcano overlooking Lake Kawaguchiko which is best visited in April, when the surrounding cherry blossoms are in full bloom.
Where to stay: Stay at Hotel Granvia Kyoto from $212*
How to get there: Return flights to Osaka start from $645**
The five most popular destinations in Japan are: Tokyo, Osaka, Sapporo, Fukuoka, and Nagoya.
*The hotel prices (including taxes and fees) are per night per room for double occupancy for the above and were found on KAYAK.com.au on 7 July 2017 for travel in August 2017, for the respective hotels mentioned in the release with a minimum 3 star rating. Prices are in AUD, may be subject to change and offers may no longer be available.
**The flight prices (including taxes and fees, excluding baggage fees) for one round-trip economy seat given above were collated on 7 July 2017 for travel in August 2017 from Sydney to the destination listed, unless specified otherwise. Prices are in AUD, may be subject to change and offers may no longer be available.
Sydney Unleashed is one of Australia's premier entertainment publications exploring the latest in lifestyle trends. From Sydney's finest restaurants, cafes and bars to the hottest in gadgets, products, and home entertainment, Sydney Unleashed is your one-stop lifestyle platform.