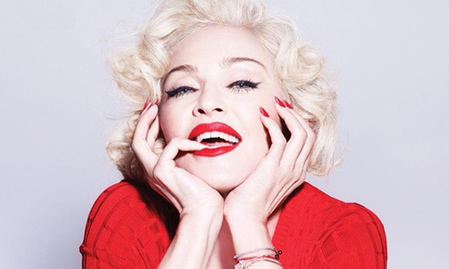 Currently striking a pose traveling around the country performing to packed stadiums on her Rebel Heart Tour, Madonna Louise Ciccone (better known as Madonna: Queen of Pop) has remained on top of the music charts for over forty years.
On and off stage The Material Girl was used to a touch of controversy whether it be wearing her underwear as clothes or using religious paraphernalia as erotic props and smooching on Britney Spears at the MTV Awards.
Daughter Lourdes is a mirror image of her mum and a talent in her own right in the world of high fashion and beauty. Part of the extended family of adopted siblings, the scandalous Madonna has always seemed family orientated.
Her inimitable career has also included a prolific array of appearances in movies, some better than others but nothing can deter the ambition, blonde ambition if you will, of variable roles. Mostly lambasted by critics for her thespian talent, she has won several Razzie Awards (Oscar alternatives for worst acting) but incredibly has also won a Golden Globe for her lead in the 1996 screen version of musical Evita, ironically a role that only required a few lines of actual spoken dialogue, the rest is singing. In 2011, the diva stepped behind the camera into the director's chair for a second feature W.E. Starring Hunter Valley actor Abbie Cornish alongside my prediction for the next Doctor Who, Andrea Riseborough, this was much more successful than her commendable 2008 directorial debut Filth and Wisdom. The complicated story of an affair between King Edward VIII with American divorcee Wallis Simpson with contemporary comparisons to a married woman and Russian security guard is a sharp debut for someone with so many years of pouting in front of the lens.
First acting endeavour A Certain Sacrifice (1985) remained unreleased until after the box office success Madonna had in Desperately Seeking Susan, one of her most iconic roles that like her memorable attire in early music videos, influenced fashion trends. A long list including Barbara Streisand, Goldie Hawn and recent Oscar nominee Jennifer Jason Leigh were up to play Susan, but Madonna made it her own in this cool comedy of mistaken identity also spawning dance hit, Into the Groove.
Follow up feature was Shanghai Surprise (1986), the period romance featured Sean Penn as a fortune hunter in need of escaping China falling in love with a missionary nurse. The fact that Penn and Madge were newlyweds in real life kept interest high until the film was released to empty theatres, critics labelled it as Flop Suey. Bad press surrounded an irritable Penn who attacked paparazzi on regular occasions. Featuring an animated Madonna during the opening credits of Who's That Girl (1987) including a live runaway cougar named Murray, this is classic retro screwball romantic comedy.
Unlucky in love, she broke up with Penn then got close with notorious ladies man Warren Beatty. He put her in his colourful comic strip film Dick Tracy (1990) as femme fatale Breathless Mahoney, a standout in song and acting pizazz. Known for his reclusive nature, going out with Madonna changed all that. He was captured  backstage during her magnificent 1991 concert documentary In Bed with Madonna (also known as Truth or Dare) giving his opinion on a range of issues including her own demeanor. Celebrity visitors Al Pacino and a ridiculed Kevin Costner also featured.
Significant, albeit small, roles in two now considered classics followed. Woody Allen selected her in his black & white noir tribute Shadows and Fog (1991) then the true story of women's baseball league formed while the men were drafted to war A League of Their Own (1992) with Hollywood royalty Tom Hanks and Geena Davis.
Even in the wake of Sharon Stone's interrogation scene in Basic Instinct, restricted classification meant instant raised eyebrows for sexuality and adult situations during Body of Evidence (1993) featuring among other things candle wax, champagne and broken glass on a car roof with a handcuffed Willem Dafoe. Creating a storm, it overshadowed Dangerous Game, a limited release that same year with Harvey Keitel. It went practically unnoticed by audiences, not by critics giving it a moderate stamp of approval to her dramatic acting.
Smaller roles followed including a part in the Quentin Tarantino produced anthology Four Rooms but credibility came in the form of powerful historic identity Eva Peron in musical Evita (1996). During the screening I attended, a row of ladies stood up and cheered in the cinema seats twice, I almost expected flowers to be tossed at the screen. Unbelievably, this was her second screen musical foray after the little known Bloodhounds of Broadway (1989).
The Next Best Thing (2000) equalled the number of astonishingly bad reviews as Shanghai Surprise. The plot of a one night stand with her gay best friend (Rupert Everett) results in a pregnancy before completing the threesome, true love (Benjamin Bratt) gets involved and borderlines on offensive. Personally I find it watchable in a masochist kind of way. Further negativity brewed as the soundtrack endorsed her melodic version of classic tune American Pie upsetting Don Mclean purists, just not fans who made it a hit.
Things were about to get worse for her reputation on the silver screen after the release of Swept Away (2002) -directed by her then husband Guy Ritchie. When asked why he put his new wife in the lead, he quoted: 'She's cheap and available'. Even an admirer of bad movies may struggle with this castaway atrocity. That same year The Material Girl made esteemed company by performing the James Bond theme for Die Another Day while also appearing as a nom de plume fencing instructor.
Other than a guest role on defunct series Will & Grace, slots on Saturday Night Live and lending her voice to French animation Arthur and the Invisibles, she has yet to star in another movie. However on screen or not, this towering icon will remain in vogue for eternity.
Shane A. Bassett
Sydney Unleashed is one of Australia's premier entertainment publications exploring the latest in lifestyle trends. From Sydney's finest restaurants, cafes and bars to the hottest in gadgets, products, and home entertainment, Sydney Unleashed is your one-stop lifestyle platform.