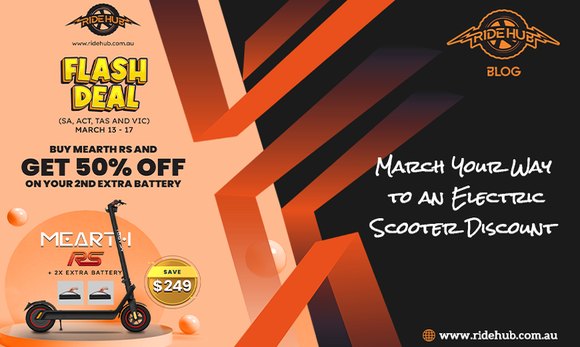 March Your Way to an Electric Scooter Discount
March 2023 is a month full of exciting events and celebrations across Australia. From South Australia to Tasmania, there's something for everyone to enjoy. Whether you're looking for a day of relaxation or an adrenaline-filled adventure, you won't be disappointed. And Ride Hub Australia, home of the Electrified Beasts (E-Rides), is joining in on the fun by offering two special promotions to celebrate these events, all in the month of March but only exclusive to the VAST residents of Australia (VAST = Victoria, Australian Capital Territory, South Australia and Tasmania).
2 BACK TO BACK PROMOTIONAL CAMPAIGNS FOR YOU!
$150 off with LD150
Avail of a $150 discount on selected e-rides from March 13 to 17, 2023, by using the code LD150, exclusively for the VAST States of Australia only. Choose from top-of-the-line electric scooters such as:
– Mearth Electric Scooters: Mearth GTS Max and Cyber
– All Bird Electric Scooters
– All Bolzzen Electric Scooters
– All Ducati Electric Scooters
– All E-Glide Electric Scooters
– All Inokim Electric Scooters
– All Kaabo Electric Scooters
– All Mercane Electric Scooters
– All NanRobot Electric Scooters
– All NIU Electric Scooters
– All Segway Electric Scooters
– All Xiaomi Electric Scooters
– And for those who prefer a combo of manual movement and a power-ride, Ride Hub Australia also offers the RH Electric Bike.
For more details on these outstanding line-up of e-rides, visit the official website of Ride Hub Australia.
50% off
All you need to do is avail of the Mearth RS Electric Scooter and two extra batteries, and automatically you will get a 50% discount on the second extra battery, resulting in a total savings of $249. This means, this FLASH SALE offers a significant discount from the regular price of $2297 to just $2048.
Mearth, the Pioneer in Australian Electric Scooters, is one of Ride Hub's best-selling brands. The Mearth RS e-scooter is a long-range, performance electric ride that's perfect for those looking for a reliable and stylish mode of transportation.
4 BACK TO BACK CELEBRATIONS FOR YOU!
V for Victoria (VIC) – Labor Day
Labor Day in Victoria is held on the Monday of March 13, 2023 and it is a day to celebrate workers and their achievements. It's a public holiday, and it's a great opportunity to spend time with family and friends. Whether you're planning a picnic in the park or a day at the beach or join the parades, Ride Hub Australia has the perfect electric scooter or electric bike for you, your choice! Choose your preferred promotion and join the celebration without a sweat, without a fuzz.
A for Australian Capital Territory (ACT) – Canberra Day
Next up is Canberra Day in ACT, a day to celebrate the capital's birthday. And just like Labor Day in Victoria, Canberra Day is also held on the Monday of March 13, 2023. It's a day of fun and festivities for the whole family. Ride Hub Australia wants to make this day even more special by offering two of its Flash Deal promotions. Choose your preferred promotion, grab your best e-ride and never worry about how to explore Canberra.
S for South Australia (SA) – Adelaide Cup
The Adelaide Cup in South Australia, just like the two events stated above, is also held on the Monday of March 13, 2023. It is a horse racing event that draws thousands of visitors every year. It's a public holiday, and people come from all over the country to enjoy the festivities. Since horses are of nature, one might be looking for a more eco-friendly mode of transportation to get to the racecourse and Ride Hub Australia just has the solution. Ride Hub Australia wants to make the Adelaide Cup more special by offering two of its Flash Deal promotions. Choose your preferred promotion, grab your best e-ride and never miss the perfect opportunity to grab your own electric ride and join the fun.
T for Tasmania (TAS) – Eight Hours Day
If you're in Tasmania, you'll be celebrating the Eight Hours Day which is a statewide public holiday for Tasmanians and also held on the Monday of March 13, 2023. This is recognized as a day to commemorate the eight-hour workday movement where Tasmanians collectively stood up for their rights. This day is an important day for them to ​​celebrate the improved economic and social conditions of workers in their state, especially the achievement of a working day with a maximum of 8 hours. Whether you're attending the parade or exploring the beautiful scenery of Tasmania, Ride Hub Australia is offering Tassies both promotions. Choose your preferred promotion and grab your own electric ride and enjoy the festivities without worrying about parking or traffic.
Hurry Up!
But hurry! These exclusive promotions are only available from March 13-17, 2023. Head over to the official Ride Hub Australia's website and take advantage of these exclusive promos before they're gone!
This is the time to move it because not only will you be getting an eco-friendly mode of transportation, but you'll also be contributing to a cleaner and greener environment. By using the Ride Hub electric rides, you're helping to reduce carbon emissions and minimize your carbon footprint. So why not make the switch to electric rides today and join the eco-conscious movement by availing of these discounted offers! These promos cannot be used in conjunction with other promotions.
Why Choose Ride Hub Australia?
If it's the best e-scooter you need, you've come to the right place. Reach out to Ride Hub Australia for the best customer service and after-sales support, this is 100% something customers can definitely count on.
Ride Hub is in the business to make all of its customers satisfied as much as possible when it comes to amazing electric scooters. They know everything there is to know about the premium e-scooters they stock. Ride Hub has a range of tools and guides to help customers work out the right electric scooter for your lifestyle, even a buying guide for your convenience.
For all the questions customers have, Ride Hub also makes sure to address all of it personally and comprehensively. But if that's not enough, Ride Hub can even give you more info and details, just subscribe to their newsletter.
Additionally, every customer who visits Ride Hub will gain product knowledge and get a broader idea on the two-wheel e-scooters they are interested in, helping them make the best decision when purchasing the coolest e-scooter ever.
More discounts like FREE SHIPPING!
Ride Hub provides customers with FREE SHIPPING. Shipping delivery times depend on the location. It may take 7-10 days to ship to Tasmania or 2-5 business days to New South Wales. Please expect delays that may occur depending on surrounding circumstances. You may also opt for Express Shipping with a minimal fee of $10 to $50 AUD depending on the delivery location.
For any purchases made at the Ride Hub Australia mall store, paying is as convenient as it is secure. The payment options include cash, cards like American Express, Mastercard, Visa and online platforms like Apple Pay, Google Pay, Shop Pay, and PayPal. Less hassle, more time!
Visit Ride Hub Australia
Ride Hub Australia is located at 129 Victoria Avenue, Chatswood, NSW 2067. To stay updated with discounts and promos, follow the social media accounts of Ride Hub Australia.
Sydney Unleashed is one of Australia's premier entertainment publications exploring the latest in lifestyle trends. From Sydney's finest restaurants, cafes and bars to the hottest in gadgets, products, and home entertainment, Sydney Unleashed is your one-stop lifestyle platform.