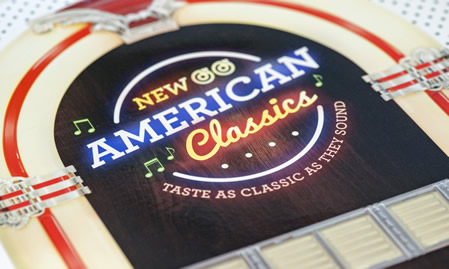 New American Classics doughnuts from Krispy Kreme
Krispy Kreme has created a limited-edition 1950s-inspired jukebox in honour of its new range of American Classics doughnuts. Not only does the jukebox double as a Krispy Kreme doughnut box…each American Classics flavour comes with its very own original theme tune.
The limited-edition jukebox comes with a built-in Bluetooth speaker to transport you back to deliciously sweet 1950s America, with exclusive Spotify playlists including four original classics.
The jukeboxes can turn any Krispy Kreme doughnut moment into a party fit for The Fonz. Flip up the lid, grab your phone and select your favourite doughnut playlist to be transported into another era.
The four new doughnuts – The Big Apple Pie, Peanut Butter Jelly Time, Coconut Cream Pie and Campfire S'mores – are inspired by some of the best flavour combinations to come out of the USA.
The iconic combo of Peanut Butter Jelly Time is always a favourite, with the additional hint of white choc truffle icing turning it into a delectable delight! Traditionalists however, may sway towards the The Big Apple Pie, with its tasty apple and cinnamon filling straight out of a corner café in New York – the innovative biscuit lattice crust is definitely worth a try.
For those dreaming of being miles away, the Campfire S'mores has real marshmallow hidden inside which melt in the mouth like it's been over an open fire. On the more tropical side, the Coconut Cream Pie is reminiscent of a heavenly Hawaiian holiday.
Commenting on the launch, Andrew McGuigan, CEO of Krispy Kreme Australia, says: "Our inspiration behind the four new flavours was American vintage with a modern twist. We've been working with songwriters and Spotify to make sure it's not only the taste buds which are in for a treat…but the ears too. You can not only taste the Classics, but hear them as well!"
To hear the dreamy American Classics original theme tunes, head to krispyclassics.com and click through to the playlists on Spotify. A few lucky doughnut fans are able to win one of the limited-edition jukeboxes via the Krispy Classics website, simply go online and enter your details to be in the draw.
The new American Classics are available in all Krispy Kreme Australia Stores in New South Wales, Victoria, Queensland and Western Australia and online. Join the conversation using #krispyclassics.
The new Krispy Kreme American Classic range:
The Big Apple Pie
A delicious doughnut filled with tasty apple cinnamon filling covered in a white choc and biscuit lattice design.
Peanut Butter Jelly Time
For the lovers of Peanut butter! – This doughnut has peanut butter raspberry filling topped with peanut butter and white choc truffle icing, crunchy biscuit crumb, raspberry jam and a red drizzle finish.
Coconut Cream Pie
This indulgent doughnut combines the delicious flavours of coconut, white chocolate and cream! The doughnut is iced with white choc truffle, hand dipped in toasted shredded coconut and filled with a sensational coconut cream.
Campfire S'mores
Based on the traditional American S'mores treat, this doughnut is dipped in choc icing, sprinkled with biscuit crumb finished with three mini marshmallows. There's something special hiding inside the doughnut though! – A fluffy marshmallow filling.
Sydney Unleashed is one of Australia's premier entertainment publications exploring the latest in lifestyle trends. From Sydney's finest restaurants, cafes and bars to the hottest in gadgets, products, and home entertainment, Sydney Unleashed is your one-stop lifestyle platform.