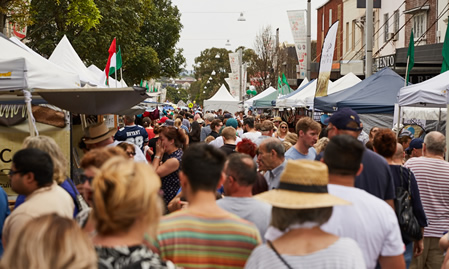 Norton Street Italian Festa
Enjoy being Italian for the day at the 31st Norton Street Italian Festa – Sunday 29 October – 10am to 5pm.
Now in its 31st year, Festa offers all things Italian and attracts more than 140,000 visitors each year into the heart of Sydney's Little Italy. Market stalls with great food & wine, and a long communal table for family and friends to get together. There are rides and fun activities for the 'little kids'  and Auto Festa – Sydney's largest collection of Italian  cars – so the 'big kids' can dream about driving an Alfa Romeo, Ferrari or Lamborghini. Cooking demonstrations by 'Italian chefs with taste' with samples for visitors to try are a Festa highlight.  Entry is free.
The well-known main street of Leichhardt will be completely transformed by street entertainment and the cooking aromas of great Italian food to celebrate all things Italian. Last year more than 140,000 visitors came to Leichhardt to mingle and enjoy the great Italian food, drink, entertainment, produce and merchandise from the more than 240 produce and food stalls that line Norton Street.
Festa is one of Sydney's largest annual family events because it provides something for everyone in the family. The 'big kids', with their 'little kids' in tow, can wander through AutoFesta checking out the display of classic brand name Italian cars and motorbikes. There's a great range of fashion and produce stalls, and more fun for the 'little kids' with a wide choice of rides and interactive play activities.
Food has always been a central part of Festa, just as it is central to the Italian way of life. One of the most popular Festa features is the cooking stage with fun host chef Enzo Guarino, winner of the pilot program for TVs 'My Kitchen Rules' introducing the celebrity 'chefs with taste' who will prepare favourite traditional recipes and sharing tastings of fantastic dishes.
With so much to see and do – Festa is a great day out for family and friends.
The Royal Hotel, at the heart of the Leichhardt's hospitality scene for more than 125 years, will be in the middle of all things Festa – with its verandah overlooking Norton Street.
Sydney Unleashed is one of Australia's premier entertainment publications exploring the latest in lifestyle trends. From Sydney's finest restaurants, cafes and bars to the hottest in gadgets, products, and home entertainment, Sydney Unleashed is your one-stop lifestyle platform.