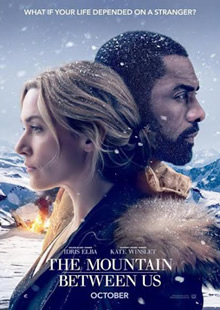 Starring: Kate Winslet, Idris Elba, Beau Bridges, Dermot Mulroney (Rated M – 103 min).
If one is afraid of flying, the opening stanza of this interesting film will not help that phobia in any way. On par with realistic, cinematic plane crashes such as two of my most memorable in Cast Away (2000) and Fearless (1993), the ariel accident on show here will jolt the audience to their seats.
Complete strangers, doctor Ben (Idris Elba) and journalist Alex (Kate Winslet), join forces to hire a light plane through desperation after all commercial airliners have been delayed indefinitely because of threatening weather. The pilot Walter (Beau Bridges) seems a little off to them both but put it aside as just oddness. However mid-flight while trying to burl around an oncoming storm, Walter seizes up suddenly having a stroke and the plane goes down, fast.
Alive but isolated on a snowy mountain cap with zero communication to civilisation, Alex is injured, Ben frustrated, unfortunately Walter did not make it. Eventually they decide it may be better to move on rather than sit it out for help to arrive. In the meantime, the duo are slowly forming a friendship and human compassion with survival instincts kicking in to protect each other.
After a close call with a roaming, hungry wild mountain cat, they are off into the thick snow across harsh terrain to find safety. Impressive cinematography captures the high altitude scenery to perfection, looking amazing on the big screen.
Breaking the ice, literally, Alex struggles with her injury but they stick together, which is something that their hearts may also do as trust in each other turns into feelings of tenderness. Unlikely romance blooms but this does not dilute the story. The instinct to survive is prominent, so their intrepid journey makes for a terrific film.
Of course Titanic (1997) is a favourite, chameleon Kate Winslet has me at hello in anything. Fellow England born thespian, gigantic Idris Elba, is all that and more, a sharp talent adaptable in variable roles from action to drama to a romantic lead. Here he exudes all three with illustrious momentum.
Leading up to a surprise twist in the tale which I didn't expect, The Mountain Between Us remains a solid adventure worth the price of admission.
Shane A. Bassett
Sydney Unleashed is one of Australia's premier entertainment publications exploring the latest in lifestyle trends. From Sydney's finest restaurants, cafes and bars to the hottest in gadgets, products, and home entertainment, Sydney Unleashed is your one-stop lifestyle platform.