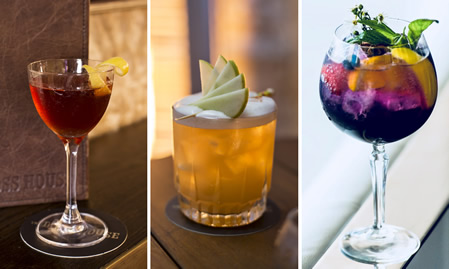 Vivid Sydney Cocktail Trail
With Vivid Sydney kicking off, SouthTrade International have partnered with the most vibrant venues around Sydney to create cocktails with their signature labels, ready for you to embark on a cocktail trail that will showcase the city of lights.
Starting at cosy whisky bar The Doss House, try the Starward enthused "Baked Apple Sour" before moving on to Nola for a Tito's handmade vodka "Lafayette Highball". Enjoy the view at Sydney's rooftop bar Zephyr with the very Instagrammable "Vivid Cocktail" inspired by 78 Degrees Gin infused with lavender. Toddle up Bulletin Place laneway to relish a "Stars in Their Eyes" at Three Bottle Man, sip on the "Vivid Dreams" outdoors at Custom House before wrapping up your delightful (and tipsy!) evening at Grain Bar with their take on an Old Fashioned.
The Doss House – "Star Struck"
– 40ml Starward Wine Cask Single Malt Whisky
– 15ml Plum infused Vermouth
– 4 dashes Peychauds bitters
– Absinthe Rinse glass
Garnish with lemon twist. Stir and strain into a Nick & Nora laced glass.
The Doss House – "Baked Apple Sour"
– 40ml Adelaide Hills Distillery 78 Degrees gin
– 10ml Amaro
– 15ml spiced apple puree
– 10 caramel
– 25 fresh lemon
– 20 ml egg white
Dry and Wet shake, fine stain into coupette glass. Garnish with apple slice and cinnamon.
Nola – "Lafayette Highball"
– 50ml Tito's Handmade Vodka
– 10ml Creme de Violette
– 20ml Lemon Juice
– 10ml Pomegranate Syrup
Served in a highball over crushed ice. Crowned with Creme de Mure. Garnished with pomegranate seeds and an orchard flower.
Zephyr – "Vivid Cocktail"
– 40 ml Adelaide Hills Distillery 78 Degrees gin lavender infused
– 30 ml spiced blueberry syrup
– 3-4 drops butterfly pea
– 10 ml lemon
– Dash falurnum
Top and balance with Mediterranean Fever Tree. Build-garnish with berries-mint-edible flowers orange-lemon.
Three Bottle Man – "Stars in Their Eyes"
– 45ml Slated caramel & banana Starward Whisky
– 10ml Apple juice
– Dash of Chocolate bitters
Stirred cocktail. Garnish cinnamon quill. Served over a hand chipped rock of ice in an old-fashioned glass.
Custom House – "Vivid Dreams"
– 30ml Tito's Handmade Vodka
– 15ml Vanilla Galliano
– 10ml Bianco Vermouth
– 5ml Absinthe
Shake and double strain. Garnish with a peel of lemon.
Grain Bar – "Craft the Elements" (Old Fashioned)
– Starward Solera Whisky 30ml
– Luxardo marachino 15ml's
– Dom Benedictine 15ML's
– Chocolate bitters 2 dashes
– Black Walnut bitters 1 Dash
– Orange Bitters 1 Dash
Add all ingredients in mixing beaker and stir down. Serve over large rock in old fashioned glass. Garnish with orange peel.
Sydney Unleashed is one of Australia's premier entertainment publications exploring the latest in lifestyle trends. From Sydney's finest restaurants, cafes and bars to the hottest in gadgets, products, and home entertainment, Sydney Unleashed is your one-stop lifestyle platform.