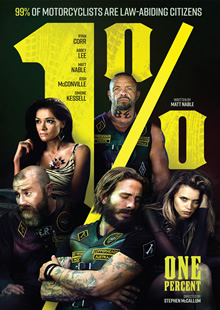 Starring: Matt Nable, Abby Lee, Ryan Corr, Aaron Pederson, Jacqui Williams, Simone Kessell (Rated MA – 92 min).
Hold on to your senses, this is a full tilt ramped up Australian motorcycle gang culture experience most likely to leave an imprint of variable emotions inside your mind. Break out the leather jackets, rev up those choppers, ride or die.
Debut feature director Stephen McCallum has woven solid performances from an entirely dedicated cast encased in a wordy riveting screenplay by local thespian Matt Nable. Notoriously elusive two wheel gang, Copperheads MC, go through a power struggle when former leader Knuck (Nable) returns from behind bars keen to re-establish himself as top gun (literally) having left control within the capable hands of young mentor Paddo (the irrepressible Ryan Corr). Unfortunately waif goddess Katrina (Abby Lee), girlfriend of Paddo, discreetly expresses her interest for her man to be Copperheads leader in his own right.
Things go awry for Knuck and his long in waiting monogamous wife Hayley (Simone Kessell) questioning his faithfulness after spotting him with men, obviously a new appealing treat for his masculinity discovered in prison. Examining the relationships within the ranks is only half the story. Violent daily routines also fare into a plot which could be compared to popular biker television series, Sons of Anarchy.
Crime drama (Australian style) of this magnitude is not for everybody and writer/star Matt Nable agrees. Not for the faint hearted; be sure to prepare for language deluxe in true tattooed gangster tradition with inspired touches of Shakespeare tragedy for those not aghast with consternation.
Authentic costumes designed by Terri Lamera are worth noting, detailed and immaculate to wear tear grit. Acting all round equally as strong highlighted by Kiwi Simone Kessell (The Informer), strong dark mannerisms displayed by her flaccidly gorgeous eyes alone. Stalwart expert Nable has come a long way since the underrated S.I.S (2008), he turns in another decisive screen persona, it's no surprise Hollywood has beckoned. Recently hamming it up in Ladies in Black, cool Ryan Corr pipes into believable gritty mode here.
Not perfect however if you're looking for a local bikie showcase with severe criminal elements, this is for you.
Shane A. Bassett 
Sydney Unleashed is one of Australia's premier entertainment publications exploring the latest in lifestyle trends. From Sydney's finest restaurants, cafes and bars to the hottest in gadgets, products, and home entertainment, Sydney Unleashed is your one-stop lifestyle platform.