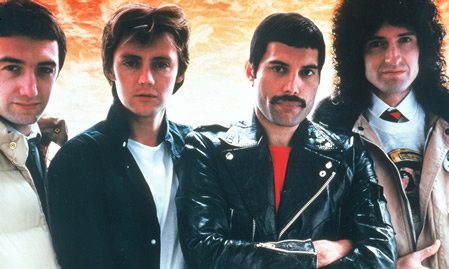 1000 Greatest Songs of All Time
The results are in and MAX fans and industry experts have spoken! The Greatest Song of All Time is "Bohemian Rhapsody" by Queen. The ground-breaking 1975 power ballad hit written by Freddie Mercury from Queen, and made even more popular by the recent movie, won the number one spot by a resounding result.
Queen also kicked off the countdown at 1000 with "Don't Stop Me Now" and had 12 song entries in the countdown. "Bohemian Rhapsody" is joined in the top ten by iconic artists and bands such as Madonna, Prince, Bon Jovi, Led Zeppelin and AC/DC.
Hosted by one of Australia's most successful and loved radio breakfast teams Amanda Keller and Brendan 'Jonesy' Jones from Sydney's WSFM for four days over the Easter long weekend, the Max 1000 Greatest Songs of All Time Top 10 are:
1. "Bohemian Rhapsody" Queen
2. "Imagine" John Lennon
3. "Livin' On A Prayer" Bon Jovi
4. "Thriller" Michael Jackson
5. "It's A Long Way To The Top" AC/DC
6. "Sweet Child O' Mine" Guns N' Roses
7. "Stairway To Heaven" Led Zeppelin
8. "Like A Prayer" Madonna
9. "Smells Like Teen Spirit" Nirvana
10. "Purple Rain" Prince & The Revolution
The artists and bands who dominated The 1000 Greatest Songs of All Time included U2, who once again polled with the most entries with 15 incredible songs, closely followed by AC/DC with 14 song entries, INXS and Madonna with 13 and The Rolling Stones and Queen with 12 song entries.
397 artists had only one entry in the countdown and 186 entries were Australian artists/bands with the newest song being "Shallow" By Lady Gaga and Bradley Cooper and the oldest Elvis Presley's "Jailhouse Rock". Music from the 1980s flooded the countdown with 37 percent of the songs, closely followed by the 1990s with 24 percent.
The MAX 1000 Greatest Songs of All Time countdown was determined using viewer votes, feedback from industry experts and chart ratings. The full list of all 1000 Greatest Songs of All Time is now live at maxtv.com.au.
Sydney Unleashed is one of Australia's premier entertainment publications exploring the latest in lifestyle trends. From Sydney's finest restaurants, cafes and bars to the hottest in gadgets, products, and home entertainment, Sydney Unleashed is your one-stop lifestyle platform.