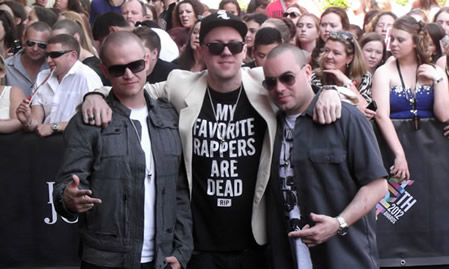 The 2012 ARIA Awards capped off an incredible year for Australian music with a star-studded ceremony at the Sydney Entertainment Centre that saw the industry and music fans celebrate the success of our Aussie talent in true ARIA style.
In what is sure to go down in the ARIA annals as a truly magical ARIA moment, Australian musical icons YOTHU YINDI were inducted into the ARIA Hall Of Fame by PAUL KELLY & former Midnight Oil frontman and current Minister for Education PETER GARRETT and were joined on stage by ANDREW FARRISS, DAN SULTAN, PAUL KELLY and JESSICA MAUBOY for a moving tribute to their international hit 'Treaty'.
GOTYE (Wally De Backer) has capped off a phenomenal year by scooping 4 ARIA Awards including the coveted ALBUM OF THE YEAR for his internationally acclaimed album 'Making Mirrors'. The Melbourne based artist also took home the ARIA for the publicly voted BEST AUSTRALIAN LIVE ACT, as well as BEST MALE ARTIST & BEST POP RELEASE – both Awards he won last year.
Melbourne group THE TEMPER TRAP have also continued their ARIA success with the band taking home the ARIA for BEST GROUP – an Award they also won in 2010. Their self titled #1 ARIA Album 'The Temper Trap' also picked up an ARIA for BEST ROCK ALBUM.
Coming off the back of her 2011 ARIA win with 'Somebody I Used To Know', KIMBRA has secured her spot on the Australian musical landscape by collecting an ARIA for BEST FEMALE for her debut album 'Vows'. The BREAKTHROUGH ARTIST RELEASE AWARD went to exciting Hip-Hop newcomer 360, while the winner of the ARIA Award for BEST URBAN ALBUM went to stalwarts of the Australian Urban scene the HILLTOP HOODS – an Award they have won twice previously.
Previous 7 x ARIA Award winner, MISSY HIGGINS added another statue to her mantle for BEST ADULT CONTEMPORARY ALBUM for her #1 ARIA Album 'The Ol' Razzle Dazzle'. MISSY also picked up the publicly voted BEST VIDEO AWARD for her single 'Everyone's Waiting' by Director NATASHA PINCUS. BEST INDEPENDENT RELEASE went to indie favourites, THE JEZABELS for their debut album PRISONER.
IVAN GOUGH & FEENIXPAWL FEAT. GEORGI KAY, collected the ARIA for BEST DANCE RELEASE for 'In My Mind' with BEST HARD ROCK/ HEAVEY METAL ALBUM going to Brisbane's thrash pop band DZ DEATHRAYS for their album 'Bloodstreams'.
BEST BLUES & ROOTS ALBUM went to JEFF LANG, an award he won in 2002 for his collaboration with Bob Brozman, while THE MCCLYMONTS scooped another ARIA Award for BEST COUNTRY ALBUM, an Award they had previously won in 2010. THE WIGGLES have racked up their 11th ARIA Award with the collection of BEST CHILDRENS ALBUM for 'Surfer Jeff' with BUDDY GOODE taking home the gong for BEST COMEDY for 'Unappropriate'.
Publicly voted awards including ARIA SONG OF THE YEAR presented by Southern Cross Austereo, went to MATT CORBY for his song 'Brother' while International pop sensations ONE DIRECTION took home the Nova presented BEST INTERNATIONAL ARTIST AWARD.
Kicking off the fanfare for the night with a high energy performance on the suitably rock, 'black' David Jones Red Carpet, were ARIA Song Of The Year Nominees, TIMOMATIC and JUSTICE CREW who performed together in an exclusive mash up of two of their biggest hits; 'Set It Off' & 'Boom Boom'. The stunning JESSICA MAUBOY followed with a mesmerizing medley of songs off her #1 ARIA charting Sapphires Soundtrack.
The HILLTOP HOODS took to the stage with a jumping performance of 'I Love It' followed by GUY SEBASTIAN who was joined on stage with surprise special guest LUPE FIASCO with a performance of his record breaking Australian and International smash hit 'Battle Scars'.
International singer / songwriter and multiple Grammy Award winner, TAYLOR SWIFT was a special guest on the night, performing her smash hit 'Trouble' from her multiplatinum #1 ARIA charting album RED. MISSY HIGGINS took to the stage for a stunning performance of 'Everyone's Waiting' while THE JEZABELS performed their hit 'Endless Summer'. 360 was joined on stage by GOSSLING to perform the multiplatinum hit 'Boys Like You'.
KIMBRA took to the stage to perform a breathtaking rendition of 'Settle Down' with the THE TEMPER TRAP closing the night with an incredible performance of 'Trembling Hands'. HAVANA BROWN undertook the role of special DJ performer for the evening with RUBY ROSE performing the role of house DJ for what was a stellar night of music.—
THE WINNERS:
BEST INDEPENDENT RELEASE – THE JEZABELS
BEST ROCK ALBUM – THE TEMPER TRAP
BEST CHILDRENS – THE WIGGLES
BEST COMEDY RELEASE – BUDDY GOODE
BREAKTHROUGH ARITST AWARD – 360
BEST DANCE RELEASE – IVAN GOUGH & FEENIXPAWL Feat. GEORGI KAY
BEST HARD ROCK/HEAVY METAL ALBUM –DZ DEATHRAYS
BEST AUSTRALIAN LIVE ACT -GOTYE
BEST COUNTRY ALBUM – THE McCLYMONTS
BEST BLUES & ROOTS ALBUM – JEFF LANG
BEST POP RELEASE- GOTYE
BEST INTERNATIONAL RELEASE – ONE DIRECTION
BEST URBAN ALBUM – HILLTOP HOODS
BEST GROUP – THE TEMPER TRAP
ARIA SONG OF THE YEAR – MATT CORBY
BEST ADULT CONTEMPORARY ALBUM-MISSY HIGGINS
BEST FEMALE ARTIST- KIMBRA
BEST MALE ARTIST – GOTYE
ALBUM OF THE YEAR – GOYTE
© Images: Danny Canak
Sydney Unleashed is one of Australia's premier entertainment publications exploring the latest in lifestyle trends. From Sydney's finest restaurants, cafes and bars to the hottest in gadgets, products, and home entertainment, Sydney Unleashed is your one-stop lifestyle platform.