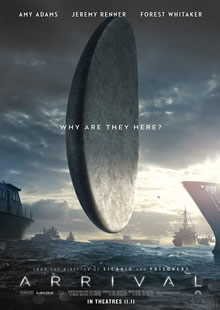 Starring: Amy Adams, Jeremy Renner, Forest Whitaker, Tzi Ma, Michael Stuhlbarg, Julia Scarlett Dan (Rated M – 116 min).
If you're a fan of the wonderfully gifted Amy Adams, there is a double dose for cinema goers this week alongside this absorbing science-fiction spectacle. The five-time Oscar nominee also appears in the completely vivacious Nocturnal Animals which I also highly recommend.
Whatever happens, do not let anyone spoil the secrets of this quality film before experiencing the hypnotic tension for yourself. When a seemingly random twelve spacecrafts set down at twelve vantage points globally, a state of emergency is not set…yet. Restraint is key for Arrival, successfully creating moody situations with calm situations and strong dialogue. Media begin calling it 'The Alien Crisis' especially putting China and Russia on edge which starts a monumental widespread panic around the world.
Linguist's specialist Dr. Louise Banks (Amy Adams) is called in alongside fellow academic Ian Donnelly (Jeremy Renner) in an attempt to decipher a mixture of codes and unknown languages emitted by these visitors. Government and military officials are not sure when Banks believes they are friendly and not disrupting atmosphere or causing harm to the environment.
Think a combination of classics Starman (1984) or Close Encounters of the third Kind (1977) rather than Mars Attacks (1996) and you may get an idea of how Arrival will turn out. Directed by French auteur Denis Villeneuve, his next project is the highly anticipated Blade Runner 2049 and he proves here that gestating sequel is in good hands.
It is certainly nice to see an alien invasion adventure actually more of a mystery and treated like one without exploding cities or War of the Worlds intergalactic combat, practically an anti Independence Day. Cast is all perfect, they are obviously taking the screenplay seriously playing it that way which come across important in the scheme of the unlikely premise.
Young Julia Scarlett Dan in a small role as Hannah is sleight, the late twelve year old daughter of Dr. Banks seen in significant flashbacks. See this film NOW.
Shane A. Bassett
Sydney Unleashed is one of Australia's premier entertainment publications exploring the latest in lifestyle trends. From Sydney's finest restaurants, cafes and bars to the hottest in gadgets, products, and home entertainment, Sydney Unleashed is your one-stop lifestyle platform.