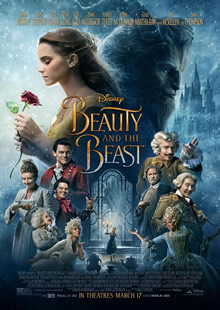 Beauty And The Beast: Movie Review
Starring: Emma Watson, Dan Stevens, Luke Evans, Kevin Kline, Josh Gad, Emma Thompson, Ian McKellen, Ewan McGregor (Rated PG – 129 min).
Walt Disney Studios have had much recent success reworking their past classics, such as Cinderella and Jungle Book, into live action spectaculars. Their take on Sleeping Beauty, the wonderful Maleficent, is a personal favourite so far.
With fresh versions of Aladdin, Lion King and belated continuation of Mary Poppins all on the way, it does not look like the 'everything old is new again' premise for Hollywood is going away.
Lavish, colourful and effervescent, Beauty and the Beast is almost a scene-for-scene live action remake of their 1991 Academy Award nominated animated gem, not that there is anything wrong with that. The original French fairy-tale of a cheerful lass falling in love with a cursed monster has been filmed multiple times in both traditional and obscure forms.
This beautiful version may be a touch scary for young children as it will more than engage romance-craving audiences with pure delight. One must be aware this is a glorious musical, show-tune type production. Numbers unfurl from the opening credits.
Perfect Emma Watson gives the irresistible Belle purpose. While much has been mentioned of her ordinary singing voice, she holds a tune better than average not just in voice but in large scale choreographed movement also. The age old story of love conquers all from matters of the heart overcoming resistance from evil individuals is a familiar take on the forbidden mystique. But there is something about Disney that can do no wrong hooking an audience in with quality film making on practically every level.
Veteran costume designer Jacqueline Durran makes as much of an impact as the broad sullen cast, her unique wardrobe is magnificently detailed. Fans of television phenomenon Downton Abby will not recognise Dan Stevens at first as the almighty Beast roaring into the heart of Belle and the audience with his awakening sense of compassionate joy.
Supporting cast is extremely good including fine interaction between Belle's admirer (when he is not admiring himself) Gaston – Luke Evans and his sidekick LeFou – Josh Gad (voice of lovable snowman Olaf in Frozen) who has been a focus of diversity within his character. LeFou is jovial and camp as he should be, talented Gad locks down the energetic role as if it was made for him.
Not exactly perfect, although unforgettable when it comes to entertainment and solid eye-popping cinematic magic from the triumphant Mouse House, Walt would be proud.
Shane A. Bassett
Sydney Unleashed is one of Australia's premier entertainment publications exploring the latest in lifestyle trends. From Sydney's finest restaurants, cafes and bars to the hottest in gadgets, products, and home entertainment, Sydney Unleashed is your one-stop lifestyle platform.