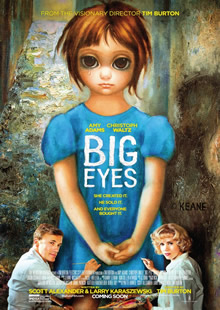 Starring: Amy Adams, Christoph Waltz, Ariel Hart, Jason Schwartzman, Terrence Stamp, Danny Huston (Rated PG – 106 mins).
Based on a true story in San Francisco during the changing era of the late 1950s. Young mum Margaret (Amy Adams) is trying to make it on her own leaving her husband with nothing but her daughter and a selection of paintings. These original works portray an array of sad expressions on the faces of children all with enormous eyes.
Struggling to make ends meet, Margaret meets well spoken real estate businessman Walter Keane (a terrifically smug Christoph Waltz) randomly in a park and is instantly flipped by his charm before quickly becoming a romantic couple. Unfortunately, Keane is really a tyrant and obsessive trickster consumed by deception. He sells the paintings as his own in order to live the high life.
Usually meek or reserved, Margaret steps up to reclaim her unique artistry work and self pride by taking Walter to court in what turns out to be one of the most infamous trials in American history. The outrageous antics in front of a bemused judge and jury will no doubt raise eyebrows, but apparently it happened.
Like the saucer-like wide eyes depicted on the canvas, the story is larger than life and told comically full of kooky situations. Dialing down fantasy elements he is best known for, acclaimed director Tim Burton (Edward Scissorhands, Alice in Wonderland) is no stranger to oddball characters and always makes interesting entertaining pictures.
Former waitress turned multiple Oscar nominee Amy Adams brims with emotion as an eventually confident Margaret, while Christoph Waltz inserts himself from the second he speaks. Most memorable for me was veteran Terrence Stamp as an established art critic who notices the gradual chronological emptiness of the paintings.
Not your average romantic comedy, best enjoyed with an open mind and if nothing else, the lingering cinematic shots of the amazing pieces of art highlight masterful slight of hand originality.
Shane A. Bassett
Sydney Unleashed is one of Australia's premier entertainment publications exploring the latest in lifestyle trends. From Sydney's finest restaurants, cafes and bars to the hottest in gadgets, products, and home entertainment, Sydney Unleashed is your one-stop lifestyle platform.