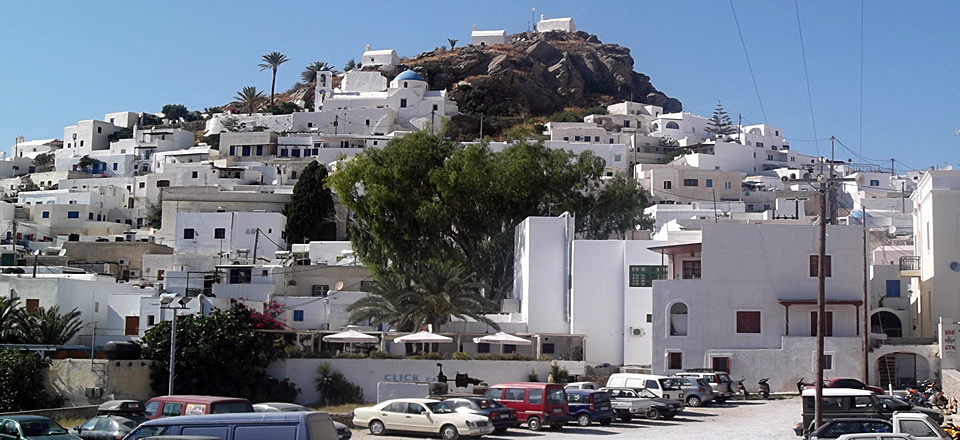 Ios, Greece: Travel & Nightlife
Ios is one of the most popular tourist destinations for young travellers in the European summer. Part of the Cyclades, a group of Greek islands located in the southern part of the Aegean Sea, Ios is the place to party when in this part of the world.
My journey to Ios, or the 'Island of Sex' as I have since dubbed it, began with a long ferry ride from neighbouring island, Mykonos. Unfortunately there are no direct flights to Ios so the ferries from Mykonos or Santorini are the best way to get there. Upon arriving at the dock, I was greeted by the driver of my hotel's bus service. I later found out he was in fact the owner of the small family-run operation. He then couriered us over to the hotel in what turned out to be a scenic ride overlooking Ios from the hills. After checking-in and dumping my bag in the room, I headed straight for Mylopotas Beach – a long white beach filled with a large mix of mostly twenty-something's. This is the busiest beach you will find in Ios although if you prefer something a tad more secluded, then Maganari Beach in the south may appeal more to you.
Being a night owl and knowing of Ios' party reputation, the prospect of exploring the nightlife had me licking my lips in anticipation. After a quick dip and stroll along the sand followed by a shower at the hotel, I wasted no time in catching the short bus trip to Chora – the capital city of Ios and its main party strip. I didn't want a long drawn-out dinner to get in the way of my partying adventures so I had a quick feed at one of the many Gyros takeaway spots. Those on a budget will appreciate them for their cheap prices – not to mention that they are damn delicious!
With the belly now full and ready to handle some excessive alcohol consumption, I went on a bar crawl making it my mission to drink in as many venues as possible – Shamrock, Red Bull, Rehab, Shooters, Slammers and many others all have my DNA stuck on their glasses. Many of the bars in Greece are quite small and have a unique narrow design (kind of like their narrow streets). So when they are at capacity, you are literally within millimeters of those around you. This may be good if you're looking to hook up with someone but bad if you like your personal space.
After my mammoth bar crawl, it was time to step it up and I headed for Disco 69 – one of the best (and oldest) clubs on the island. It didn't take long to make new friends when two fellow Aussie tourists approached with wide-eyed astonishment at the speed I was knocking down the complimentary Ouzo that was being handed out with each drink purchase. There was no such thing as drinking in moderation at this place…or anywhere else on the island for that matter! And turning down complimentary alcohol was not part of my vocabulary.
If Disco 69 was my go-to place for a big night, then the Far Out Beach Club was my daytime recovery venue. Conveniently positioned right on Mylopotas Beach, it was busy for the entire day with half naked people chilling, dancing, and sipping on cocktails until sunset. But don't dare order a non-alcoholic beverage at the bar. I learned my lesson after attempting to order a fresh juice to assist with the hangover and receiving the dirtiest look ever from the bartender – even if it was only midday! A dip in the sea followed by a drink or two at the Far Out Beach Club was a typical day before another night of partying in the city.
Which brings us to the number one nightclub in Ios, Scorpion. Located on a cliff in a more secluded spot just up the road from the main party strip, this was the biggest club in Ios and the place to really let loose. If you're restricted to checking out just one nightclub while here, then this has to be it. This was my after-party venue of choice with great laser shows and music pumping until daylight. On the final night there while browsing and contemplating the thought of leaving the following day, I couldn't help but notice a couple pashing in every corner of the club. Then two blonde twenty-something bombshells walk in and enter my field of vision. Within seconds they are dancing provocatively as if they in a tease-off contest. At this moment, my earlier thoughts are reaffirmed – Ios truly is the Island of Sex.
© Danny Canak
Sydney Unleashed is one of Australia's premier entertainment publications exploring the latest in lifestyle trends. From Sydney's finest restaurants, cafes and bars to the hottest in gadgets, products, and home entertainment, Sydney Unleashed is your one-stop lifestyle platform.