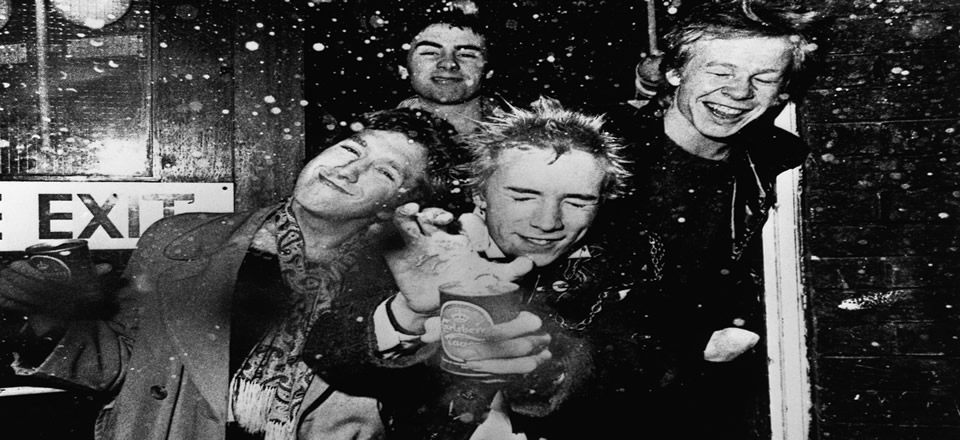 Shocking Moments In Music
Not a day goes by without a music industry scandal gracing the pages of the gossip magazines. In a world where sex, drugs and rock 'n' roll is prevalent, it's no surprise that musicians will often do things that will shock the masses. Below, we take you on a wild journey and count down ten of the most shocking moments in music history. Before we get started, honourable mentions must go out to Def Leppard's drummer Rick Allen who tragically lost an arm and then amazingly continued on as the band's drummer, Alice Cooper for killing a chicken and then throwing it into the audience, Gene Simmons for claiming to have bedded a whopping 4,600 women, Madonna for baring all in her 'Sex' book in 1992, and finally, John Lennon for claiming that The Beatles were bigger than Jesus.
10. SINEAD'S POPE MASSACRE – She may have been one of the most successful artists in the year 1990 but things were to turn sour for Sinead O'Connor just two years later. Booked to appear as a musical guest on American TV show 'Saturday Night Live', O'Connor was to perform the Bob Marley track 'War' – a song that said war was an appropriate response for victims of child abuse and other cruelty. The song was performed without a hitch but it was her actions right after the performance that caused eruptions right throughout the world. She held up a colour photo of Pope John Paul II and then proceeded to rip it to shreds in protest of the Catholic Church's stance on abortion. If that wasn't enough, she then told the national television audience that was watching to "fight the real enemy." This outraged Catholic groups who called it patently offensive to people of all religious beliefs. After receiving complaints from all over the world, the performance was never aired again.
9. MIKE PATTON'S HUMAN WASTE – Mike Patton became well known for his antics during his time in Faith No More. During one show, a fan threw a bottle on stage filled with urine. The band had talked about it all night until one point in the show when Patton picked it up and poured the contents all over his head. Then during another show, he went a step further when he urinated into his shoe and then proceeded to drink it down. The audience could only look on in horror. When Faith No More toured with L7, Patton defecated into a carton of orange juice, resealed it, and put it in the band's rider. A nice surprise, no doubt, for the band member that was unfortunate enough to open it. He once even squashed excrement into a hotel hairdryer and often claimed that the first band he was in was called 'Turd'. The media jumped onto these stories and became fascinated with this obession with faeces. The stories got so twisted that reports that he was a 'shit eater' started to emerge and dogged the band for a number of years. The band even joked about it in later years claiming that the media would base their live show reviews on whether Patton ate faeces or not.
8. OZZY'S BEHEADING MISDEMEANORS – Former Black Sabbath frontman Ozzy Osborne is continually haunted by two separate incidents that go down as some of the most memorable moments in music history. The first occurred in 1981 during his first meeting as a solo artist with the executives of his new record company CBS. His manager (and later wife) Sharon Arden thought that it would be a good publicity stunt for Ozzy to walk in and throw two doves into the air to get a bit of attention. The stunt worked better than expected when Ozzy received worldwide attention for the events that followed – but things didn't quite go to plan. Apparently Ozzy had been on the drink beforehand and when he walked in, he threw only one dove up in the air while the other wasn't as lucky as he proceeded to bite its head off. The other incident occurred during his 1982 'Night Of The Living Dead' tour. In keeping with the theme, it was common for Ozzy to throw raw meat into the audience at every show. Fans started reacting by bringing their own dead animals to shows and would throw them right back on stage. On one occasion, a fan threw a real live bat onto the stage. Thinking that it was just a fake rubber bat, Ozzy picked it up and bit its head off leaving the audience absolutely stunned. Ozzy had managed to shock the world yet again!
7. COMING OUT OF THE CLOSET – With the tremendous stigma attached to being gay, the coming out of a gay artist will usually lead to a media frenzy – just like in George Michael's case. In 1998, the pop star was literally led right out of the 'closet' when he was arrested by an undercover police officer for engaging in a lewd act in a public toilet. The arrest made headlines all around the world and forced Michael to publicly come clean about being gay. Even more shocking was Judas Priest frontman Rob Halford coming out of the closet in the same year. With homophobia rampant in the metal community, fans were absolutely astounded at the thought of a heavy metal frontman being queer. Equally as shocked were fans of Christian metal band King's X when frontman Doug Pinnick came out through 'Contemporary Christian Music' magazine – again, that very same year. There was something in the air in 1998
6. MOTLEY CRUE SCANDALS – The members of Motley Crue have enough shocking moments to fill a book – oh wait, that's already been done in their autobiography 'The Dirt'. The drug and alcohol problems of the group are legendary but the most shocking incident came in 1987 with the overdose of Nikki Sixx when he was pronounced dead but was then revived – only to overdose again the very next day! Sixx once even set himself on fire – purely for entertainment purposes. Drummer Tommy Lee also hit the headlines on many occasions. There were numerous arrests over the years for charges such as disorderly conduct, indecent exposure, abuse of his wife, and battery – to name but a few. He hit the headlines again in 1996 when his sex video with wife Pamela Anderson became public. Motley Crue took their sex, drugs and rock 'n' roll very seriously and the fact that they're still alive today is astonishing to many.
5. WHACKO JACKO SHOCKERS – Michael Jackson may have produced one of the greatest selling albums of all time in 'Thriller' but his behaviour has often overshadowed his musical genius. The gloved one's addiction to plastic surgery has been well documented – as have his denials to have ever had any. But it was in a 2003 documentary with journalist Martin Bashir that Jackson finally admitted to having "one or two" operations – although it was clear that there were multiple others that he had failed to mention. But it was another admission in the documentary that really stunned viewers all over the world. Jackson, a grown adult in his 40s, revealed that he often shared his bed with children – including a young cancer patient. Shock turned to horror when Jackson talked about it being a perfectly normal thing to do. Other Jackson shockers have included: carelessly dangling a baby over a balcony, reportedly offering $US 1 million for the remains of the Elephant Man, and other whacky antics such as turning up to a court appearance late while dressed in his pyjama pants. Jackson tragically died in 2009 due to acute propofol and benzodiazepine intoxication ensuring that he continues to shock even in death.
4. SEX PISTOLS CAUSE OUTRAGE – Even though they only released one studio album, the Sex Pistols changed the world and did their best to shock while they were at it. One of the most memorable moments came in 1976 just after they had just signed a deal with EMI. The band were scheduled to do a prime time TV interview with presenter Bill Grundy to talk about the growing punk movement at the time. But things took a turn for the worse when Grundy started provoking the group to say something outrageous. This turned out to be a career ending move for the presenter when the snotty nosed bunch of punks retaliated by swearing throughout the whole interview and becoming the first band to say the "F-word" on national TV. It was unheard of in 1976 and the band became household names after the incident. But it all came to an abrupt end in 1978 when lead singer Johnny Rotten left the band. More shocks followed soon after when bassist Sid Vicious was charged with murdering his girlfriend and then tragically died of a drug overdose while he faced those charges. He was only 21.
3. GG ALLIN'S ONSTAGE ANTICS – Without a shadow of a doubt, the most shocking stage show in music history belonged to prolific punk rocker GG Allin. The man, who was often described as disgusting, disturbed, and vile, had been arrested more than 50 times due to his act. Song titles such as 'I'm Gonna Rape You', 'Expose Yourself to Kids' and 'Suck My Ass It Smells' were enough to earn him the vile tag but the stage show was even more shocking. Some of his onstage antics included performing naked, mutilating himself, fellating his own brother, and urinating and defecating on stage and then throwing the results at audience members. Sometimes he ate it too. Often he would attack band and audience members and publicly vowed to commit suicide onstage on many occasions. But he never got the chance when he was put to rest in 1993 after a heroin overdose. He was 36.
2. MILLI VANILLI EXPOSED – The Milli Vanilli saga of 1990 remains as one of the greatest scams in music history. The duo, made up of Fabrice Morvan and Rob Pilatus, sold millions of records worldwide in the late 80s before going on to win a Grammy award for Best New Artist in 1990. But what the world didn't know was that they were hiding a major secret. The fact is, the duo were merely models who hadn't sung a note on any of their songs and were put together to be the faces of a musical group with an unmarketable image. When they continually kept pressuring their brainchild and producer Frank Farian to let them sing all the vocals on their next album, Farian had had enough and in late 1990, dropped an absolute bombshell. He finally revealed to the world that the duo were fakes. A major backlash ensued and fans universally started crushing their Milli Vanilli collections while the duo became the first act to be stripped of a Grammy award. Pilatus never quite recovered and was found dead in a hotel room in 1998 after overdosing on a combination of drugs and alcohol. It was a shocking end to a shocking story.

1. ROCK STAR DEATHS – It doesn't get more shocking than rock stars dying under tragic circumstances. One such case would be the unforgettable day that Nirvana frontman Kurt Cobain decided to end his life. Before the event, Nirvana were enjoying worldwide success and were seen as the band that first brought grunge music to a mainstream audience. But Cobain had problems coping with success and drugs became his saviour – much like his band were the saviours of rock music. On April 5, 1994 the 27-year-old Cobain had clearly had enough and died instantly from a self-inflicted gunshot wound to the head. People from all parts of the world felt the impact as their hero was gone. Grunge was pronounced dead. Three years later, the music world had lost yet another high profile frontman when Michael Hutchence of INXS hung himself in a Sydney hotel room after being in a depressed state. Crowded House drummer Paul Hester was also said to have been suffering from depression when he ended his life by hanging himself in a Melbourne park. Other famous and tragic deaths that changed the music world include: Elvis Presley from a drug overdose in 1977, Bon Scott who choked on his own vomit in 1980, John Lennon who was murdered by a crazed fan also in 1980, Marvin Gaye who was murdered by his own father in 1984, 2Pac who was murdered in 1996, Jeff Buckley who presumably drowned in 1997, and ex-Pantera guitarist Dimebag Darrell who was tragically murdered by a disgruntled fan in 2004.
© Danny Canak
Sydney Unleashed is one of Australia's premier entertainment publications exploring the latest in lifestyle trends. From Sydney's finest restaurants, cafes and bars to the hottest in gadgets, products, and home entertainment, Sydney Unleashed is your one-stop lifestyle platform.