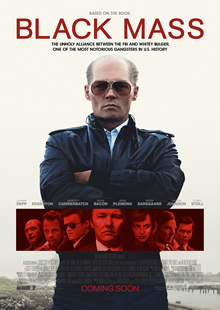 Starring: Johnny Depp, Benedict Cumberbatch, Joel Edgerton, Kevin Bacon, Dakota Johnson, Julianne Nicholson (Rated MA 122 min).
Although he already played iconic gangster Dillinger in the underrated 2009 tommy-gun epic Public Enemies, the detailed transformation of Johnny Depp as the brutal South Boston career criminal turned FBI informant Whitey Bulger is astonishing. Walking, talking, complete body type changes including baldness and bad teeth add to the realism to his bad guy repulsiveness who kills without shame or consequence. Be warned: it's gritty, not pretty.
From drug trafficking to extortion, he has little choice but to consult with the law and feed information to the FBI through Agent John Connolly (Joel Edgerton) who has a history with Whitey and his brother Billy (Benedict Cumberbatch) as childhood friends. Being plugged into the mob helps prevent some criminal activity but South Boston remains a tinderbox of corruption on top of corruption, on top of corruption.
Highly recommended if you appreciate grand ensemble casting in strong roles and can grasp the fact the much maligned Depp plays a harrowing bad guy, his actions are a cause for concern considering this is based on a true story. However what seems on face value as a biography on the Bulger family, the active focus remains more on Connolly as the middle-man with an underlying agenda.
Among the large impressive cast, living legend Kevin Bacon excels as usual stepping into every scene with an aura few modern actors can command. Young Juno Temple is a skyrocket lighting up the screen during every moment of femme fatale brilliance not soon forgotten. Still looking amazing wearing clothes, Fifty Shades of Grey digresser Dakota Johnson has little to do, while Australian Edgerton continues his stellar, selective trajectory into the superstardom that he so deserves.
Black Mass may be no Godfather or Scarface but for a gangster visual representation exposé with considerable impact, this is a must see.
Shane A. Bassett
Sydney Unleashed is one of Australia's premier entertainment publications exploring the latest in lifestyle trends. From Sydney's finest restaurants, cafes and bars to the hottest in gadgets, products, and home entertainment, Sydney Unleashed is your one-stop lifestyle platform.