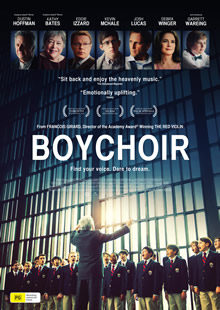 Starring: Dustin Hoffman, Debra Winger, Kathy Bates, Josh Lucas, Eddie Izzard, Kevin Hale, Garrett Wareing (Rated PG – 103 min).
Pre-teen sopranos with angelic voices attending a prodigious school for such talents balance coming of age problems with the urgency of singing to their absolute best. Centering around an unlikely Texas kid Stet, played by super new rising talent Garrett Wareing blessed with uncanny musical ability, is heartbreaking while at the same time uplifting.
Although not based on a true story, the American Boychoir School is a real academy for young elite singers to hone their craft while travelling around the globe to entertain or competing in regular musical competitions. Suffering within a turbulent home life, Stet has a gift which is recognised by his public school mentor Ms Steel (a wonderful Debra Winger in a welcome return to the big screen). When the Boychoir visit for a performance, Ms Steel arranges a rare audition for Stet in front of the grand maestro Carvelle (Dustin Hoffman).
After an initial mishap which includes bailing out on the audition and an appearance of a secret parent, Stet is accepted into the unique boychoir campus but not without ongoing conflict from other students around him. The halls are alive with the sound of music and that's what this is really all about and captures to perfection. The high voices of these kids are incredible and are emotionally captured appropriately with forceful tough love by their teachers. Pressure to be the best makes or breaks.
An enjoyable crowd-pleasing story, although the outcome is predictable. If it is a quaint, inspiring film you're looking for, this will not disappoint. Legendary Dustin Hoffman brilliantly shuffles around as stern on the outside soft on the inside Maestro Carvell, but it is Kathy Bates (Misery, Fried Green Tomatoes) as a world-weary headmistress that walks away with every single scene in which she appears.
Newcomer Garrett Wareing is a star in the making holding his own opposite all of the elder more established cast, especially his brief scenes with Ms Steel (Debra Winger) celebrating self belief.
Shane A. Bassett
Sydney Unleashed is one of Australia's premier entertainment publications exploring the latest in lifestyle trends. From Sydney's finest restaurants, cafes and bars to the hottest in gadgets, products, and home entertainment, Sydney Unleashed is your one-stop lifestyle platform.