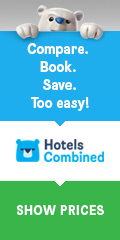 Features
Cameron Diaz: The Other Woman
At a glance, the latest chick-flick to hit the big screen The Other Woman (released April 17) has shades of a First Wives Club premise. Although a dose of Bette Midler never goes astray, it is a wicked addition to the genre. A trio of ladies are all unknowingly with the same lothario, one is his wife the others his mistresses. Feeling jilted, teaming up with a plan of ultimate revenge, The Other Woman turns into a biting satire on infidelity and age that especially the ladies in the audience are sure to applaud.
No stranger to these romantic comedies, centre stage is an ever likable Cameron Diaz surprisingly stealing the limelight from outrageous singer Nicki Minaj making her film debut. Hard to believe it's been twenty years since Cameron was introduced in wide-eyed slow motion glory, complete with customary hair flick in The Mask. That image has been lovingly recreated with her full support multiple times including such fare as Charlie's Angels, What Happens in Vegas and to a lesser extent A Life Less Ordinary during an unforgettable swimming pool scene.
After the massive box office success of The Mask, she could have gone off to make one sterile Hollywood blockbuster after another. Instead a string of roles in low budget independent films followed which is a trend that still exists in her repertoire today. The Last Supper was one of those early films which is an absolute gem that very few know. Another criminally under-seen noir style classic was Keys to Tulsa, barely released theatrically, it contained a cool cast including James Spader. If you can find a copy, it's worth the trouble.
Without a Mask sequel being negotiated at the time, her next real success was a film she also sang in, My Best Friends Wedding, as ironically the other woman to Julia Roberts. A go-to favourite for a girls night in, Cameron was meant to be the villain, but remained full of immense charm causing the audience to fall for her as much as the pretty woman herself. Cameron Diaz has since become a brand, her looks are magnetic. She can act, quite well in my opinion and now a first time author.
Appearing to defy age, she puts it down to staying natural, being happy and maintaining a healthy lifestyle. Personally I like the fact she surfs on a regular basis and I don't mean on a boogie board, it's all inside The Body Book. Already a best-seller, Cameron shares feminine good and bad stories, fun anecdotes, life brimming ways to help enjoy life. It's a non ego-centric study which sums up herself on and off the screen.
Unlike many self conscious starlets, forgoing her glamourous persona is not a problem either. Her repulsive rough talking, frizzy haired role in Being John Malkovich was unrecognisable. Critics took notice asking: Is that really her? Complicated and money hungry, watching her made me uncomfortable as Bad Teacher. Literally leaving a bad taste in your mouth, I looked on in shock during her scenes with a game Justin Timberlake.
The Box was another change of pace. Devised as a part horror thriller mystery, the film was a box office flop but has since found a cult audience largely due to a unique stripped down performance of Cameron. Her scenes opposite legendary Frank Langella with half his face missing is terrifying and the vibe of the film keeps you guessing well after the end credits. Then there was My Sister's Keeper, as the emotionally torn mother of a young daughter with cancer. Remaining dedicated to her family dealing with harsh realities stretched her acting ability which Cameron successfully made real. I cried my eyes out on cue.

Big name directors line up to work with her. Martin Scorsese praised her gritty determination on the set of, Gangs of New York. The notorious Oliver Stone cast her in, Any Given Sunday as a no nonsense daughter of a sports team owner in the male domain of American gridiron. She runs the rule over every guy in the film. In fact she held her own opposite Hollywood heavyweights Al Pacino and the late Charlton Heston no less. Her bit with Heston while he quips, she would eat her young, is priceless.
The British director Ridley Scott, who once almost had a crew mutiny on his hands making Blade Runner, managed to get a standout performance from Cameron, a vixen who owns panthers as pets in the otherwise muddled, The Councelor. Never married, a regular in the fabricated tabloids, she has been linked to many of the hot right now heartthrobs, usually fabricated magazine fodder. Shaking her booty directly into the camera lens in a series of films or presenting MTV awards fuelled the gossips labelling her a bimbette. That loud laugh, fleeting smile, long limbs and gorgeous personality does not seem to be a facade. It was easy to see why the world fell in love with her in There's Something About Mary. Doris day turned down the role of Mrs Robinson due to an image dilemma, I wonder how many of her peers turned down the role of Mary due to the hair gel dinner scene, not Cameron.
Appearing with Tom Cruise in three films, the incredible Vanilla Sky where she drives a car off a bridge with intent to kill both of them. Knight and Day, a jazzed up action comedy which I really liked, they were an amusing team on the run while unbeknowingly falling for each other. Thirdly, an uncredited cameo in Steven Speilberg's Minority Report, a dramatic charade of a moment the viewer has to keep a sharp eye to spot.
A talented individual obviously up for anything unique, The Other Woman brings Cameron back to the loving rom-com wheel-house that has served her so well in the past, except for possibly The Sweetest Thing. Did I mention she surfs?
Shane A. Bassett