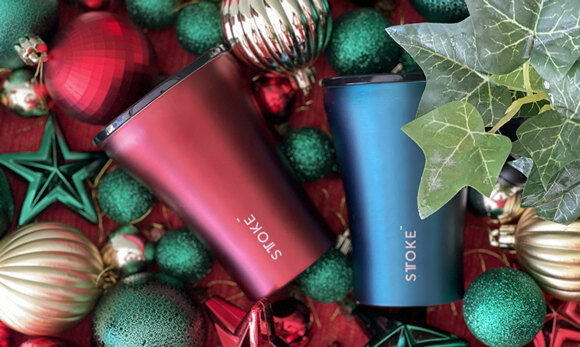 With Christmas just around the corner, we've rounded up some of the best gifts you can pick up this year for your loved ones.
Sttoke Reusable Ceramic Cups
Sttoke is the world's first reusable ceramic cup and are a great gift option this Christmas. Sttoke x Octavia Tomyn is a unique collaboration aiming to spread awareness of specialty coffee around the world. The piece is Inspired by Octavia's personal love for Australian coffee culture, her bespoke Sttoke artwork speaks to community, family, friends and connection – a representation of what a local coffee shop provides during lockdown. Sttoke's ultimate goal is to share Australian coffee culture with the world by shining a light on the unique way Australians celebrate and enjoy coffee. The limited-edition Sttoke x Octavia Tomyn collaboration retails for $51.95 AUD for a 12oz single cup and $103.95 AUD for a duo pack.
Oscar Wylee Sunglasses
Another great gift option this Christmas is a pair of glasses from Oscar Wylee. You can pick up some blue light lens glasses for the digital lover in your life or a pair of sunglasses that will be perfect for the summer months. Known for providing high-quality, affordable optical glasses and eye test services across the country through their network of optometrists, Oscar Wylee have a stylish new line of frames released every month (2 from $199) and bulk-billed eye tests. Oscar Wylee has grown rapidly since brothers Jack Teoh and Bob Teoh purchased the company with their investment firm and began to expand its operations. At the time, it was a small ecommerce operation delivering glasses over the internet with no physical store footprint. Since then, Oscar Wylee has grown into an international organisation with 110 stores and over 800 team members across three countries. Glasses are available from any of their stores across the country or shop online at https://www.oscarwylee.com.au/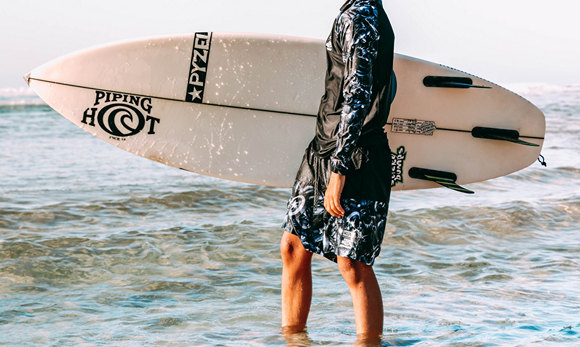 Piping Hot Surfwear
Australian surf brand Piping Hot has joined forces with Marvel to launch its Heroes for the Ocean surfwear made with recycled polyester that features iconic Marvel superheroes on its new boardies and rash vests. Piping Hot is committed to protecting our oceans and has saved 14.6million plastic bottles from entering our oceans in its mission for clean oceans. The launch of the new range will empower a new generation of Marvel fans to become Heroes for the Ocean as plastic pollution threatens our oceans and becomes one of the biggest environmental issues of our time. Highlights in the range include the Mens Volley Boardshorts which offer two side mesh pockets, a single back pocket with eyelet and an elastic waistband with drawstring. Finished with an all-over tropic print for a more fashionable look. With fast-drying properties, these lightweight shorts give you unrestricted movement while you surf, swim or play under the rays ($20). While the Mens Rash Vest will ensure you stay comfortable and sun safe this summer. Made from recycled materials, this top is designed for sun protection with full-length sleeves and UPF50+ coverage. In an easy pull-over design, this rash vest will have you ready for the beach or pool in no time ($24). The affordable new range of Heroes for the Ocean boardies and rashies has UPF50+ sun protection priced from $18 to $25, exclusively available in Target stores Australia wide www.pipinghot.com.au.
Sennheiser Earphones
For the loved one that requires sound-prioritising earbuds for a truly wireless Christmas, Sennheiser has you covered with the CX True Wireless. The bespoke TrueResponse transducer delivers crystal-clear sound and Passive Noise Cancellation for undisturbed listening pleasure. With personalised sound thanks to Bass Boost and the Built-In Equaliser and 9-hour battery life (+18 hours with the case), they'll be just perfect for the long way home for Christmas. Available in black or white ($199.95 AUD / $219.99 NZD). Another great option from Sennheiser is the CX Plus True Wireless. Delivering crystal-clear sound thanks to Sennheiser's TrueResponse transducer, Active Noise Cancellation and Transparent Hearing to blend out or let in the holiday buzz. With effortless smart interaction, a sleek design for all-day enjoyment and 8-hour battery life (+16 hours with the case), you can't go wrong. Available in black or white ($259.95 AUD / $274.95 NZD).
MiCam GPS
The MiCam GPS is the perfect in-car device for every driver who loves a road trip, and wants the latest in-car tech. This beautifully designed device has a large 5" screen that fits neatly on the dash and provides full navigation guidance throughout Australia and New Zealand as well as the protection from its camera which records in Full HD 1080P. It is packed with features, ability to search for destinations with keywords, and you can find the nearest parks, petrol stations, cafes, hotels and more at the touch of a button. You can also make and take calls, and it will read out incoming text messages too. Available from all leading retailers and www.navman.com.au/products/car-gps/micam-gps (RRP $299). Also available as MiCam Explore for 4WD/caravan/boats and MiCam Truck for professional truck drivers.
Marrickville Metro Gifts
For Sydneysiders struggling with gift ideas, head to Marrickville Metro for a plethora of options. The gift of giving gets better when you know that what you've giving helps do a little good too. Cammeraygal-based Fairywren Candle Co's scented candles are not only made of natural soy wax and hand poured into 8oz gold travel tins in Collaroy, 10% of Fairywren's profits are donated to Birdlife Australia! Fairywren Candle Co: Australian Bush scented, 30hr burn time ($25.00 at Harry Hartog in Marrickville Metro). Keep it local with presents this year by supporting local artists like Pitok thanks to Hypmotive's very 2204 selection. Drawing from the traditions of Aussie modernist painters and Japanese ukiyo-e woodblock prints, Pitok's personal works are painted using gouache in Marrickville. Aussie Hanafuda #9 by Pitok: A5 on thick card ($28.00 at Hypmotive in Marrickville Metro). Supporting Australian and New Zealand distilleries, wineries and breweries is easy when it all tastes so good! Pure Origin is handcrafted, small batch premium vodka, distilled using a copper pot still in Tasmania and refined using pure spring water from the slopes of Mount Wellington. The result is a clean, crisp vodka of exceptional purity with a medium body and tasting notes of citrus peel and cracked peppercorns. Best served on the rocks, or with your favourite mixer. Pure Origin Tasmanian Vodka ($55.00/700mL at Liquorland Smidmore St, Marrickville). Or if it's treats for fur babies that you're after, Paws and Palms is your go-to! Why not upgrade your pet's food bowl this Christmas, or give them a new toy to snuggle? Whatever it is you're after, you're likely to find it in-store. Paws and Palms Vintage Design Food Bowl ($28.99) and Plush/TPR Toys ($4.99 each). Available at Paws and Palms Marrickville Metro.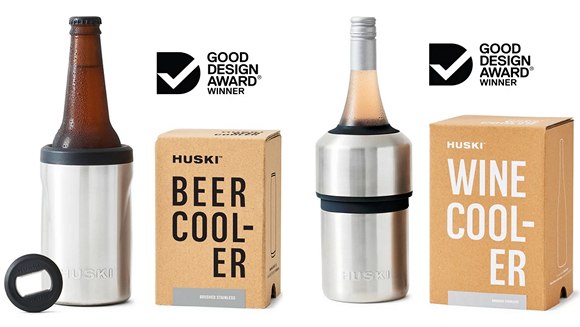 Huski Coolers
For loved ones that enjoy an ice-cold beer or beautifully chilled wine, a gift from Huski will deliver a better drinking experience by keeping your drinks at the perfect temperature for longer. Not your typical stubby holder, their brand new Huski Beer Cooler 2.0 is a game changer for lovers of ice-cold beer. This next-generation triple insulated stubby holder keeps beers up to 10x colder. Perfect for those summer BBQs, out on the boat, a day at the beach or in the comfort of your own home. Winner of a 2021 Australian Good Design Award, the Huski Beer Cooler 2.0 is an ideal gift for those hard-to-buy-for beer lovers ($39.99). For wine lovers, the Huski Wine Cooler is the world's most awarded wine cooler which will keep wine beautifully chilled for up to six hours. Store, transport and pour wine, all while your bottle is in the Huski. It works off the shelf with no ice needed – simply grab a chilled bottle from the fridge, pop it in the Huski and it's ready to go. A great gift for those looking for something a bit special that blends style and functionality. The Huski Wine Cooler takes the hassle out of keeping your wine chilled, giving you more time to do the things you enjoy most, like having a good time with your mates. Ideal for at home, around the BBQ, on the boat or anywhere in between ($84.99).
Merry Matcha Christmas Gift Box
For the drinker in your life, the Merry Matcha Christmas Gift Box ticks all the boxes. For the lovers of the world-famous coffee liqueur, treat them to its brand new creamy liqueur with a delicious Japanese twist – Tia Maria Matcha Cream. Uniquely fresh and indulgent, with the distinctive flavours of Japanese green Matcha, Tia Maria Matcha is available in a stunning gift pack by The Little Gift Loft which includes a Koko Black Matcha Chocolate Bar, 2 x Coupe Cocktail Glasses and Matcha Green Powder to garnish your Matcha-Tini. Perfect for enjoying with friends and family at Christmas, include it in cocktails or just pour it over ice and enjoy (RRP: $108). Available for purchase via: www.thelittlegiftloft.com.au/
Johnnie Walker
With the festive season coming in hot, what better way to gift your nearest and dearest with a Johnnie Walker 12 Days of Discovery Calendar – perfect for someone who likes a little surprise! The bold new, limited-edition Johnnie Walker 12 Days of Discovery is a show stopping statement addition to any drinks collection. This remarkable gift pack contains six different award winning Scotch whiskies, to be discovered over 12 days. Starting with the fruity and spicy Johnnie Walker Red Label, perfectly balanced Johnnie Walker Black Label, its smokier expression in Johnnie Walker Double Black, to honeyed Johnnie Walker Gold Label, elegant Johnnie Walker 18 Year Old and finishing with rich, smooth and smoky Johnnie Walker Blue Label. Available at leading bottle shops, independent bottle shops and online (RRP $99.00). Also perfect for any celebration is the Johnnie Walker Gold Label Reserve Festive Cracker. Johnnie Walker Gold Label Reserve is a vibrant, stylish scotch crafted using whiskies chosen for their sweet, honeyed qualities – offering rich layers of flavour in every drop. This is a scotch made to celebrate with, and so the new Johnnie Walker Gold Label Reserve Festive Cracker is the perfect way to toast the festive season or gift to someone special. Featuring layers of vibrant and tropical fruit, with a distinct creamy vanilla flavour, Johnnie Walker Gold Label Reserve brings together all the moreish golden flavours in one sensationally long, lingering finish. Available at Costco and your local independent bottleshop (RRP $35.00).
For The Kids
A perfect Christmas gift for primary school-aged children, The Epic Fail Game is a creative card game that celebrates failure through play. Developed by reforming helicopter parents Yolanda Koning and Susanna Kass in Sydney in 2018, the game was developed in response to the rising anxiety rates in children worldwide, helping them to learn resilience so they can grow into adults ready for all that life will throw at them in an unpredictable world. The thirty challenge cards are designed to change the way the whole family thinks about failing. The cards ask players to carry out a fun activity that's either tricky, messy, or both, sparking new perspectives and building new skills. Challenges include eating a piece of fruit without hands or utensils, drawing an animal with your feet and retelling a fairytale by changing the ending to the most epic fail you can think of. The Epic Fail Game was recently recognised in Australia's International Good Design Awards for Design Excellence. The Epic Fail Game costs $29.95 and can be purchased from TheEpicFailGame.com.au.
For The Adults
For a gift of the adults-only variety, you cannot go wrong with the Womanizer Premium 2 for the woman in your life. Equipped with Autopilot 2.0, it allows users to give up control as the toy changes between different intensity levels in a harmonious way on its own. The Premium 2 comes with 14 intensity levels and features its famous Smart Silence technology that allows the toy to only function when in contact with the skin. The new Womanizer comes in two new additional colours, Bordeaux and Warm Grey, and its packaging has 41% less plastic compared to Premium 1 (RRP $299). For the man in your life, the Arcwave Ion is your top pick. Arcwave Ion is a state-of-art toy that uses a re-engineered version of Pleasure Air technology. It stimulates the frenulum (underside of the penis) with air waves to deliver an entirely new type of orgasm, one that is not achievable by stroking alone (RRP $299). And for couples, the We-Vibe Melt is a great option. Thanks to its slim and ergonomic design, the toy can easily fit between two partners during intercourse or foreplay and offers clitoral stimulation to vulva owners during sex, in a variety of positions (RRP $189).
IT Cosmetics
For the lady in your life, IT Cosmetics have some great makeup and skincare products to choose from. Your Skin But Better CC+ Cream SPF 50 combines colour correcting with a hydrating anti-ageing serum and SPF 50 sun protection to give a natural and radiant finish. Your Skin But Better CC+™ Cream, combined with SPF 50+ is an award-winning and bestselling formula that offers a hydrating ant-ageing serum and broad spectrum protection. With clinically tested hydration, this cream visibly improves skin imperfections to create a radiant looking complexion that will not crease or crack. Based on your coverage needs, IT Cosmetics CC Cream can be used as a moisturiser, anti-aging serum, concealer and full-coverage foundation. Or pick up their award-winning Brow Power Eyebrow Pencil for absolutely killer brows every time! Featuring an exclusive oval tip that mimics the look of real hair, Brow Power adjusts to your eyebrow colour based on pressure and also works to completely cover grey. Or give your loved one's eyelashes superhero powers with the game-changing Superhero Lengthening Mascara that's clinically tested to give your lashes super volume, super length and super elastic stretch in just one coat! Developed with plastic surgeons, Superhero Mascara is skincare for your eyelashes. You do it all, now your mascara does too!
EFM Audio Products
EFM audio products combine sleek and contemporary design with an optimal audio experience, making for the perfect gift this Christmas. A top pick for the young and fun is the EFM Austin Mini Bluetooth Speaker which is compact, portable and pumps a surprisingly big and bass-y sound in one petite package. Featuring 16W Driver Unit with Subwoofer, hands-free calling, wireless pairing, IPX7 waterproof rating and LED Glow effect, the EFM Austin Mini allows you to rock your tunes just about anywhere for hours on end ($149.95). For the chic and sophisticated, you can't go wrong with the EFM TWS Detroit Earbuds which continue the exceptional lineage of high quality TWS audio products from EFM. Boasting stable and secure Bluetooth 5.1, low latency audio is delivered via powerful 10mm drivers. The exceptional playback time of 10 hours is bolstered by a compact case that can be wirelessly charged, allowing for a total of 35 hours music and/or talk time at the cases's full charge. An exciting array of colours and material finishes elevate the EFM TWS Detroit Earbuds to new heights, inspired by the creativity and musical pedigree of Detroit city ($99.95).
Kiehl Collection
Another amazing gift option is Kiehl's Limited Edition Holiday Collection. Features Crème de Corps – a non-greasy body lotion with Cocoa Butter, Beta-Carotene and Squalane that leaves skin feeling elegantly soft. It moisturises dry skin and helps to improve skin's texture, leaves skin soft, smooth and beautifully moisturised, and is for all skin types, particularly dry skin. And give your hardworking hands some TLC with the rich, nourishing and maximum-strength formula of the Ultimate Strength Hand Salve. Providing all-day care, this hand cream contains a thick formula which soothes, conditions and moisturises severely dry hands, repairing its appearance and forming a 'glove-like' protective barrier against moisture loss. Perfect for anyone with severely dry hands. Also featured is the Calendula Herbal-Extract Toner 250ml – a cult-classic alcohol-free toner formulated with Calendula, which contains five skin-soothing compounds known to help relieve signs of distressed skin including visible redness, excess oil and sensitive skin. The gentle formula is ideal for helping balance normal-to-oily skin, including sensitive skin types, for a more even complexion and soothed and refreshed-feeling skin. It gently soothes and refreshes skin,helps relieve key signs of distressed skin including visible redness, excess oil and sensitive skin, and cleanses skin without harsh or synthetic drying agents. For normal-to-oily skin types, including sensitive skin and suitable for acne-prone skin.
Aston James by FABIO
For the man in your life, a gift from the Aston James range is a top-notch option. The brand, which Fabio has created with two young Aussie entrepreneurs, is designed to be luxury, with the name paying homage to Aston Martin and James Bond. With alluringly cool, jet black packaging presenting the range as if it were a Rolex, Aston James would comfortably sit among a bevy of luxury items (RRP $59).
Skullcandy Earphones
If you're looking for a gift for the gadget guy, then the Skullcandy Dime in ear headphones are a great pick. Skullcandy Dime's are the new wireless earbuds taking the market by storm. Packing a punch with sound and attitude for a fraction of the price of airpods. With two brand new colourways in Orange and Red, but the same portable and sleek design, Dime's make for an amazing stocking filler. These are the earbuds you didn't know you needed, but soon can't live without ($69.95).
Kobo eReaders
Keep your loved ones fully booked up this Christmas with the Rakuten Kobo Libra 2, the most luxurious reading experience with every feature at your fingertips—including the addition of Bluetooth® wireless technology for Kobo Audiobooks. The next-generation Kobo Libra 2 is the embodiment of your reading style. With more storage and a faster E Ink screen, the Kobo Libra 2 is an integral part of your rich reading life. Packed with features and personality—and 32GB of storage for all of your eBooks—Kobo Libra 2 was made to do more. An ergonomic design keeps your reading life on hand—and page turn buttons keep the story going while you sip your coffee, stir your signature pasta sauce, or nurse your newborn—so you can read on and on, no matter what. Personalize your Kobo Libra 2 by choosing between black and white and eye-catching SleepCover colours (RRP $279.99).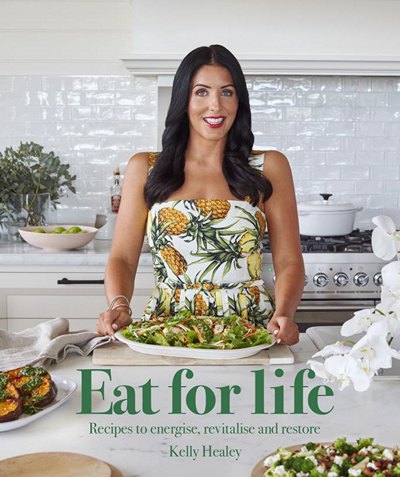 Eat For Life: Kelly Healey
For the physical book lover or health nut, 'Eat for Life' by Kelly Healey is a wonderful resource for those looking to kick start their journey to better health. Filled with more than 80 never before seen recipes and easy to follow meal plans, the irresistible collection of healthy meals includes more than 60 vegan, vegetarian and gluten free options. Available from kelly-healey-naturopath.myshopify.com (RRP $50).
CheekyGlo Glove
CheekyGlo's exfoliating glove is the must-have natural skincare tool this festive season. Inspired by Asian bathing rituals, the exfoliating mitt is reusable and targets common skin problems without the use of soaps, harsh chemicals and exfoliating beads. The gloves provide a natural solution to target common skin issues such as dry flaky skin, ingrown hairs, keratosis pilaris and congestion. The mitts are made from 100% viscose fabric, which means that they are gentle on the skin. Pick it up this Christmas from www.cheekyglo.com (RRP $31.95).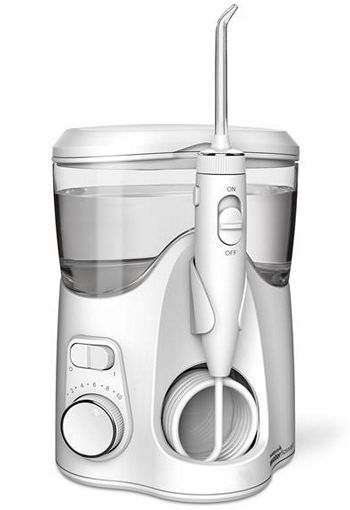 Waterpik Ultra Plus
Give your loved ones the gift of a great smile this Christmas and see their teeth sparkle well into the new year with the Waterpik Ultra Plus. The perfect surprise underneath the Christmas tree, whether you're shopping for a gadget lover, a braces wearer, somebody who wants a brighter smile or just needs a simple, quick and pain-free helping hand with flossing, Waterpik Water Flosser is the perfect gift this holiday season. Waterpik Ultra Plus provides a safe, quick and easy-to-use way to floss for healthier gums and brighter teeth in just a minute a day – it's the gift that keeps on giving (RRP $204.95).
Motorola Phones
For the first-time phone owner, the moto g50 5G gifts the next generation speed everyone wants. Downloading movies in seconds, intensive online gaming and watching YouTube videos without annoying delays is all possible at an amazing price that will please even the most budget-conscious gift givers. With 128GB built-in storage, they will never run out of room for photos, movies, songs, apps and games. And most of all, they can work and play without worrying about recharging with a long-lasting 5000 mAh battery (RRP $399.00). For the explorer, the motorola edge 20 fusion offers blazing fast 5G speeds with an advanced camera system at a competitive price point that won't hurt the pockets of gift-givers. Featuring an advanced 108 MP camera system, explorers can capture stunning photos with 9x the low light sensitivity, or view bright, vibrant colors on a breathtaking 6.7″ OLED display – all without slowing down thanks to one of the largest 5G smartphone batteries ($499.00). For the stylish soul, you can pick up them up the motorola edge 20. At just 6.99mm, it's one of Motorola's thinnest smartphones yet, features an advanced 108 MP camera system, and a 6.7″ display with the fastest smartphone refresh rate ($699.00). Or for the clever creator, help them unleash their imagination with the motorola edge 20 pro. They can capture stunning ultra-high res photos with a 108 MP sensor, and for video, they can record in incredible 8K resolution – a first for a Motorola smartphone. Their content can be viewed at the highest quality with an industry-leading 144Hz refresh rate on a breathtaking 6.7″ display that captures a billion shades of colour ($899.00).
Sydney Unleashed is one of Australia's premier entertainment publications exploring the latest in lifestyle trends. From Sydney's finest restaurants, cafes and bars to the hottest in gadgets, products, and home entertainment, Sydney Unleashed is your one-stop lifestyle platform.