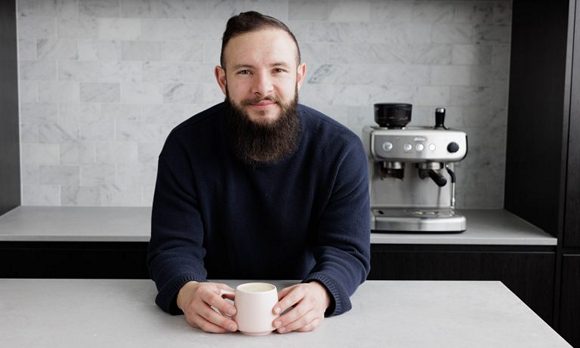 Five top tips to achieving a barista-quality oat milk coffee at-home
World Champion barista Carlos Escobar shares his tips to level up your plant-based coffee game from the comfort of your home 
If you work from home at least a few days a week and coffee is part of your morning routine, you may be looking for ways to make barista-quality coffee at home. Whether you are vegan, lactose intolerant or simply prefer plant-based milks, World Champion Barista Carlos Escobar and Uncle Tobys ambassador has you covered with top tips that will take your homemade oat milk coffee to the next level.
1. Foaming the milk without and with a machine
When you don't have access to a coffee machine or milk steamer, you can use your French Press. Heat the milk to around 55 degrees, pour it into the French press (no more than half the capacity) and plunge it several times until the desired level of foam is created. But if you happen to have a coffee machine with a proper steam wand, remember that oat milk is lower in protein than dairy milk and other alternative milks (soy, coconut, rice), which requires a longer steaming period in order to create stable "microfoam" (the miniature air bubbles that you add when heating the milk).  Try to not incorporate too much air when you start steaming, otherwise the milk may become too foamy.
2. Controlling the temperature
A good thing about oat milk when comparing it to other alternative milks is that it performs well at most temperatures, even up to 65°C (considered "hot" in a cafe environment). But to achieve a sweeter taste, the best temperature is around 55-58°C. A good tip is to have a thermometer inside the jug when heating the milk and stop the process around 3°C before the desired end temperature. (you can use the thermometers used for cooking, or get a cheap one in any "Bargain Store"). Uncle Tobys Oat Milk has the perfect texture and a great taste that don't overpower the coffee flavour. It's available in three creamy varieties to suit every taste and preference: Oat, Oat & Almond and Barista Style.
3. Letting the milk rest
Perfect textured oat milk will have a shiny, creamy, and smooth look. If it's too thin and watery you need to add more air. If it is not integrated and you have a bubbly head on top of the milk, you need to add the air a bit gentler and just a bit less. A great tip is to let the oat milk to rest for around 30 to 45 seconds, before you add it to your coffee. This will result in more evenly textured beverage.
4. Using quality water
If you have a fancy coffee machine at home, it's important to change the water regularly, and if possible, use filtered water as tap water contains some minerals that can affect the flavour of your coffee. In coffee competitions, we have to use water with no minerals and add them in to achieve the perfect taste.
5. Pouring latte art
Oat milk is the best alternative (in my opinion) for latte art as it tends to froth, foam and steam very well, thanks to the water-soluble fibre contained in oats. Uncle Tobys' Barista Style is my go-to Oat Milk for latte art. The first thing you need to do is to ensure that you have an espresso with an amber colour coating that you usually see on top of espressos. To achieve it, you need either an espresso machine or an aeropress.
Once you have your espresso, froth the milk in moderation ensuring that you don't have too many bubbles in the milk. I usually bang the jug gently on the kitchen bench to get rid of the bubbles. Then tilt your coffee cup to an angle in order to increase the surface area of the amber colour coating that sits on the espresso and pour. You may get frustrated at first as you end up with a white blob but if you give your jug a last flick when finishing pouring, you can create a love heart.
Sydney Unleashed is one of Australia's premier entertainment publications exploring the latest in lifestyle trends. From Sydney's finest restaurants, cafes and bars to the hottest in gadgets, products, and home entertainment, Sydney Unleashed is your one-stop lifestyle platform.