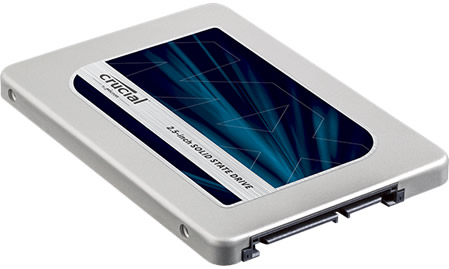 If you are still using a traditional spinning hard drive (HDD) in your laptop, it might be time for an upgrade to a faster and more reliable solid state drive (SSD).
While SSDs have been considerably more expensive than HDDs and have come with much smaller storage capacities in recent years, that is all set to change with the launch of Crucial's new range of MX300 solid state drives. Built for speed and loaded with advanced features, the new drives deliver an immediate increase to system performance.
We recently tested the Limited Edition 750GB MX300 SSD and could instantly see the improvement when compared to our old HDD. What makes the SSD so special is that it uses Micron 3D NAND – an advanced storage technology and engine that loads and saves everything you do and use. Micron 3D NAND is engineered with larger NAND cells that improve performance and prolong endurance, resulting in sequential reads/writes up to 530 / 510 MB/s on all file types, random reads/writes up to 92k / 83k on all file types, and an endurance rating of up to 220TB total bytes written.
You might be thinking that switching from HDD to SSD would be a long and painful process as you would need to factory reset your laptop and then re-install everything but that's absolutely not the case. To speed the process up, Crucial have included Acronis® True Image™ HD software with the package – this enables you to clone your existing hard drive to your new SSD. So we connected the new SSD to the laptop's USB port using a USB to SATA cable, cloned the drive, and then shut down.
All that was then left to do was physically take the HDD out of the laptop and put the SSD in its place. We turned the laptop on and voila, the job was done! Immediately noticeable was the improvement in speed and how much quicker Windows loaded after the SSD was installed. We could effortlessly load programs and demanding applications were handled with ease. Our old HDD would also freeze or hang at certain times – this has yet to be experienced on the new SSD which seems to make everything much smoother.
The Crucial MX300 delivers more than just fast boot, load, save, and file transfer times. It also improves system performance and protects data more securely with these enhanced features:
– Dynamic Write Acceleration: This technology uses an adaptable pool of high-speed, single-level cell flash memory to generate blistering speeds throughout the drive's long life.
– Extreme Energy Efficiency: The Crucial MX300 extends laptop battery life by using only 0.075W of power – that's over 90x more energy efficient than a typical hard drive, which uses 6.8W.
– Crucial® Storage Executive: This complimentary downloadable tool is easy to use and helps monitor and enhance the performance of the Crucial MX300. With the tool, users can update to the latest firmware and enable the Momentum Cache feature to instantly improve burst performance by up to 10x.
– Encryption: Keep personal files and confidential data secure from hackers and thieves with top level, government-grade AES 256-bit hardware-based encryption that meets or exceeds all industry standards, including Microsoft® eDrive, IEEE-1667, and TCG Opal 2.0.
– RAIN: Protect your data at the component level with RAIN technology, which stores data in multiple locations on the drive for increased reliability. This high-end feature works similar to how RAID is used with multiple hard drives.
– Exclusive Data Defense: Prevent photos, music, videos, and other files from becoming corrupted and unusable with exclusive technology that protects the components data is stored on.
– Inherent durability: Since SSDs don't use moving parts that wear out over time (like hard drives), files are less susceptible to a crash. SSDs can also survive physical trauma, like getting dropped, since they don't rely on mechanical parts.
The MX300 has a life expectancy of 1.5 million hours, a limited three-year warranty, and comes in a 2.5-inch form factor which is perfect for most laptops. After spending some time working with the SSD, we found the overall performance to be far superior in comparison to our old HDD. With the large capacity and affordable price tag, now might just be the time to upgrade from HDD.
The Limited Edition 750GB Crucial® MX300 2.5-inch SSD is available now. Also available in 275GB, 525GB, and 1TB capacities.
Sydney Unleashed is one of Australia's premier entertainment publications exploring the latest in lifestyle trends. From Sydney's finest restaurants, cafes and bars to the hottest in gadgets, products, and home entertainment, Sydney Unleashed is your one-stop lifestyle platform.