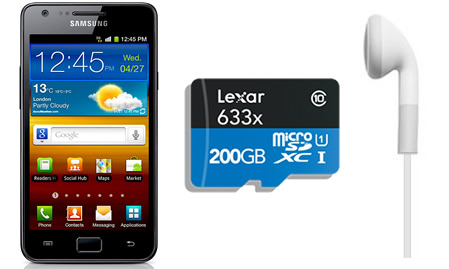 An iPod Classic Alternative
How to turn your old smartphone into a standalone MP3 Player.
In 2014, Apple did the unthinkable and discontinued production of its popular iPod Classic MP3 players. The 160GB variant could hold an entire music collection so those looking to store all their MP3s on one standalone device suddenly had limited options.
In recent years, many have resorted to buying these existing 'used' devices for double the original retail price from third-party websites. However, if you have an old smartphone lying around, we may just have an alternative solution which is far easier on the wallet.
The capacity of SD Cards has increased at a rapid rate over the past few years. Lexar just recently released its 200GB microSDXC card – that holds a whopping 40GB more than the 160GB iPod Classic. Simply insert this tiny card into your old phone and you have an instant standalone media player. Perfect for your entire music collection…and then some!
We recently put this experiment to the test and got our hands on a 200GB Lexar microSDXC card. The card is billed as a premium memory solution for sports camcorders, tablets, and smartphones which quickly captures, stores, plays back, and transfers media files, including 1080p full-HD, 3D, and 4K video. It also leverages UHS-I technology for a transfer speed up to 633x (95MB/s), stores more than 15 hours of HD video, 33,000 photos, or roughly 28,000 songs.
We dusted off the cobwebs from the old Samsung Galaxy S2 smartphone, performed a factory reset, charged it up, deleted and disabled bloatware and all those unnecessary files (making sure to keep Google Play Music as our choice of player), and inserted the card into the microSD card slot. For those wondering whether an old phone would be able to handle a card with such a large capacity, fear not. The card was recognised instantly and allowed us to start transferring files to it immediately when we hooked it up to our laptop via USB.
If you're using the phone purely as an MP3 player, then consider putting the phone on 'power saving' or 'aeroplane mode' to extend your new MP3 player's battery life. Once all your music files are transferred over, you officially have your MP3 player. Plug your headphones in to the phone and carry your music collection around with you or simply hook it up to your stereo at home for a convenient space-saving solution.
In our experiment, we transferred our entire music collection to the phone so we could use it as a standalone MP3 player. However, you don't need to limit it to just music. You could transfer your whole movie collection or all your old photos to it. Anyone that spent their youth collecting vinyl, cassettes, CDs, VHS tapes or DVDs would be blown away at the thought of holding an entire music or movie collection in your pocket. But that is now very possible with the introduction of these large capacity cards which slide easily into your smartphone.
Pick up the 200GB Lexar microSDXC card now and bring life back to your old smartphone.
Sydney Unleashed is one of Australia's premier entertainment publications exploring the latest in lifestyle trends. From Sydney's finest restaurants, cafes and bars to the hottest in gadgets, products, and home entertainment, Sydney Unleashed is your one-stop lifestyle platform.