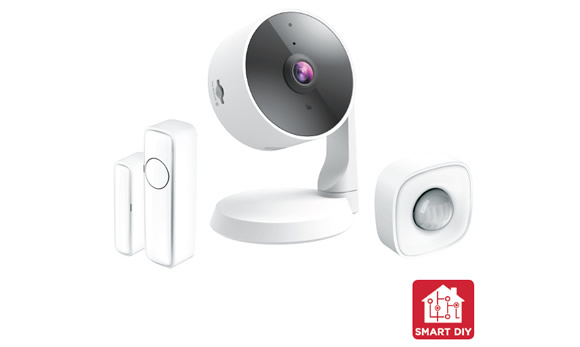 D-Link Smart DIY Security Bundle Review: DCS-8331KT
It's 2020 and we now live in a world where we can control just about every facet of our lives with the simple tap of a smartphone. Home automation is well and truly here and D-Link have joined the party launching one of its smartest and most exciting products to date: the AI-based DCS-8331KT Smart DIY Security Bundle.
This total home monitoring solution gives you the ability to automate and control devices throughout your home, from anywhere you are. The Smart DIY Security Bundle includes a Smart Full HD Wi-Fi Camera with built-in Smart Home Hub, a Smart Door and Window Sensor, as well as a Smart Motion Sensor. With the ability to provide continuous local recording to your NAS or event recording to the cloud, this Smart Kit can smarten up your entire home.
Unboxing the bundle is a breeze and we started by exploring the first item in the kit: the DCS-8330LH Smart Full HD Wi-Fi Camera with built-in Smart Home Hub. This beast blends Artificial Intelligence (AI) and Intelligent Video Analytics (IVA) detection with 151° views of your room in true 1080p Full HD at 30 fps. The built-in AI-based IVA features put the Smart Full HD Wi-Fi Camera in a class of its own as, unlike other cameras that bog you down with a never-ending stream of irrelevant motion-detection alerts, this camera is smart enough to send you an alert only when it really matters.
It also enables you to set and customise individual person detection, multi-zone detection, boundary-crossing detection and priority zones which means you only see exactly what you want to see. Pretty darn impressive in our books. A built-in Smart Home Hub turns the camera into the brain of your mydlink DIY Smart Home, that takes intelligent Home Security to a whole new level of smart. And in case you're wondering, yes it's Smart Home Compatible working with mydlink Smart Home devices, Amazon Alexa, and the Google Assistant.
Recording-wise, you have multiple options including: ONVIF Profile S (continuously record video locally to your NAS or NVR to capture every moment), Cloud Recording (event recording to the Cloud and view your videos from anywhere) and microSD Card Slot (record videos to a microSD card up to a capacity of 256GB). Jam-packed full of features and with its wide field of view, we were definitely impressed with the camera.
Next, we looked at the DCH-B112 Smart Door and Window Sensor. Integrating seamlessly with the DCS-8330LH Smart Home or Amazon Echo Plus, this clever sensor detects the opening and closing of your doors and windows. So no more worrying about whether you left them open as you can check on them via your phone no matter where in the world you are. One of its cool features is the Sensor Bypass Button which allows you to open doors and windows without triggering an alert.
Battery-powered for unrestricted placement, it also has tamper detection for greater peace of mind and triggers automations with other mydlink cameras and smart plugs. So you can relax next time you go on that trip as you will be immediately alerted if any of your home's entry points have been compromised. And yes, it's also compatible with the Google Assistant and Amazon Alexa.
The final piece of the solution included in the Smart DIY Security Bundle is the DCH-B122 Smart Motion Sensor which works well with the mydlink Smart Home Hub or Amazon Echo Plus. This clever sensor allows you to get motion detection alerts on your phone, has up to two years battery life and provides tamper detection for greater peace of mind.
The sensor works really well in picking up unexpected movement. A couple of the cool things we were able to do with this bad boy included being able to turn the lights on automatically as soon as walking into a room (when paired with the mydlink Smart Plug) as well as triggering camera recordings as soon as any movement was detected at home (when paired with the Wi-Fi Camera).
It's a very 'smart' sensor indeed. It's also battery-powered for unrestricted placement and triggers automations with other mydlink cameras and smart plugs. Small and discreet, it's very easy to mount on any wall with an adhesive strip. And it's compatible with Amazon Alexa and connects with Zigbee™ technology via an intuitive setup using the free mydlink app.
D-Link have certainly come up with the goods with the release of the DCS-8331KT Smart DIY Security Bundle. If you want a smarter – safer – home anytime you're out and about, then rest easier by picking one of these up and let it do all the hard work for you while you focus on enjoying life.
The DCS-8331KT Smart DIY Security Bundle is available now at dlink.com.au (RRP $299.95) and from all authorised D-Link resellers, retailers and partners.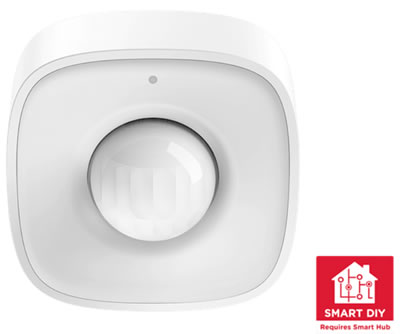 Sydney Unleashed is one of Australia's premier entertainment publications exploring the latest in lifestyle trends. From Sydney's finest restaurants, cafes and bars to the hottest in gadgets, products, and home entertainment, Sydney Unleashed is your one-stop lifestyle platform.