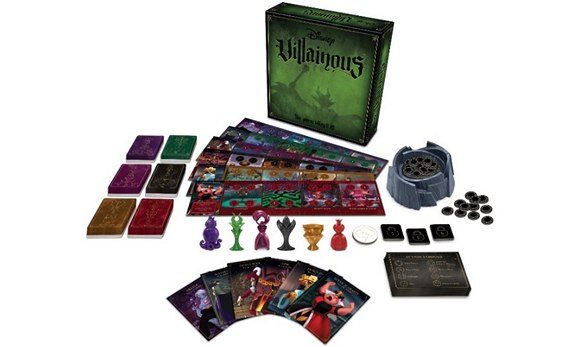 Disney Villainous – The Worst Takes It All
'Disney Villainous – The Worst Takes It All' is a new strategy board game perfect for gamers, families, and Disney fans alike. It pits players against each other as powerful Disney villains all trying to advance their evil schemes.
Choose to play as a host of Disney villains: Captain Hook, Maleficent, Jafar, Ursula, Queen of Hearts or Prince John. Each villain has their own sinister objectives and goals with a unique deck of cards. In order to win, players set traps, wield curses, leverage their allies, and most importantly, exercise cunning!
Each of the six villains has their own guide, and these guides inspire players with strategies and tips for crafting the most successful plan to win. The Fate Decks introduce each villain's iconic arch-rival, like Aladdin, Peter Pan or Ariel, who are determined to beat their nemesis.
Whether you're playing with a group of devoted Disney fans, classic strategy gamers, or with your family, Disney Villainous is perfect for any game night and makes a great gift for Disney lovers! The game was recently announced as 2021 Game of the Year as part of the Australian Toy Association Toy Fair and has previously won the prestigious 'Game of the Year' Award at the US TOTY Awards.
Disney Villainous can be played as a standalone game or with the other game extensions in the Villainous line: Evil Comes Prepared, Wicked To The Core, and Perfectly Wretched, which introduce more delightful Disney evil doers to the game.
@tullsgameplay "If you haven't played, it's easy to learn and easy to teach. Each Villain has their own guide. The guides will help you strategically make moves and help you to win. Use your characters unique abilities to reach your objectives."
@bricksandboardgames "Disney Villainous is an incredible game which is different every time, because every villain plays differently. The game is challenging enough to be interesting, but also simple enough to be very accessible. Also, the quality of the pieces and the board is great."
@tabletopsauce "The best thing about Villainous for me is the thematic elements, of which there are many. Not only do the win conditions make sense but every card in the villain deck and the fate deck are lovingly constructed from the movies, their movies. It works so well. After all, it wouldn't make sense if Ariel just showed up in Agrabah. The heroes constantly getting in your way provide the humour and frustration that you feel for the villains when you watch the films."
@nat20au "I truly love this game, the theme, the quality, the simple game play. It's all a perfect equation for a wonderful casual game in a universe I love."
'Disney Villainous – The Worst Takes It All' board game from Ravensburger is for 2-6 players, aged 10+, with an RRP $109.99 and available now from EB Games, Zing, Gameology, The Games Capital, Gamesworld, Toyworld, Mr Toys, and all good Game Stores). Expansion games are sold separately.
Sydney Unleashed is one of Australia's premier entertainment publications exploring the latest in lifestyle trends. From Sydney's finest restaurants, cafes and bars to the hottest in gadgets, products, and home entertainment, Sydney Unleashed is your one-stop lifestyle platform.