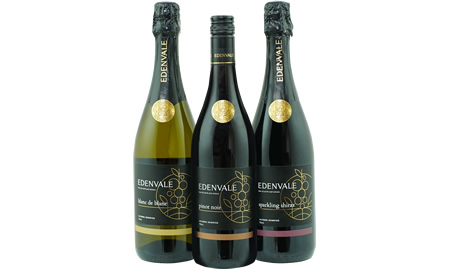 Edenvale Launches Premium Reserve Range
Offering sophisticated alternatives for those who enjoy wine without the side effects, Edenvale is excited to announce the launch of their Premium Reserve range. Crafted from carefully selected, premium quality fruit sourced from the fine wine regions of South Australia, Edenvale's Premium Reserve range delivers the ultimate wine experience for all wine lovers – without the effects of alcohol.
Through meticulous production processes, the Premium Reserve range maintains all the flavour, characteristics and varietal integrity of traditional blends, and includes a Sparkling Shiraz, Sparkling Blanc De Blanc, and a classic Pinot Noir. Unlike many other alcohol removed alternatives in the market, Edenvale wines are actually wines, made from varietal wine grapes, using traditional wine-making methods. In creating their premium range, Edenvale removes the alcohol at the final stage of the wine-making process, leaving behind the true characteristics of each wine.
With roughly half the calories of standard wine, you'll not only wake up without the hangover, but you'll also be able to have a great night out, drinking premium wines, but without ruining your diet, or the morning after.
Premium Reserve Sparkling Shiraz
Classically Australian, the Premium Reserve Sparkling Shiraz has tantalising blackberry and currant fruit aromas. Hints of oak and smoky, exotic spices are complemented by a palate that is round and full. The sparkling bead combines with rich dark fruit flavours and chocolate notes, making for a luscious indulgence. Persistent, rich, spicy flavours, yet finishing crisp and clean. Enjoy with roast meats, spicy dishes and any number of cheese styles.
Premium Reserve Sparkling Blanc De Blanc
Predominantly Chardonnay-based, delicious white peach fruit flavours come through with notes of citrus, apricot, apple and complex oak. The Premium Reserve Sparkling Blanc de Blanc has a beautiful, clean, fresh palate with good length and wonderful balance. Enjoy with a variety of foods, especially oysters, smoked salmon, creamy cheeses and canapés.
Premium Reserve Pinot Noir
The "flagship" of Edenvale's Reserve range, the Pinot Noir has attractive ripe red and dark fruit characters, hints of earthiness and savoury complexity. The palate has fine interwoven tannins with perfectly ripe sweet cherry and mulberry fruit flavours, delicate and yet intense in the mouth. Clean and rounded with a delightful juicy finish. Enjoy with a wide variety of foods, especially duck, seared salmon or tuna, roast white meats and goats cheese.
Offering a sophisticated alcohol removed alternative for those who still wish to sip on an adult beverage, Edenvale's range of wines are also perfect for anyone who still wants to enjoy the social aspect of having a drink – without having a drink.
Edenvale's Premium Reserve range is available now ($14.99 per 750ml bottle).
Sydney Unleashed is one of Australia's premier entertainment publications exploring the latest in lifestyle trends. From Sydney's finest restaurants, cafes and bars to the hottest in gadgets, products, and home entertainment, Sydney Unleashed is your one-stop lifestyle platform.