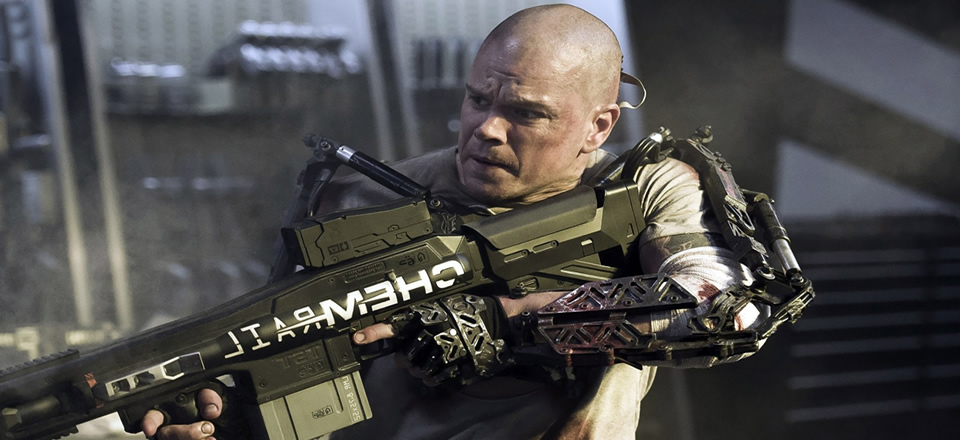 A scattering of cheers, amid a few screams upon exiting the big black hire car, Matt Damon arrived to the quietist premiere in Sydney I can remember for Elysium. Walking the 'black' carpet with South African co-star of Elysium, Sharlto Copley, the pair were eager to share stories with me.
Shane A. Bassett – G'day Sharlto, how are you mate?
Sharlto Copley – I'm good, how are you mate?
SAB – Excellent thanks. Kruger (your character) is one nasty piece of work. How many versions of him did you try before deciding on his final traits?
SC – I was actually very resistant on the idea of making him South African, I felt that playing Wickers (in District 9) a sort of white South African hero for the first time in a long time, probably since The Gods Must be Crazy. It made me a little uncomfortable, I tried Eastern European, I tried American and even a British guy. Then I did three South African versions with three different accents from different stereotypes, but the Kruger myself and the director chose was the most diverse and entertaining, also evil. We just had to do it and hopefully my countrymen will forgive me.
SAB – Was it your idea or the director Neill Blomkamp's idea to use a samurai sword?
SC – That was Neill wanting the sword, I always have to find a reason why something should function for a character or what possessions he has. To us it was an idea of using the sword as an intimidation factor involving extracting information. So, although he has use of high tech weapons, the sword waving to make a point is African style (laughing).
SAB – Kruger is almost passive / aggressive when apologising for his actions at times.
SC – Well that's kind of a stereotype thing again when some circles in South Africa can be mean people, but they also think you must have proper manners. Speak properly. Mind your attitude and how you speak to a lady. But the next thing, the guy is head-butting you because they have a sense of being a barbarian.
SAB – Does Matt Damon have any kind of flaws or is he as perfect as he seems?
SC – It's weird, I was constantly looking for any kind of cracks but the guy is brilliant, nothing bad to say, no sinister habits. The guy gets three hours sleep and he still manages to be nice to everybody. The guy is horribly flawless, it's really annoying (laughing).
SAB – Speaking of perfection, Elysium is a paradise. Would you add anything to suit yourself?
SC – Good question Shane, I would add a motor-cross track around the edges as a bonus.
SAB – Finally, any news on a much wanted District 9 sequel?
SC – It's going to happen, it's just a question of when mate. Nice to meet you.
Several minutes later Matt Damon made his presence known and shook my hand.
SAB – Congratulations on the Emmy nomination (Behind the Candelabra). However, where do you keep your Oscar (for writing Good Will Hunting)?
MD – Ahh let me think, let's see, it's in my New York apartment.
SAB – Most of Elysium was shot on a garbage dump in Mexico. Did you have to put on gas masks between takes?
MD – The crew did, we had to work so we couldn't (laughing). It didn't smell great but it's actually some of my favorite stuff in the movie. Even when we were shooting it, the photography kept it so interesting and cool. I was pretty excited to be there even though the conditions weren't great.
SAB – Your character is brutal if pushed, but he is also a nice guy helping people. Was that to establish human spirit amongst robotics?
MD – Neill came up with it, to make me an anti hero, not a typical protagonist in a movie but also a person the audience would pull for and follow.
SAB – Did you always want to be an actor in the early years?
MD – My mother is a professor of early childhood education so to hear her tell it, she says she knew I was going to do this from two years old. I remember always making up stories in my head and pretending I was other people. It was meant to be I guess.
SAB – What was the funniest moment behind the scenes on the set for you?
MD – Sharlto had me laughing quite a bit, he had me laughing daily. He would break in to my trailer and splash fake blood all over the place and leave severed body parts or limbs around with notes that said, Kruger is coming to get you.
SAB – He said he couldn't find a single fault in you, no cracks in your personality whatsoever.
MD – That's completely true, I don't have a single gaff, not one fault. Thanks Shane.
Shane A. Bassett
Sydney Unleashed is one of Australia's premier entertainment publications exploring the latest in lifestyle trends. From Sydney's finest restaurants, cafes and bars to the hottest in gadgets, products, and home entertainment, Sydney Unleashed is your one-stop lifestyle platform.