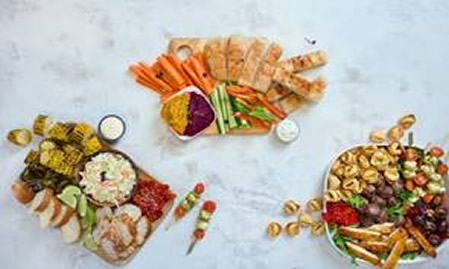 Five Fresh Food Facts To Help Shed That Winter Weight
A staggering 44% of Australians pile on up to five kilos during winter so with Spring just around the corner, many will try to lose this weight in the lead up to the warmer months.
However, with so many Australians having office jobs requiring them to sit down all day, shifting kilos can be a challenge. Plus, with studies showing that people eat a whopping 30 – 50% more when snacks are within easy-reaching distance from their desk, it's easy to see how sticking to a healthy diet can be difficult.
This struggle often leads to people looking to extreme fads; however even just by making smarter food choices it's possible to feel healthier in no time, without having to sacrifice the enjoyment of meals.
Catering leader and online food for the office specialist, Order-In has revealed that the demand for healthy options significantly increases as the weather starts to heat up, with a 37% increase in orders for salads compared to the colder months. Managing Director of Order-In, Jonathan Rowley says, "When it comes to ordering food in Spring, people move away from curries and pasta, with choices shifting to the likes of salads, healthy antipasto and charcuterie platters and Vietnamese rolls."
To help shed the Winter weight, here are five fresh food facts that will improve one's diet instantly:
1. Broccoli contains twice as much Vitamin C as an orange
Many look to a glass of orange juice when they are struck down by the flu because it has historically boasted curing the sniffles thanks to its levels of Vitamin C. Although oranges do contain a sufficient amount of Vitamin C, broccoli actually contains twice as much. So if one's looking to boost their immune system then look no further than broccoli, maybe even with a side of orange juice to wash it down.
2. Apples give you more energy than coffee
If drinking coffee like its being fed through an IV drip is a problem, it might be time to look elsewhere for that 3pm pick up. Apples are packed with energy as they're rich in fructose sugar, high in carbohydrates, as well as vitamin and mineral content. So, although it might not provide the same intense energy boost as a coffee it will supply a steady stream of glucose to the brains and muscles. Plus, it's a much healthier alternative.
3. Pecans are one of the richest sources of antioxidants
Poor pecans are often the forgotten nut, but they are extremely nut-richious. They probably won't appear in the favourite trail mix but they are one of the most antioxidant rich nuts out there, so eat up! 'Antioxidants' is a common health buzzword but many don't know the complexities behind it. Put simply, antioxidants are compounds that help fight oxidation, a normal chemical process that occurs in the body. However, damage can be caused if there is a disruption in this natural oxidation process. This can be enhanced by stress, alcohol, car fumes and pollution. Therefore, a diet high in antioxidants can keep you nice and healthy. Simple enough, right?
4. Seaweed boasts higher levels of iodine than almost every other food
Seaweed can definitely be a dividing food. People either love it or hate it. Good news for all those sushi lovers out there though, as seaweed has a high level of iodine which is essential for the normal regulation of thyroid function which affects multiple metabolic processes in the body. Even if one isn't a fan of sushi, a green nori salad, soba soup or a simple seaweed salad will do the trick.
5. Cheese has one of the highest protein-to-calorie ratios
Many know that turkey and fish contain high amounts of protein but did you know that cheese contains just as much protein per calorie? For every 4.7 calories, there is 1 gram of protein. But you won't hear us saying that you are allowed endless amounts of brie. The cheeses with the most protein are low-fat mozzarella and cottage cheese which can be a healthy swap for milk, butter or mayonnaise.
Jonathan adds, "When ordering food for the office online, it's important to have access to a variety of the best quality, seasonal and fresh caterers that will cater to every taste. Some go-to places that centre their menu around fresh food, and are always crowd pleasers, include:
Thr1ve: Their modern Australia menu has seasonal produce that is locally sourced, and prepared fresh to your order, with delicious and healthy options such as their turmeric spiced cauliflower and chickpeas
Poke'd: The craze for these Hawaiian style sushi bowls has not stopped, as you can get fresh sashimi served on rice with any choice of flavour filled accompaniments. They're not only healthy but are absolutely delicious.
Transform Health: Their menu offers seasonal, fresh catering that is designed to energise you with a nutritionally balanced meal, including their minted zucchini fritters and sprouting broccoli and edamame salad
Holistic Hospitality: This company sources local or use home-grown produce and where possible, use organic ingredients to support local farmers and businesses. They even grow their own herbs and various vegetables. Their roasted pumpkin and apple salad is a must try!
Hello Sarnie: Since inception this company's dream has been to bring convenient, healthy, freshly made and locally sourced food. You must order their delicious lemongrass chicken and soba noodles salad.
Order-In is Australia's #1 Corporate Catering service, taking the fuss out of ordering food for the office and giving businesses easy, online access to a variety of the best local and quality caterers. It is the leading hub for both office catering and kitchen supplies, taking out all the risk associated with catering, making you look good every time. For more information, menus, or locations mentioned above, visit https://www.orderin.com.au
Sydney Unleashed is one of Australia's premier entertainment publications exploring the latest in lifestyle trends. From Sydney's finest restaurants, cafes and bars to the hottest in gadgets, products, and home entertainment, Sydney Unleashed is your one-stop lifestyle platform.