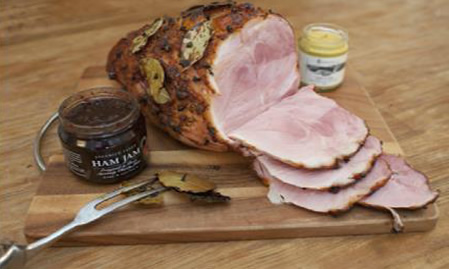 HelloFresh Christmas Feast
Take the headache out of Christmas entertaining this year with online recipe and grocery delivery service, HelloFresh. Providing subscribers with a weekly delivery of restaurant quality recipes and matching ingredients to dish up top-notch dinners year-round, this December HelloFresh is serving up a Christmas Box to help you whip up a deliciously festive feast for friends and family with all the trimmings and none of the fuss!
Forget flicking through countless recipe books on the hunt for an impressive (and usually expensive) menu, or battling the Christmas crowds at the supermarket, as HelloFresh's Christmas box promises to take the hassle out of feeding hungry loved ones this December, whether it be just an intimate family gathering of four or a herd of 12. Providing everything needed to create a suitably spectacular feast in less than two hours, from starters through to traditional mince tarts, brandy butter puddings and fresh cherries to finish, you'll be left to enjoy the Christmas spirit – chaos free!
Delivered straight to your door, the HelloFresh Christmas Box contains only the finest ingredients and, carefully sourced produce from trusted local providores, matched with easy-to-follow, restaurant-quality recipes, for a fool-proof Christmas Day meal.
Offering a menu of chilli, lime and garlic barbecued prawns plus orange and brown sugar glazed ham with three delicious salads – cranberry and pistachio cous cous, grilled greens with almonds and pomegranate and smashed tarragon and chilli potato salad – guests will be singing your culinary praises. A dessert of traditional pudding with brandy butter and mince tarts is then finished perfectly with fresh young cherries, and the option of a gourmet cheese board for those really wanting to indulge.
"Christmas is my favourite time of the year, but entertaining can be a pretty daunting task," said HelloFresh Australia Founder and CEO, Tom Rutledge. "All year, our job at HelloFresh is to save our customers time by taking care of their meal planning and shopping – and Christmas Day is no exception!"
"From the wood-smoked ham and wild-caught Aussie prawns through to the brilliant produce and expertly made mince pies, puddings and cheeses, with HelloFresh you can enjoy the best of the best on December 25th, without traipsing here, there and everywhere to get it" he said.
"Put simply, our Christmas Box takes all of the hard work out of preparing an indulgent, home-made Christmas lunch or dinner, and leaves you with the fun part – some simple preparation, and of course, the eating!" Tom said.
HelloFresh, launched in 2012, is a subscription service that provides weekly deliveries of recipes and ingredients to time-poor Aussies who love the joy of a home cooked, healthy meal. The Christmas Box is available as an addition to existing subscribers or can be ordered as a one-off for non-subscribers.
HelloFresh Christmas Box Prices:
Small Box (four – six people) / Large Box (ten – twelve people)
$269 with cheese board $449 with cheese board
$229 without cheese board $399 without cheese board
The Christmas Box delivery will take place between 20th to 23rd December depending on location, with last orders being taken by 16th December (2015).
Sydney Unleashed is one of Australia's premier entertainment publications exploring the latest in lifestyle trends. From Sydney's finest restaurants, cafes and bars to the hottest in gadgets, products, and home entertainment, Sydney Unleashed is your one-stop lifestyle platform.