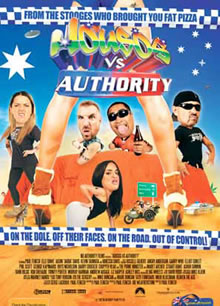 Starring: Paul Fenech, Elle Dawe, Jason "Jabba" Davis, Russell Gilbert, Vanessa Davis, Kev Taumata. 'Housos vs Authority' comes from the stooges who brought you 'Fat Pizza' and 'Swift and Shift Couriers'.
Shazza's been having a tough time lately – her Dad Wazza died "on the job", she's thrown a brick at the head of a skanky model parading up and down their street and now there's worse news – her mum, whom she hasn't seen or heard from since she was three, is dying and wants to see Shazza one last time. Trouble is, she lives in Alice Springs and the dole money isn't going to stretch to a trip to the dead centre.
In Sunnyvale if you need the impossible done, you can't go past the bikies. For the right price they can organize just about anything! Bikie gang leader, Angry, gives Shazza a job – drive a campervan to Alice Springs, deliver the goods hidden inside and bring the campervan back. Simple. Shazza, Dazza, Franky, Vanessa and Kev hit the road and, after some hectic diversions, arrive in Alice Springs just in time. On her deathbed, Shazza's mum asks her to sprinkle her ashes on top of Uluru after she's gone. Shazza, Dazza, Franky, Vanessa and Kev head to the Rock where they take on every authority possible in their quest to fulfil Shazza's Mum's dying wish. No money, no smokes and no rules – it's a long way to the top if you wanna be a Houso!
'HOUSOS VS AUTHORITY' is available now.
Sydney Unleashed is one of Australia's premier entertainment publications exploring the latest in lifestyle trends. From Sydney's finest restaurants, cafes and bars to the hottest in gadgets, products, and home entertainment, Sydney Unleashed is your one-stop lifestyle platform.