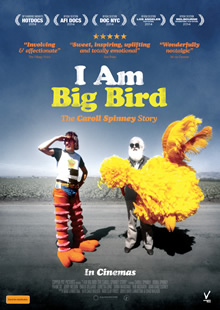 I AM BIG BIRD profiles Caroll Spinney, the 80-year-old puppeteer who has been behind Sesame Street's Big Bird and Oscar the Grouch since the show's first season. Relying heavily on Caroll's incredible archive of home videos dating back to the 1950s, I AM BIG BIRD captures how the love radiating from Caroll has created a worldwide cultural icon and answers why he can't say goodbye to the characters he cherishes.
Caroll Spinney has been Sesame Street's Big Bird and Oscar the Grouch for over 40 years. He's dined with heads of state, won Emmys and been named a living legend by the Library of Congress. He's handpicked a successor who has waited, quite literally, in the wings, as his understudy for almost 20 years. But while Caroll's peers have long since slipped into cozy retirements or pursued other dreams, he has held on with no intention of retiring.
Yielding the Bird would mean saying goodbye to characters that are a true expression of his soul, characters that he loves and cherishes like his own children. Pure love runs through Caroll's life: he found it first in his mother, a woman who not only handcrafted his first puppets, but who also sacrificed her own body to protect Caroll from a savage beating from his father. When Caroll's first marriage to a woman "embarrassed" by his career ended in divorce, Caroll would find Debra, the love of his life. And then there was Jim Henson, who grew from boss to friend and whose death shattered Caroll. The unconditional love that envelops Caroll's life—and which is captured in the hours of home video culled for I AM BIG BIRD—is the true secret to Big Bird's popularity.
But that popularity has begun to wane. In the face of stiff competition from other entities vying for children's attention, Sesame Street had to go younger. The shift saw writers begin to explore other characters and when Elmo emerged, Big Bird was supplanted and his relevance was challenged. Suddenly, Big Bird was in fewer scripts. TV and movie cameos featured Elmo instead of the Bird.
Still, Caroll has been a constant presence for over 40 years, his path weaving through American history like that of Forrest Gump. And, as seen in the 2012 presidential election, Big Bird is still beloved—and protected—by people throughout the world. Even if Elmo sells more plush, Big Bird remains close to the hearts of children and grownups everywhere because he radiates love. And though it was Jim Henson who conceived him, it is Caroll who brings that intangible quality to Big Bird and makes him the character that continues to captivate audiences 45 years after his debut.
Caroll can't say goodbye to Big Bird because he is Big Bird. His experiences shaped Big Bird's soul; Big Bird's soul has guided people around the world.
Using current interviews and never-before-seen home videos capturing intimate moments from his life and career, I AM BIG BIRD peels away the instances that inspired his creation of characters that have influenced generations of children. And, as the yellow feathers give way to grey hair, it is the man, not the Muppet, who will teach us the greatest lesson of all: how to love unconditionally.
I AM BIG BIRD oscillates between the past and present, both showing Caroll on set today as he transforms himself from an unknown white-haired puppeteer to the six-year-old, 8-foot tall bird known the world over and using never-before-seen home movies from Caroll's personal video library to illustrate how he became the man that became the Bird. These moments include:
– Jim Henson, Kermit the Frog perched atop his hand, playfully teasing Caroll in the familiar, comforting voice of the green amphibian. Such footage shows just how close the two were before Henson's untimely death, which still brings tears to Caroll's eyes.
– Caroll's selection, then subsequent rejection, by NASA to join the Challenger crew in 1986. Instead of boarding the shuttle, he watched from the studio as the astronauts, including his replacement, Christa McAuliffe, perished in the disaster. • Intimate time between Caroll and his family, which captures a side of Caroll known only to his closest friends. The grainy, aging film footage beautifully captures the nostalgia of the deep, lasting love shared between Caroll and his wife Debra.
I AM BIG BIRD also uses current-day interviews with friends and colleagues who've worked closely with Caroll over the years, including, but not limited to:
– Matt Vogel, the apprentice that Caroll handpicked nearly 20 years ago. In the 18 years he has been Caroll's understudy, he has grown from apprentice puppeteer to accomplished show director. But he still studies Caroll's every move in hopes that he can live up to his mentor's legacy when the time comes
– Frank Oz (Cookie Monster, Bert, and more) and the late Jerry Nelson (The Count), who, with Caroll, formed a remarkable group of artists that vaulted Sesame Street to iconic status.
– Jane Henson, whose interview gives new insight into what Jim Henson saw in Caroll, who was a relatively untested puppeteer at the time he was hired. Mrs. Henson's interview for I AM BIG BIRD was one of the last she gave before her death in 2013.
As the film gently weaves between past and present, it becomes clear just how deep of an impact Caroll Spinney has had throughout the world.
Sydney Unleashed is one of Australia's premier entertainment publications exploring the latest in lifestyle trends. From Sydney's finest restaurants, cafes and bars to the hottest in gadgets, products, and home entertainment, Sydney Unleashed is your one-stop lifestyle platform.