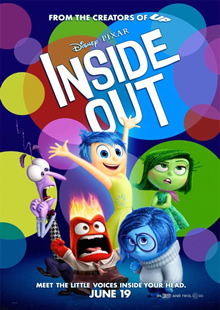 Starring Amy Poehler, Phyllis Smith, Mindy Kaling, Bill Hader, Diane Lane (Rated PG – 94 min).
The lights are on and everybody's home in an almost perfect movie that is one of the best of the year so far.
Pure excellence of Disney Pixar animation studios rolls on. From the makers of such modern 'cartoon' classics such as Toy Story and Finding Nemo comes another amazing tale that will no doubt tap into the entire family demographic.
The unique story involves eleven year old Riley and the star trek like control centre inside her brain registering her emotions orchestrated by primary feelings, joy, anger, disgust, fear and sadness. At this point, her brain is rendered through this facility with very few problems until now. Riley has been packed up and moves house with her mother and father from middle America to the big city of San Francisco that upsets her train of emotions. While the inner turmoil amongst the emotions respond to the unknown urgings and reactions that Riley plays out in her changing world.
To go on would ruin this absolute treasure, it's must-see, eye-opening, complex entertainment that will bring a tear to your eye, it is imagination at its finest. The voice cast as with all Pixar films is of high quality including relatively unknown Kaitlyn Dias as the conflicted Riley and my favourite Phyllis Smith (Bad Teacher) as the all blue melancholy sadness.
Joy, like her namesake, is a wonderful character brought to life by the irrepressible Amy Poehler (Mean Girls). Asking her at the Australian premiere if she used much of her own personality in the role she said; "I brought all of it out but it was the directors who should be commended. They had an idea of who Joy would be, it was a group effort and just a pleasure to be part of."
Shane A. Bassett
Sydney Unleashed is one of Australia's premier entertainment publications exploring the latest in lifestyle trends. From Sydney's finest restaurants, cafes and bars to the hottest in gadgets, products, and home entertainment, Sydney Unleashed is your one-stop lifestyle platform.