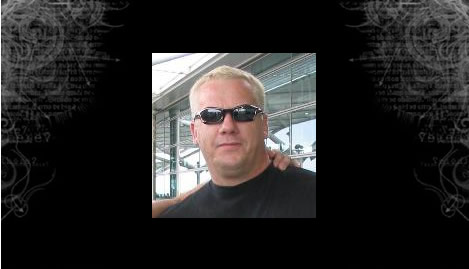 DOB: 04/02/1966.
Position/Company: Owner/CEO of Riot Distributors, Riot Entertainment Australia and Alliance Touring Australia.
How did you get your start in the music industry? Managing a small CD store chain in the early 90s and writing for overseas fanzines. I set up my own record store and then branched into distribution, a record label, touring and promotion / publicity – it makes sense running everything under the one roof and it won't stop there.
Best part of the job? I love it all! I get something out of everything – even the basic daily duties. But I get a real kick out of reporting great sales to my suppliers.
Worst part of the job? The stress, dirty underhanded politics and backstabbers who want to bring you down and say plenty about you even though they have never met you. Plenty of that going around.
Any interesting experiences you can share? There are plenty. One would be having several people / musicians I grew up basically idolising as a fan now calling me at home just for a chat. It's amazing now working with these people on a personal and business basis. Bruce Kulick (ex-Kiss) is one who I love talking to – one of the sweetest down to earth people I have ever met and he loves telling stories too. Also doing our first solely promoted tour this year with Fozzy was an amazing experience. It was tiring, stressful and tough BUT I loved every minute of it and you seriously could not have hoped to work with a better group of people for your first tour. They were amazing to be around and so helpful with advice. I had known Chris Jericho and Rich Ward for a while. But never worked with them this closely and they were a pleasure to be around. Same goes for all the guys. Another great experience was being at Zakk Wylde's video shoot in L.A. this year for Suicide Messiah. Some stuff went on that day that I can't get into but it was hilarious drinking beer with Zakk in his trailer and listening to him telling stories about Dime (Dimebag Darrell) was pretty emotional. I guess one more was a great night taking Anthrax to dinner at Ribs and Rumps at Manly a few months ago. I love those guys! One other I have to tell you about was Brides of Destruction last year when they toured, seeing Nikki Sixx and Tracii Guns for the first time walk into the dressing room straight from the hotel dressed in full make up and stage gear was amazing. Just talking to those guys about life was incredible. I can't believe how much the business has grown – it all comes down to hard work.
Favourite CD of all time and why? I have two. Kiss: 'Destroyer' was the ultimate Kiss album and the ultimate heavy rock record. So much diversity on there and it still sound fresh today – Kiss totally in their prime. The other is Zakk Wylde's 'Book of Shadows'. It is an amazingly deep, emotional and spiritual album that I listen to when I am down, when I am stressed or when I am feeling great. It's an album that does things to you no matter what state you are in and has a positive effect on you. There are plenty more that just follow behind these two but I can't split them
Tell us about the best live show that you ever saw? Kiss on the Farewell tour. The first Sydney show was just flawless. The best club show was Brides of Destruction last year at the Gaelic club – AMAZING. But there are so many to choose from.
Favourite bars/clubs/pubs to hang out in? I don't really go to venues, etc. I like to relax away from the music scene as it is in my face all day every day. In Sydney, I like the Cargo Bar, The Establishment while here in Wollongong I like to just go to restaurants for long dinners then maybe to the Brewery or front bar of the Glasshouse. I don't live the 'Metal' lifestyle in some ways – so to speak, hahaha.
What advice would you give to someone looking at getting involved in the music industry? I would say network! Talk to as many people as you can and listen to their advice, take it in and use it. Do not burn bridges with anybody – you never know who you are talking to. Work hard, be patient and leave your ego at the door.
© Danny Canak
Sydney Unleashed is one of Australia's premier entertainment publications exploring the latest in lifestyle trends. From Sydney's finest restaurants, cafes and bars to the hottest in gadgets, products, and home entertainment, Sydney Unleashed is your one-stop lifestyle platform.