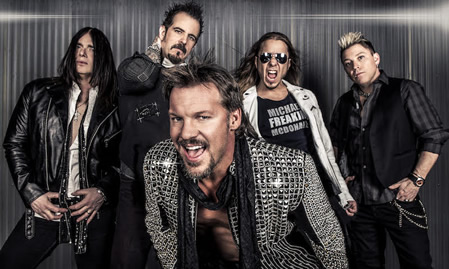 Rock & Roll Wrestler: Chris Jericho Interview
Chris Jericho is a cool guy. Wrestling champion, impressive actor and hardcore rock and roll frontman, I found that out personally ahead of his Judas Rising Tour Down Under with band FOZZY. Chris tells me it's a busy time for the band, continuing to train at all times – music and wrestling is a similar challenge.
What can Australian audiences expect this time around?
CJ – Cool thing is we have toured previously four times before, just not been there five years. So many may be seeing us for the first time. It's rock and roll with a smile, electricity, energy, good times to be had – we don't have dead air. Our great reputation is to give the fans an ultimate rock show not forgotten. Mostly new album songs although some classic Fozzy deep cuts in the mix.
With song Judas, did Fozzy hit the ground running off your best album so far?
CJ – Yes I think so. Right off the bat when released in May (2018), we knew something special was happening through the popularity of the views and discussions around it. I think we have a signature song now so people hear it immediately knowing it's Fozzy. We have gone to the next level worldwide. Playing shows in places we hadn't been for years, or never been, a true sign of band awareness.
Has Fozzy hit its straps or is it reach for the sky?
CJ – I'm never one just to be happy with the band not to go bigger. We continue to step it up across the board – we learn, we strive, we will rock on.
Harder to wrestle or sing live?
CJ – Both a challenge, it's all performing you know Shane. Importance of show business is connecting with audience. People love larger than life characters while greatest frontmen, or women, of all time have personality or charisma leaving people wondering what they might do next. That's my aim, to connect then make sure the audiences are having a great time. Live rock and roll, anything can happen.
Any musical inspirations that you admire?
CJ – So many really. Paul Stanley (Kiss), Bruce Dickinson (Iron Maiden), Freddie Mercury (Queen), Mick Jagger (Rolling Stones): all the great frontmen I looked up to, I wanted to be. If you watch me on stage, or even wrestling, I believe there are elements of all those guys. Not that you copy, more so take the premise from certain guys into a big blender to make Chris Jericho, making me who I am today as a frontman. Appearing to have a good time is you being the party host rubbing off on everyone else while sometimes they are not. I've spent a whole show trying to turn a frown upside down, there's nothing better if I see one person within a crowd of a thousand not wanting to be there, I will change their attitude. That's the most fun.
How accurate was Mickey Rourke in The Wrestler?
CJ – Quite accurate for guys who kinda stay at the party too long. All due respect to them, I never want to be in over my time wrestling at a high school gym which happens when you're on your way out completely.
How did you end up in cult favourite, MacGruber?
CJ – Just got asked to play that part. Originally it was smaller however when I arrived on set, I improvised with Will Forte. He was a Groundling, I am a Groundling (a famous acting studio, improvisational troupe). We bounced off each other lines and looks which made it into the movie. That's a movie that flopped and as you say, has become a cult. I have so many comments about it.
Is comedy something you would like to do more of?
CJ – Absolutely. Over the years, I've done intricate Comedy Central shows. Proud of them and everything I have done acting. Being comedic is pretty much what I do in life on a daily basis anyhow (laughs).
How many times have you seen The Big Lebowski?
CJ – At this point, around twice a year since it released in 1997. So between fifty to seventy times…possibly my favourite of all time. Great acting, finely tuned characters, no plot, one preposterous situation after another, that's what i love. Irrelevant but totally relevant. I bet when they made it that 20 years later, it would be (relevant).
Would you ever consider running for a political position?
CJ – Well yes, I think I was the first undisputed champion. I think I could be the first undisputed 'Prime' President of North America, why not. I am Canadian at heart (laughs), living in the States. I learned early on studying to be a journalist going to political party events seeing grown men hurl abuse, I realised I am not a political guy. From beginning as a small time wrestler in Canada to having a steady job in Japan or Mexico, I worked hard, paid my taxes. It took me two years to become a full time performer twenty six years ago, that's more me than politics.
FOZZY LIVE IN CONCERT
Nov 9 (Melbourne), Nov 10 (Sydney), Nov 13 (Adelaide), Nov 14 (Brisbane)
Shane A. Bassett
Sydney Unleashed is one of Australia's premier entertainment publications exploring the latest in lifestyle trends. From Sydney's finest restaurants, cafes and bars to the hottest in gadgets, products, and home entertainment, Sydney Unleashed is your one-stop lifestyle platform.