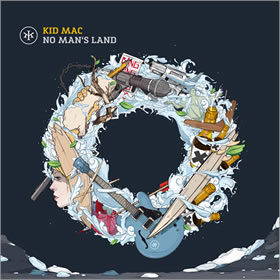 The term 'hip-hop' would be far too lazy an expression to describe the sound of Kid Mac. The rising local star demonstrates that he has the wares to tackle several genres without batting an eyelid on his impressive debut album, 'No Man's Land'.
While the album maintains a consistent feel throughout, each song has its own individual character encompassing a wide spectrum of sounds ranging from breezy summery pop ('Freedom'), hard-hitting rock ('Don't Look Back' – with bona fide rock chick Sarah McLeod) to electronica ('Nobody Sleep Nobody Get Hurt'), all mashed up with Mac's own unique brand of hip-hop. If you need a starting point, then look no further than the latter – an absolute aural feast with its slick production, catchy-as-hell trance riffs and dubstep breakdowns (and if you haven't already, make sure to check out the accompanying video with some of the most mind-blowing night-surfing footage you're ever likely to see).
Being a successful film-maker in his own right ('Bra Boys', Fighting Fear') certainly gives Mac an edge over his contemporaries with promotional videos for several tracks being unleashed to the public well before the album's release. Followers will be familiar with his alternative-rap collaboration with Mat McHugh ('Hear You Calling'), old fan favourite 'My Brother's Keeper', and the anthemic current single 'She Goes Off' with Mickey Avalon currently "bang bang banging" up the charts. 'No Man's Land' delivers a diverse menu of alternative-electronic-hip-hop that is sure to challenge as Australian Album of 2012 come year's end. A rock-solid debut.
1. Get The Best Of Me
2. Hear You Calling
3. Dream Weaver
4. They Don't Hear Me
5. Don't Look Back
6. Lunatic
7. No Man's Land
8. Freedom
9. No More
10. Times We Had
11. She Goes Off
12. My Brother's Keeper
13. Nobody Sleep Nobody Get Hurt
14. Other Side
© Danny Canak
Sydney Unleashed is one of Australia's premier entertainment publications exploring the latest in lifestyle trends. From Sydney's finest restaurants, cafes and bars to the hottest in gadgets, products, and home entertainment, Sydney Unleashed is your one-stop lifestyle platform.