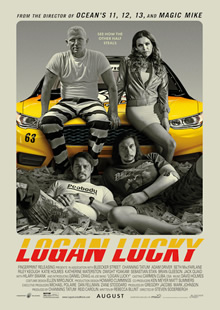 Logan Lucky: Movie Review
Starring: Channing Tatum, Katherine Waterston, Hilary Swank, Daniel Craig, Riley Keough, Adam Driver, Katie Holmes, Alex Ter Avest (Rated M – 119 min).
Preposterous lunacy takes on a whole new meaning about ten minutes after the opening credits. Audiences will be divided in an instant – you have been warned.
Academy Award winning director Steven Soderbergh (Traffic, Erin Brockovich) once announced he was giving up making movies. But thankfully that didn't happen and he continues to churn out interesting oddities like this outrageous heist thriller that is nothing like his Oceans Eleven trilogy.
Weird brothers Jimmy (Channing Tatum) and Clyde (Adam Driver) attempt to conduct a robbery during a North Carolina NASCAR race with the help of dubious professionals that appear to have lower intelligence than the bumbling Logan siblings. 'Bonnie and Clyde' they are not!
After Jimmy loses his job while also forfeiting his rights to daughter with ex-wife Bobby Jo (Katie Holmes), all future prospects look bleak until approached by shady British race car driver with a plan to get rich quick.
He tries his luck on the wrong side of the law by ripping off NASCAR. It seems the only thing to do for desperate Jimmy, especially as this new 'friend' says he knows infrastructure of the track and how they move the money.
Enter the bombastic individual, unusually spoken and just odd in general Mr. Joe Bang (current 007 Daniel Craig as you have never seen him before), a self proclaimed genius who knows exactly how to blow up vaults, or so he says.
This whole debacle of a black comedy has its moments while best enjoyed as a farce, cannot be taken seriously and just when you think the puzzling plot line cannot get any more obscure, it does.
The cast are mostly all very funny, all out of their glamorous comfort zone by dressing and acting down which works entirely for their redneck characters.
Granddaughter of Elvis Presley, the lovely Riley Keough (Mad Max Fury Road), is the most adorable as the Logan sister keeping the criminal intent in the family by joining her brothers in the heist.
Fast-paced mayhem, not for everyone's taste, but there's no denying the charming wit on display.
Shane A. Bassett
Sydney Unleashed is one of Australia's premier entertainment publications exploring the latest in lifestyle trends. From Sydney's finest restaurants, cafes and bars to the hottest in gadgets, products, and home entertainment, Sydney Unleashed is your one-stop lifestyle platform.