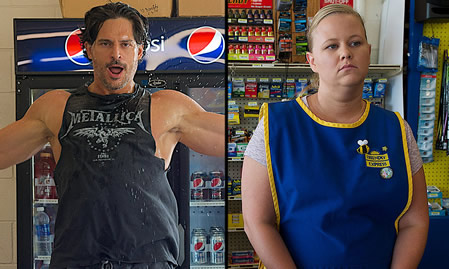 Magic Mike XXL's Mini-Mart Girl
Exclusive interview with Lindsey Moser.
Gorgeous and bubbly, Lindsey Moser is unknown to many. However, she appears in a pivotal incident garnering big laughs during Magic Mike XXL. Hilarious with an unassuming stare, anyone who has watched this pumped up male entertainer sequel knows her as Mini-Mart Girl.
Obliviously standing at the checkout in an empty service station while Big D Richie (Joe Manganiello) autonomously dances around the store frothing up soft drinks and splaying potato chips into the air only just managing to gain her attention in a scene-stealing over the counter moment. Talking with the Southern American actress, there is so much more to her personality.
Shane A. Bassett – During the Australian arena premiere which held an extremely vocal audience in their thousands, the biggest laughs of the night were during your scene.
Lindsey Moser – Oh great, that's awesome. Thank you for telling me that.
SAB. How did you get the role and what was the audition process?
LM. You're actually hearing this first, I auditioned for the nurse during the hospital scene where Gabriel Iglesias (Tobias) gets hurt. After that, they called me and wanted another audition for the mini-mart girl. It was explained that the scene was so much funnier, everyone knew this scene would be talked about even way back then. They were so excited about it, even in emails the excitement was obvious for this scene and having me in it, so I said cool let's do that. So I went back and auditioned for the mini-mart girl with a taping for the casting directors in LA and then a week or so later, a call back just to do weird looks at each other, just me and the casting director. He finally suggested an improvisation as a customer in the store asking questions about the slurpees and my reactions if they are fresh or reused. My instincts were to say, well no if you mean do I taste them and reuse them, no we don't. That was it, he laughed I laughed, the part was booked.
SAB. I believe it was only a one day shooting in a real gas station. How did the schedule go?
LM. It was efficient and a really intricate scene for the cast and crew, it still took some time and Joe Manganiello and the guys were simply having a great time so the first half of the day we did the dance routine with different camera set ups, then lunch. When we came back, it was all my reaction shots and bending over the counter thing, that was that.
SAB. Had you met Joe beforehand?
LM. We had a rehearsal the previous day.
SAB. Did you keep the apron or the uniform?
LM. (laughs) No I did not although I would be happy to wear that out right now. I think it would be hilarious, but no I didn't keep it (still laughing).
SAB. Any bloopers or did any amusing things happen that made the cutting room floor?
LM. No not really, that scene was planned out so well and then also it's a movie which lends itself to bloopers so if something had happened, I'm sure it would have been included.
SAB. Joe said that even though you were told you could smile, you did not. Is that because you wanted to keep in character?
LM. I think that after they said I could smile, it took me a while before I did as I got into a place so deep I couldn't smile. Also all these guys knew and loved each others company for so long, I really did not want to mess anything up. I didn't want to be the girl cracking up on camera or the talent brought in for the day only to mess up the shoot. I tried to smile at one point.
SAB. You're credited as Mini-Mart Girl; did you ever think of suggesting a name for your character?
LM. (laughs) That is a really great question. I think her name is something that starts with an M, maybe Marita (laughs).
SAB. I met him, but for all his Australian admirers out there, how can you describe working alongside Joe up close and personal?
LM. It's really really awesome. However you think it is in your head, it's like twelve times more awesome than that. He's a huge guy, very big, handsome, kind and generous. The whole crew around me were seriously the nicest people having the best time making the film creating the fantastic atmosphere around us.
SAB. I've seen 'Devils Knot' but not too much other roles in your career. How long have you been in the business?
LM. I've been acting since I was a little girl. My mum put me through acting school, I took quite a long break during college and got into film/TV around six years ago. So it's been awesome doing several independent projects then TV series' Nashville, Rectify alongside other roles. This last year, I've been incredibly blessed.
SAB. What's up next? I suppose the phone won't stop ringing now Magic Mike XXL is out?
LM. That's the hope Shane (laughs). Currently working on a short film called Birthday Cake (southern gothic story of the power of a woman). Also a web series I created called Two Girls on a Porch. What is funny is that my grandmother said to me; 'Now I haven't watched the movie but I see you making that face and that face you have been making since a little girl'. I though what else have I been doing since a little girl so I came up with TGOOP replicating a very Southern thing to do which is drink tea on the porch and talk. It will be fun, I'm excited for it.
SAB. Do you find having a strong southern accent prevents you from getting certain roles?
LM. No I think it has never happened and if you're good enough to work on a required accent, you will get the job for your ability.
SAB. Australian accents I hear can be hard to do. Maybe if you perfect that, you could visit down under for a project?
LM. I would love that, my roommate spent a whole year there. I definitely want to go.
Magic Mike XXL is in cinemas now.
Shane A. Bassett
Sydney Unleashed is one of Australia's premier entertainment publications exploring the latest in lifestyle trends. From Sydney's finest restaurants, cafes and bars to the hottest in gadgets, products, and home entertainment, Sydney Unleashed is your one-stop lifestyle platform.