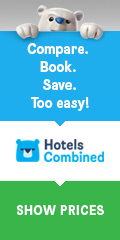 Features
Mardi Gras Comedy Festival
Frontier Comedy, in association with Sydney Gay and Lesbian Mardi Gras, are proud to announce the Mardi Gras Comedy Festival!
The first of its kind in over 25 years, the Mardi Gras Comedy Festival will bring comedians from all over the world to the Sydney Gay and Lesbian Mardi Gras for a week of laughs this February and March.
It all kicks off on 28 February with the first ever Mardi Gras Comedy Gala; a night of riotous and outrageous laughter hosted by Em Rusciano and Bob Downe. The evening will feature an incredible lineup of talent including Dixie Longate (US) , Panti Bliss (IRE) , Bridget Everett (US) , Hannah Gadsby, Tom Ballard , Axis of Awesome, Stephen K Amos (UK) , Shiralee Hood, Alice Fraser , Neel Kolhatkar , Joel Kim Booster (US) , Emma Willmann (US) and more!
Following the Comedy Gala will be a week of solo shows from five world class acts. Celebrating the 2017 Mardi Gras theme of 'creating equality', there will be something for everyone with headline shows from the (drag) Queen of Ireland Panti Bliss , outrageous cabaret icon Bridget Everett , America's most famous Tupperware lady Dixie Longate, and a 'Gaymes Night' hosted by razor sharp Rhys Nicholson and acid tongue prince Joel Creasey .
Sydney Gay and Lesbian Mardi Gras is one of Australia's most famous and well-loved events, bringing thousands of visitors to Sydney to join in the celebrations. It captures the imagination of Australia's LGBTQI+ and mainstream communities, taking over the city for weeks on end, culminating in the world-famous Parade: a colourful and dazzling night of pride, celebration and self-expression.
Frontier Comedy are thrilled to join forces with Mardi Gras in 2017 to bring the very best from the world of comedy down under to celebrate love, diversity & pride.
Mardi Gras Comedy Gala
Tue 28 Feb (7.30pm) Enmore Theatre | Sydney, NSW (All Ages)
Dixie Longate 'Dixie's Tupperware Party'
Wed 1 Mar (7.00pm) Factory Theatre | Sydney, NSW (All Ages)
Panti Bliss 'High Heels In Low Places'
Wed 1 Mar (9.15pm) Enmore Theatre | Sydney, NSW (All Ages)
Bridget Everett 'Pound It'
Thu 2 Mar (8.00pm) Max Watt's | Sydney, NSW (18+)