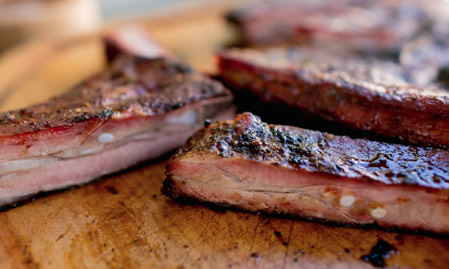 Meatstock comes to Sydney
Meat lovers will have plenty to sink their teeth into next Valentine's day with the inaugural Meatstock Festival held at the Sydney Showgrounds on the 13th and 14th of February.
Tickets go on sale today for the two-day meat filled extravaganza, which will feature bands, barbecues, beards, butchers, bourbon, barbers, beer and much more.Meat mad couples are not the only ones set to experience serious flavour hits across the board, as every purchase of a $26 adult ticket comes with the option of a free children's ticket.
Barbecue and brawn may be on show throughout the weekend but co-organiser Jay Beaumont said there is more to Meatstock than what you can put on a fork."It's five events in one big battle ground," he said."We have Barbecue Wars, Butcher Wars, Barber Wars, the Meat and Barbecue Expo and our awesome line-up of Blues and Country bands. Barbecue is definitely a hot trend at the moment but we think Sydney is screaming out for a festival that has a distinctly Australian flavour."
Those looking to improve their barbecue skills will have the opportunity to learn from the best in the business with world barbecue champion, Tuffy Stone, set to conduct his Cool Smoke Cooking School prior to the start of the festival. One of the biggest names in barbecue, Tuffy is the judge on the reality TV show BBQ Pitmasters and also has an American chain of barbecue restaurants. Mr Beaumont said having Tuffy take part in the festivities is a major coup for the event. "It's absolutely massive, in the past few years his winning record in competition barbecue would be the envy of every team in America" he said. "Tickets to the first day cooking school sold out within a week and there is only a handful of spots left for the second. The wealth of knowledge he is going to bring is invaluable and he will get to see how big barbecue is over here."
He isn't the only special guest lined up to appear at the event with Jess Pryles aka BurgerMary set to host the Sydney Butcher Wars. To be held live on stage, some of best Australian Butchers will battle it out by breaking down a half a leg of lamb and half a saddle of pork within 45 minutes on a live stage.
Also unique to the festival are the Cutthroat Barber Wars, which will take place against a back drop of live blues bands including The Beards, The Snowdroppers and Henry Wagons. They form part of a stellar line up of bands which was announced today and can be viewed at Meatstock.com.au. The big drawcard of the contest schedule, however, is the A&E Sydney Barbecue Wars in which 40 teams from across the country will battle it for $8000 in cash and prizes.
Mr Beaumont said the contest will be about variety "The barbecue competition is based around the cooking method of Low and slow over wood and wood products. Traditionally that includes Pork, Pork Ribs, Beef and Chicken." he said. "For this competition, we've broadened the criteria adding Lamb and Seafood. We want to bring different styles together that are Australian."
Sydney Unleashed is one of Australia's premier entertainment publications exploring the latest in lifestyle trends. From Sydney's finest restaurants, cafes and bars to the hottest in gadgets, products, and home entertainment, Sydney Unleashed is your one-stop lifestyle platform.